We recently hosted CommerceNow, a two-day online event sharing everything you need to know about eCommerce. We offered sessions on a variety of topics, including customer success, which is a great way to boost retention and revenue. Register to watch the sessions or get a quick recap below, including a high-level overview of what it means to be customer-centric, to an outline of creating a customer advocacy program and deep dive into getting more customer reviews.
1. You're Not as Customer-Centric as You Think You Are
For anyone looking to improve their customer experience mapping process, Georgiana Laudi's presentation was a must-see. Georgiana is a SaaS marketing & customer experience strategist, startup mentor and Founder & Chief Advisor of "A Better CX". Here are some of the main takeaways from her session.
Many companies are making the promise of customer centricity, but not all of them are following through. A Bain study in 2005 found that 80% of companies think they deliver a superior customer experience, but only 8% of customers agreed. To avoid being this out of touch, you need to understand what you offer customers, what customers want and how those two factors come together in your customer journey.
There are many reasons to be customer centric: data shows that retention improves customer acquisition and conversion and can increase revenue by as much as 8X. Unfortunately, marketers can be prone to "shiny object syndrome" and spend time running after the latest new hot tactic rather than stepping back and making a real investment in true customer centricity that will pay off in the long term.
It may seem counterintuitive, but customer centricity actually starts with you. If you have an identity crisis as a company, you can't successfully and consistently communicate your value to customers.
To be customer centric, you have to understand who you are and what experience you offer, as well as understand who your customers are and what experience they want. Start your shift to customer centric operation by focusing on what type of experience you truly aim to provide customers, and making sure this matches what your customers want.
Defining Who You Are
Defining who you are can take a variety of approaches, but will typically involve defining some or all of the following elements:
Purpose
Brand identity
Positioning and messaging
Value proposition
Competition and alternatives
Market conditions
This information shouldn't just be locked in someone's head or exclusive to one department: it needs to be written down in a location that's easy for everyone in your company to access, understand and use. After all, if your organization doesn't share the same purpose throughout every department, your customers will have a fragmented and unpleasant experience. No one wants that, least of all you.
Defining Who They Are
Even a company with a strong sense of self can't be customer centric if it doesn't know who its customers are or what they want—and it's particularly difficult to be customer centric if your "customer" is the vague "anyone" or "everyone."
The following tactics can help you better define your customers and their needs:
Qualitative/quantitative research
Customer segments
Jobs to be done
Personas
Buyer types
Once you know who you and your customers are (easier said than done!), it's time to start mapping out the customer experience. At a high level, you first need to understand your customer's journey from discovery to growth. While mapping the journey, remain customer centric by thinking of the experience in their terms instead of clicks or POs signed, which are oriented toward your internal processes.

Most customer journeys involve progression from discovery through exploration, consideration, trial, engagement and growth. What's really important, though, is not just understanding this journey at a high level, but mapping out the actual experiences of your customers at each stage along the way. In order to do this, start by focusing on a high-value customer who's been successful with your product and has developed a close relationship with you. Then, focus on mapping that customer's experience through the following stages.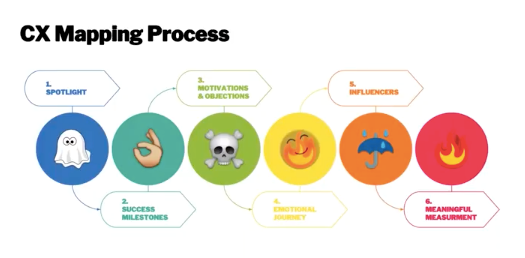 Spotlight: What customer are you focusing on?
Success milestones: What did the customer do to engage with you? How did it move them closer to success?
Motivations and objections: Why did the customer consider your solution? What were some obstacles they faced in choosing it?
Emotional impact: How did the customer feel about your company and their experience?
Influencers: Who influenced the buying decision outside of you and the customer? This could include peers, your customer references, analysts, media outlets and more.
Measurement: How can you establish a meaningful, repeatable measurement for the customer experience at your company?
By focusing on you most valuable customers first, you get to map the ideal experience you want your customers to have. Keep in mind the journey may not be linear, but customers may repeat phases or get stuck in them for a while. Simply taking the trouble to map the experience enables a shared understanding between you and your customers, as well as across your organization.
Note that the customer experience and customer centricity aren't just the responsibility of one department: everyone in your organization should be thinking about what customers need and how to meet those needs. Mapping the complete journey is a great way to start on your own journey toward being customer centric!
Now that we've got a handle on how to be customer centric, let's take a look at building out a customer advocacy program to spread the word about your offerings.
2. Customer Advocacy: Your Competitive Advantage
Liz Richardson, Director, Client Services at Influitive,  and Davin Wilfrid, Senior Manager, Content & Customer Advocacy at QuickBase, explained the true power of customer advocacy and why it matters more than ever to organizations in this age of digital and social dominance. Here are some of the insights they shared.
The internet has transformed how companies do business. But it also transforms how customers find companies. Instead of coming to you for information first, customers now do tons of research elsewhere to find out what you're all about. This means your customers control the image of your brand as much as you do – they're out there saying who you are, and anyone can access that information and use it to make decisions.
So how do you turn your best customers into enthusiastic advocates who can help you build your business? They key is to approach customers with a combination of trust, respect and goodwill that will motivate them to tell a compelling story.
While it may seem daunting, customer advocacy pays enormous dividends. It can help accelerate sales, drive market awareness, boost awareness and improve CLTV, but you do need to make upfront investment in an advocacy program before it will pay off. Any customer advocacy program should focus on customers, but must also prioritize business goals, so start your advocacy program by defining those goals. Once you have goals established, investing in advocacy has three main elements:
Discover your advocates
Nurture customer relationships
Mobilize customers with opportunities to tell their story
Advocacy opportunities can go far beyond traditional case studies or testimonials, and there are many ways to discover potential advocates. Look within your existing customer base, your customer community (which may include customers who've reviewed your product online), at events, on social media and through your sales teams. Soon you'll start to build a long list of prospective advocates.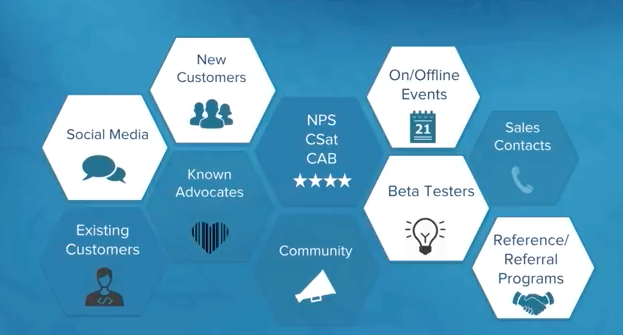 To effectively nurture these potential advocates, it can help to develop customer personas that highlight what your customers value most. Thinking about the customer experience in a personal way enables you to take information you have about customers and develop an advocacy program that helps each customer turn personal experiences into stories that help increase trust, conversion and retention.
Finally, mobilizing customers with opportunities to tell their story can take many forms.
Let's look at how a specific company, QuickBase, effectively mobilized its strong, passionate customer base. Through targeted outreach, the company built up an advocacy program called the QuickBase Heroes program that became self-perpetuating through customers referring other customers to become advocates—the ideal outcome for any advocacy program.
The program was successful because it harnessed customers' existing enthusiasm for the product and allowed them to become much more than advocates, assisting at any point throughout the discovery, evaluation, decision, retention and advocacy phases. Customers shared stories in blog posts, emails, events, community events, referrals and much more, and also served on a product council and gave input into updates.
Creating a program that met customers' needs and gave back to them instead of just demanding their time helped QuickBase Heroes achieve its goals.

The impact of customer advocacy can extend far beyond just marketing and sales. While customer reviews are vital for attracting and converting prospects, they also provide a ton of valuable information that may help the UX and product teams improve the product and offerings. Reviews can also aid content strategy, demand generation and referral programs, so be sure to share appropriate reviews with the right teams to demonstrate the value of advocacy for the entire organization.
Got your program launched? Let's take a look at how to leverage customer reviews.
3. Leverage Customer Reviews in Your Marketing Programs
Want to better understand how to make the most out of your customer reviews?  Brad Rosen, Vice President of Revenue Operations at G2 Crowd, held the perfect session for that, so make sure to read on.
Before the advent of the internet, software buyers had to rely on analysts like Gartner and Forrester to review and compile company and product information. While analyst perspectives remain helpful, 90% of today's B2B buyers do their own investigating and will find you when they're ready to buy. Forrester's research confirms that 50% of B2B technology buyers seek out peer experiences, 49% look for product ratings and reviews, and 45% go for expert opinions and analyst reports.
Buyers now use ratings and reviews on sites like G2Crowd to develop a short list of companies to consider, then go to the company's salespeople armed with the knowledge they need to ask good questions.
In addition to being a key part of the modern B2B buying process, reviews help establish trust in a company. While the references a company may provide are helpful, they're also guaranteed to be positive and brand loyal—why else would the company pick these references?
Being able to access a complete set of perspectives on a product or company can help buyers feel that they're getting the full story, which helps build trust. A product with hundreds of only 5-star reviews can look suspicious, like someone gamed the system, while even negative reviews can build trust if a company engages with them honestly.
Three out of four B2B buyers actually say negative reviews provide a depth of insight not available with positive reviews, making it important to allow negative reviews and handle them with a measured response when appropriate.
An effective response can turn around a bad review by showing that your company is listening and cares about what customers have to say, not just your overall rating on a site. Sometimes you can even have your CEO respond to reviews: people love seeing the big boss dig in and turn criticism into an opportunity to win customers back.
That said, not every negative review is worth responding to: sometimes you just can't fix a bad situation. If you feel a complaint is unjustified, be respectful, tell your story and correct inaccuracies, but ultimately, no response could be the best response.
In addition to building trust, reviews help prospective customers determine whether your organization is a fit for their needs. It's not productive for companies to waste their time engaging prospects who aren't a good fit, so reviews can be an important way to weed out people who wouldn't actually benefit from your products and services in the long run.
When it comes to how many reviews to get, the answer is: you can never have too many! Try to get as many reviews as possible, but don't burn out your customer base in the process. A good rule of thumb might be to contact about 25% of your customers each quarter to ask for a review. When you actively solicit reviews, it becomes even more important to respond promptly to any negative feedback or suggestions for improvement. And don't forget to thank the customers who review!
So? Do you have what you need to be customer-centric? Find more resources from CommerceNow!