So you've got a software business and want to make the switch to subscriptions, but aren't sure where to start. You're in the right place: we've got a nice solid framework to get you started, as well as a full set of best practices to help you make the switch. Read on for a summary of our recent webinar with Subscription Insider's Kathy Greenler Sexton and our own Philipp Reichardt, Vice President of Sales at 2Checkout. First, some convincing stats. Gartner expects that 80% of companies will make the shift to subscriptions by 2020. The popularity of subscriptions is driven by a variety of factors, including new and more sophisticated and agile buyers, and – on the vendors' side, a need for agility (in different ways) and a desire to increase revenue and attract a larger customer base. These Gartner predictions are well reflected in our own platform stats. We've seen subscription-based sales volumes increase year over year, reaching now 76% of total transacted volumes passing through the Avangate Monetization Platform.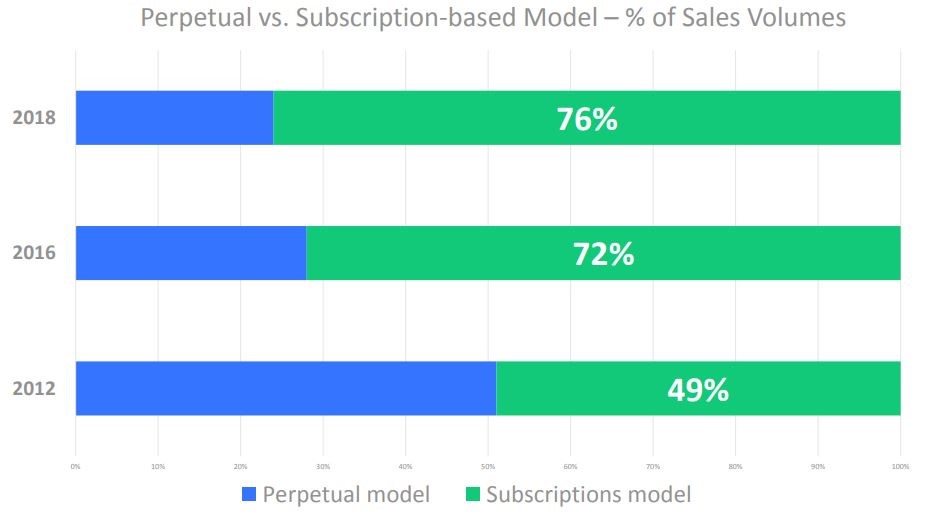 To shift to subscriptions successfully, companies like yours need to follow some basic principles: picking the right transition model, the subscription model and metrics to track success.In this post, we explain how to choose the right approach for your business and measure to make sure it's working.
Transition Models
There are a few transition models to choose from when making the shift from perpetual licensing to subscriptions. Most companies will choose to let legacy perpetual licenses exist alongside subscriptions or shift to subscriptions only. Both have their pros and cons, and the one you pick will depend on your business needs. Legacy perpetual with subscriptionsOpportunities (pros): Experiment with new products, expand sales to your installed base.Challenges (cons): Split resources between two models, deal with sales and distribution conflicts. Subscriptions onlyOpportunities (pros): No longer supporting legacy products and versions.Challenges (cons): Narrower short-term margins, legacy systems, and processes. Once you understand your options, you can make the right pick for your business needs and define how your customers will make the transition, whether this involves introducing new products to new customers only or all customers, or discontinuing legacy products entirely.
Subscription Models and Pricing
After you choose your transition model, you can think about your monetization model. There are five main approaches to monetizing your subscription business:
Flat-rate subscriptions: a single monthly or yearly fee (or whatever billing cycle works for you)
Usage-based (pay-as-you-go): users pay by how much they use
Hybrid: combines elements of flat-rate and usage-based
Freemium: make some of your product free, but charge for premium features
Trial: make your product available for a trial period, then charge for access
No matter what subscription model you choose, pricing is one of the hardest things to get right. To set the correct price for your subscription, you need to understand your costs, define your audience and segment your solution. You can always start with your current pricing, experiment with trials and freemiums, then determine the right subscription period (monthly or yearly) for your product. Tip: Keep in mind that the cash flow for your business will change significantly when you switch to subscriptions. Make sure your finance team understands how this will affect your business operations and has a plan for dealing with it.
Metrics to Track
As you shift to a subscription model, the metrics you track will shift too. Some of the most important subscription metrics to monitor are:
Monthly or Annual Recurring Revenue (MRR, ARR): critical for forecasting and growth
Customer Lifetime Value (CLV): how much revenue you make per customer
Customer Acquisition Cost (CAC): indicates present and future profitability and growth
Annual Contract Value (ACV): used to gauge the potential for growth
Renewal Rate (RR): a key value for any subscription business
Expirations (E): the number of expired subscriptions
Get these metrics in line up front and you'll have the knowledge you need to keep tabs on the health of your growing subscription business. Keep in mind that average measurements for these metrics can vary by industry and business type, so figure out the benchmark for your industry and track your performance relative to that. Also keep in mind your target audience – if you are selling subscriptions to a legacy client base that is used to lifetime licenses, renewal rates might be low in the beginning – use additional tools such as renewal and churn prevention campaigns to educate clients and boost that renewal rate metric.And… if I wake you up at 5 in the morning, could you tell me your MRR? If not, you've got some work to do, but you've also got a light at the end of the tunnel: a profitable subscription business!
Lifecycle Management
Making the shift to subscriptions is just the start: comprehensive subscription lifecycle management is important to your ongoing success. This includes not only financial elements like proration, usage billing, co-terminations, upgrades, renewals, but also the customer relationship. The subscription customer relationship cycle progresses through acquisition to onboarding to upselling and retention, and you'll need to have strategies in place at every point in this process to prevent churn and retain happy customers.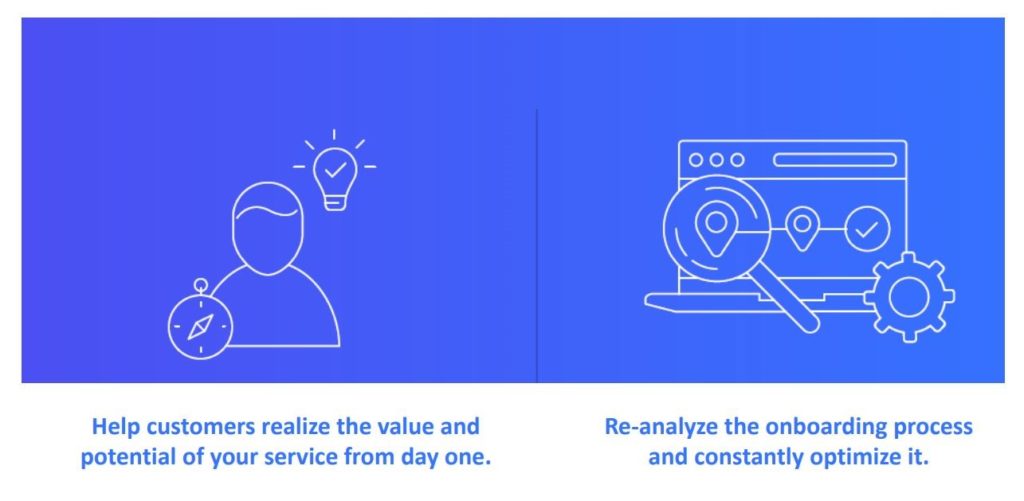 With the right tools, you can see up to a 10-20% revenue uplift from preventing involuntary churn and a 10% uplift from stopping voluntary churn: not bad! Preventing involuntary churn involves revenue recovery tools such as intelligent payment routing, account updaters and expired card handlers, while you can combat voluntary churn with renewal offers, migration services, and dunning. All of your churn prevention efforts should be backed up by a strong support team encompassing account management, self-service, customer success and channel-enabled sales. Behind the scenes, you'll need more than just payment management. Back-office integrations will be key to your continued success with subscriptions. Connect marketing, customer relationship management, finance and enterprise resource planning tools that can support multiple models and a provider that will take care of the payment processing part for you. Don't forget to watch the full webinar, for even more insights!