This summer, send your top selling products and services on tours around the world! The Avangate 2012 Summer Release is here to enable expansion to new markets, with granular control over your regional strategies.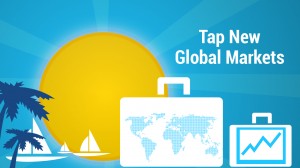 And this means major additions to regional pricing capabilities, new ordering and support locales, new payment methods and external tracking capabilities for affiliate orders. In addition, among the 150+ developments of the 2012 Summer Release, more tools for control and experimentation have been added to support a smooth transition to SaaS models and to adapt to mobile commerce trends.
Expand to new Markets
Regional Pricing
Growing your business internationally requires developing and executing end-to-end local pricing strategies. The newly added pricing capabilities of the Enterprise Edition platform allow you to experiment with price strategies designed for local markets, by supporting different prices in the same currency for a product, for new purchases, as well as for recurring billing or upgrades. This should bring optimizations not only to your offerings, but to your product catalogue management as well.
Regional Payments and Support
With Avangate's continuous expansion in Asia Pacific region, your products can now be paid for at any convenience store in Japan, through Konbini, as well as with Pay-Easy payments at cash dispensers. The third option for your Japanese clients added in this release is paying through the Internet only banks Japan Net Bank and Rakuten Bank.
Even more regional flavor can be obtained with the cash based payment methods popular in Central and South America: Pago Fácil in Argentina and Barcode Santander in Chile.
To build on the growing internationalization capabilities of the Avangate platform, both affiliates and vendors can now benefit from 24 x 7 support. In addition, 3 local shopper support numbers have been implemented to be more accessible to English speaking clients in the UK, Australia and New Zealand – summing up to a total of 12 toll free and local shopper support numbers.
And oh, by the way, "Bok!" to all Croatian software and service buyers, as from today Croatians can shop in their own language with Avangate!
Boxed products?
If you are selling boxed software, this should be good news for you: Avangate has just expanded support for physical delivery in Europe, fueling integrated commerce strategies, online and offline.
Track Affiliate Sales across Multiple Platforms
Starting this summer, the Enterprise Edition Affiliate Network enables you to track completed external orders and credit the affiliates across affiliate networks and eCommerce platforms. You can take your affiliates everywhere you go – the 33.000+ Avangate software and SaaS affiliates will surely help you travel around the world.
Upgrades for your Offline Sales via Channel Manager
For those of you selling through partners, this summer release enables resellers / VARs to effectively manage subscription and SaaS-based products on behalf of the vendor . The pricing schemes flexibility of upgrade orders applies as usual, supporting proration and anything else you might think of.
API Goodies
To further expand the flexibility of the Avangate APIs that allows you to create ordering experiences in any context, two major additions are worth noting this summer:
Single Sign-On that helps you better manage your subscriber base, easily connecting the Avangate myAccount with your own Customer Care solution.
The possibility to place new orders based on previous order references – a valuable tool for your Customer care tasks!
Custom Built Reports and Major Reporting Enhancements in Your Timezone
Avangate reporting capabilities have been improved in terms of consistency and performance, while the interface was redesigned. We hope the new "Custom reports" area (former Business Dynamics) will help you get the information you need about your business operations. Updates on all reports have been made – we're eager to get your feedback on this enhancement!
Soon – Enjoy the Optimized Mobile Commerce
To support the increasing trend of service consumption via portable devices, the 2012 Summer Release extends optimization support for the shopper's experience across devices.
Vendors' commerce sites will soon automatically adjust to browser needs and offer purchasing options via mobile-specific payment methods, such as PayPal Mobile Payments.
Sell More Software and SaaS with the Marketing Tools Update
The order recovery tool is focused on accelerating shopper interactions through follow-up messages. Avangate brings along a more flexible Order Recovery tool to help you recover summer sales, allowing you to set up follow-up emails for unfinished payments (recovery rates can be even 40%), abandoned shopping carts and free trial downloads. You decide how many you send and how often.
Summer Travel Guide
Don't send your products around the world without a travel guide :) – take advantage of the white paper we have prepared to support your international expansion. Download Global eCommerce Strategies in Key Local Markets for Software and SaaS Companies.
Happy Summer Sales around the World!
Hope you enjoy the 2012 Summer Release and you sales will keep growing! Stay tuned during the next period for the mobile shopping experience we are working on and for more exciting developments.
This particular choice of developments could not be made without your constant feedback and feature requests, which guide and help us shape the Avangate solution. Big thanks to all of you who kept in touch! Keep the feedback going and let us know what's next on your agenda.