I am happy to announce a great update @Avangate: we've just launched network cross-selling that allows Avangate software vendors to sell each other's products, to increase revenues and gain access to extra niches and new or larger markets.
In just a few words, network cross-selling means that all software publishers part of the Avangate network can offer other vendors' products as cross selling options in their very own shopping cart and get a commission for the sale.
Here's how a shopping cart would look like: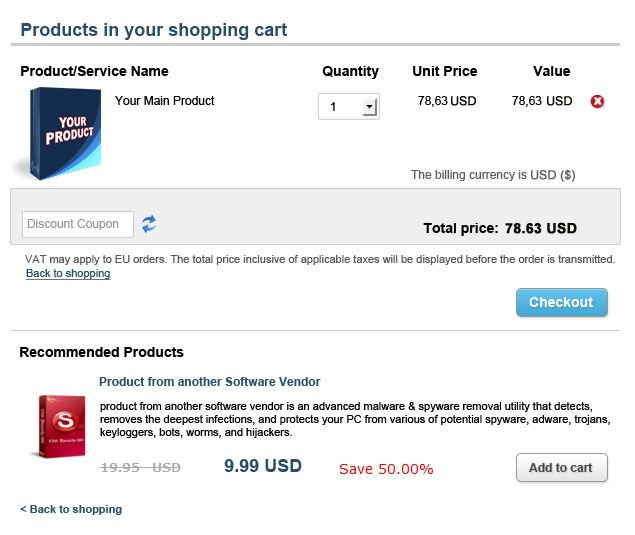 There are plenty of benefits this new feature brings:
You can offer your products to be sold by other vendors in the network:
You practically have access to extremely targeted "affiliates" that fully understand your business and target similar markets, which means more exposure to the right audience;
You get more sales resulting in extra revenue for you;
You can associate your brand with other strong brands on the market.
You can sell other vendor's products in your cart:
You can gain extra commissions from selling other software with minimum input. The best part is that you may get paid even if the customer is abandoning the shopping cart but is purchasing the product(s) later (within 30 to 180 days, depending on the vendor's settings);
Your clients are happy when they get complementary software products at discounted prices.
Either way, remember that you have control over the relationships with other vendors – you choose the vendors you want to work with plus you can negotiate commissions and special network discounts on a one-to-one basis if this is what you want.
This update is part of the Avangate "Winter Release", whose aim is to offer all software vendors selling through Avangate the means to get a higher return on their marketing efforts, without extra investments.
What else? We have various enhancements to the lead management module (meant to help vendors improve conversion rates with customized follow-up campaigns and improved reporting) and to pricing options (pricing setup is straightforward for even the most complex software licensing schemes).
Your feedback is very important and we rely on it to further improve and expand our software distribution solution, so please do comment with any thoughts or questions you may have about this update or any other features you want to use this year.