Recently, we had the chance to speak to Dr. Juri Stern, Managing Director at soft Xpansion, an experienced software company specialized in PDF technology, document and database management systems. He shared with us some insights into the beginning stages of his company, the growth process, and future plans. 
1. Can you give us a quick overview of your company?
Since our founding in 1995, soft Xpansion has developed software libraries for developers, out-of-the-box products, and custom development projects, with a focus on productivity, tools, PDF technology and document and database management systems. We also develop utilities and individual programming. I'm proud to say we've developed more than 250 B2C software products, as well as over 100 projects internationally.
Our B2B products like our PDF Xpansion SDK and special solutions are widely used in Germany, the UK, the USA, France, Japan, Russia, Slovenia, Ukraine and other countries.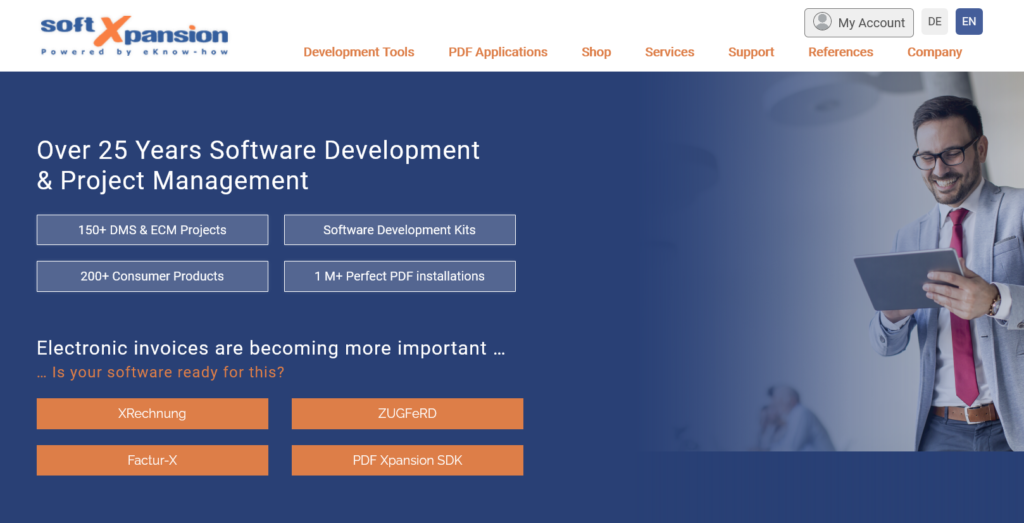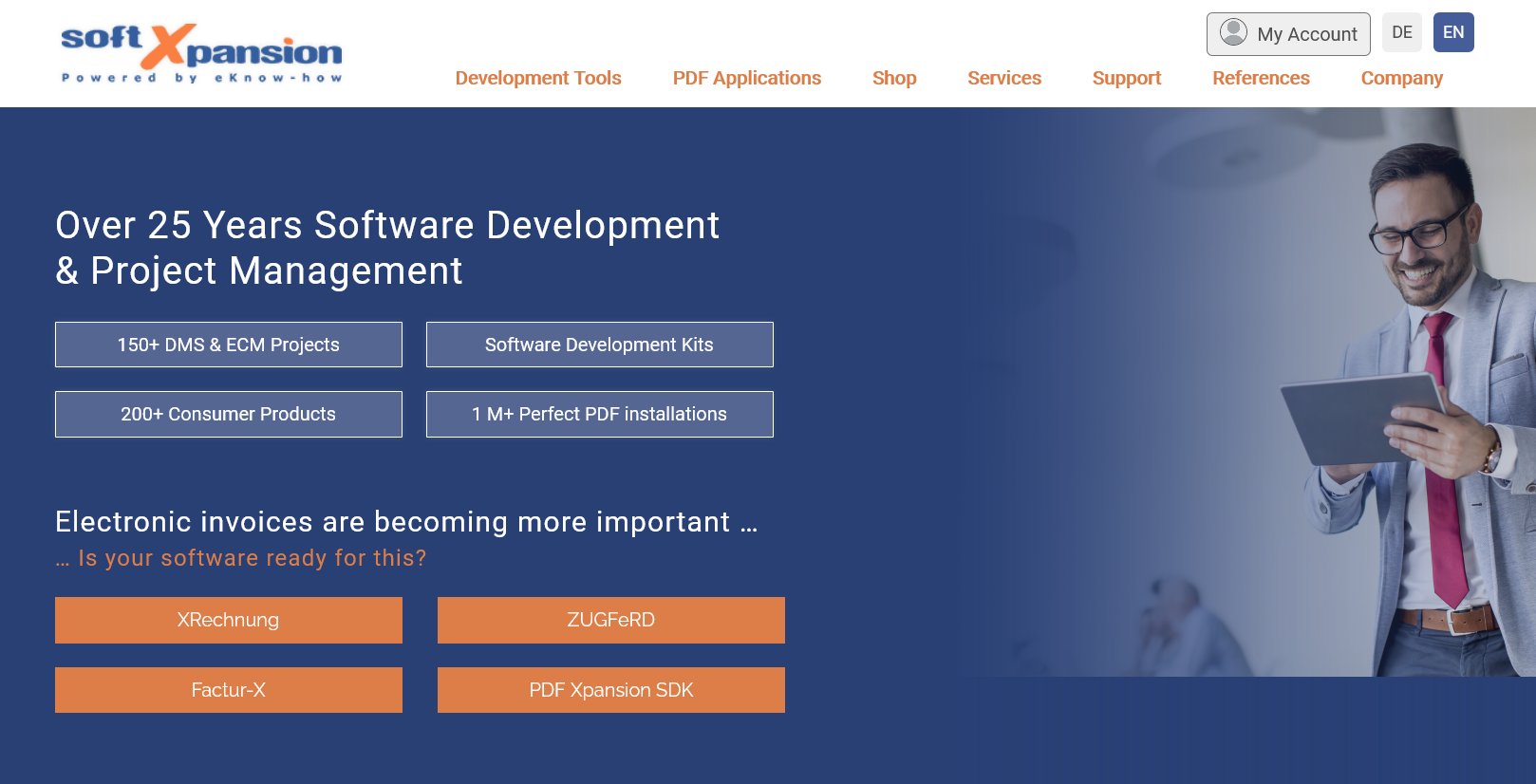 2. The document management software market has evolved tremendously in the past two decades. Give us some highlights of the changes you've seen along the way.
PDF format is now the main document format for archiving and documents exchange. Long term archiving with PDF/A and e-Invoicing in Europe with new standards (ZUGFeRD, Factur-X, and XRechnung) are widely used. 
Electronic document management systems and content management (DMS and ECM) based on platforms such as Microsoft 365, Alfresco, Documentum, etc. are now used in every business and state institutions. Microsoft 365, with its cloud SharePoint, Teams, and Azure solutions, is developing incredibly fast. Cloud software usage is helping unify processes in industry and society management today. 
3. What were the main challenges and opportunities that you encountered in the process of growing your business?
The rapid growth of electronic document management, content management, and processes has led to increasing software volume and complexity as well as requirements for reliability and performance. Accessibility and ease of user interaction are also very important. The challenge for the developer of such systems is how to meet all these requirements, in one product.  
To solve such a task, we've tried to combine different architectural, development, and support specialists on one team. Using such a constellation of specialists and benefiting from over 25 years' experience has made it possible to achieve good results.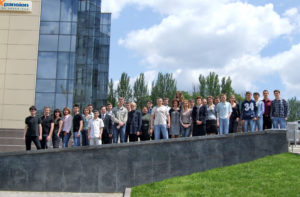 4. What sets your solutions apart from the competitors? How do you differentiate yourselves in the docu-management industry?
We try to use many different, widespread development platforms. We are also able to take into account regional specifics and government requirements. This is important, for example, when organizing electronic document management. Another example is the introduction in the European Union of electronic invoicing standards for PDF documents, which is likely to be extended to other countries in the future. 
5. Have you always targeted both B2C and B2B clients? Can you give us the main differences of how you approach the two segments and, more importantly, how you've seen them evolve over the years?
We began with B2C products such as productivity, infotainment, and games. B2B began only as a service development of individual projects for large companies together with XEROX GmbH in Germany and some other customers. Our PDF line also began with a small end-user program, but after that it grew into a large PDF SDK library that is used by a lot of enterprise customers.  
DMS and ECM long-term development allowed us to build our own platform and solutions. 
Our PDF technology has also been growing since it began in 2002, via a B2C product that allows for PDF creation and processing ("Perfect PDF" ®). Now we have an advanced PDF solution for software development in DMS – PDF Xpansion SDK, a solution we use for private and business usage. 
6. Can you tell us about any interesting projects or anecdotal stories on how your solutions are being used?
Yes, we've had some memorable B2C product stories 😊.  
Our Pearl Harbor game was our first large 3D game project. 
Michael Bay's war drama Pearl Harbor was planned for German cinemas on May 7, 2001. On the day before the premiere, the action title of the same name: "Pearl Harbor – Strike at Dawn" was released. In the game, you gain control of various planes and fight dogfights with opposing hunters, and equip the aircraft with different weapon systems. 
We localized Dorling Kindersley Children's Illustrated Encyclopedia to German, all 14 volumes, covering physics, biology, chemistry, geography, sports, etc. Localization work is sometimes harder than development – we should process a foreign software, foreign databases, etc. In addition, the technical documentation is often wrong or not completed.  
PDF processing and genealogy software both started in the early 2000s. PDF software has grown tremendously for both B2C and B2B product families.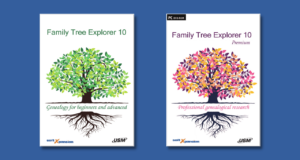 7. How has the COVID-19 pandemic impacted your business?
As an IT company, COVID-19 has affected us minimally. Remote work for our team was organized very quickly. Fortunately, the world economy in our sector has not suffered as much as in other sectors. Document and content management is exactly the tool that helps people working without in-person contact. 
8. What are your future plans?
Mostly we will combine PDF software and document management systems, make our enterprise content management solutions much stronger, and bring our sX-Space to European and world markets as a platform. Moreover, we would like to strengthen our sales activities, and continue working with Verifone in developing new initiatives.  
9. What is the future of software in the cloud?
I think that is one of the main directions of IT development worldwide. In a few years, we should use software completely cloud-based, and aim to be paperless, especially in document and content management.  
It was a pleasure for us to learn more about soft Xpansion and we hope you enjoyed it too. Stay tuned for more exciting interviews!