Do you care what software buyers think? If you're selling software, you probably do—and you should certainly check out our most recent software buying survey results.
The survey of almost 1,000 software and SaaS buyers in a variety of regions reveals interesting buyer preferences, industry trends and market differences that software merchants can leverage to increase their global online sales. Below is just a taste of what we found, and you can check out the infographic for more details.
What influences buyer decisions?
Vendor reputation is a top factor for online purchasing around the globe, cited by 87% of shoppers globally, reflecting buyers' preference for honest business, high-quality products, and a customer-oriented culture. Keep your reputation spotless with responsive support, effective review campaigns and by simply listening to customer needs.
What kind of software are people buying?
Security and privacy software tops the list (51%), but audio-video software (30%) and utilities (30%) battle it out for the second and third place.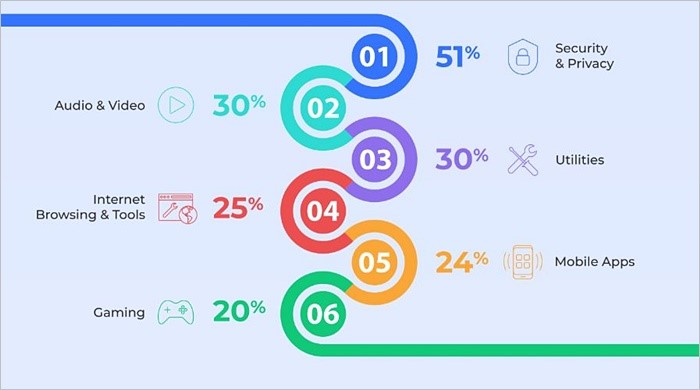 Flexibility is key
Buyers like being able to change or cancel their subscriptions at any time. 80% of shoppers prefer manual renewal of their subscriptions, while 77% of respondents mention the 'ability to change or cancel a subscription at any time' as very important for the purchase decision.
Reaching a real person is important
The difficulty of reaching live support is the biggest concern of 55% of shoppers, followed by lack of trust in unknown vendors. While email and chat are at the top of the chart regarding support preferences, getting support on the phone is a close third place.

Reviews matter
Buyers like to hear from one another: product reviews are the most influential factor in the buying decisions, more so than discounts and free trials, as recognized by 72% of respondents globally. If you don't already have a reviews program, start one now!
Most common ways to pay
The global picture shows credit cards being used by 87% of respondents, with PayPal at 49% and 12% selecting mobile payment options such as Apple Pay.
Search tops the list
Word of mouth matters, but online search is overwhelmingly the preferred way to find the products they need, cited by 78% of buyers worldwide.
Reflecting changing habits, online ads take the last seat in popularity, mentioned by only 11% of respondents as avenues for product discovery.
For more on buyer preferences, including preferred payment methods and channels (mobile versus desktop), check out the infographic.