Do you know what the following headlines have in common?
The answer is Social Proof, and shoppers are surrounded by it in their daily lives.
Social proof refers to a marketing approach based on psychology which gives more credibility to a brand's claims, and it is frequently used today across all industries. Read on to discover why social proof is important and how to start using it in your own online business.
What is Social Proof?
This psychological phenomenon is defined in academia as a social influence tactic where people assume what the actions of others are, in an attempt to identify the correct behavior. During the customer engagement process in eCommerce, social proof is a tool powerful enough to actually nullify the effect of monetary-based reciprocity.
Basically, people trust the input of others above any claim put forward directly by a brand. Our modern and fast informational era unfortunately came bundled with skepticism, deception, fraud, data sensitivity, and many other reasons that now lead us to spend days and weeks researching before buying something online. Research has shown that the average time spent on the buying decision is somewhere between 40 and 137 days.
This is due to the fact that common digital marketing approaches are no longer everyone's cup of tea, especially because of sensitive data issues, and brands are constantly scratching their heads to come up with innovative and trustful communications methods.
Considered to be one of the highest trust level tools, social proof works as a fusion of engagement, time saving, and consumer behavior, and is the best recipe to seize your customers and more importantly, ensure their trust.
In addition to issuing complex insights on products, data sheets, and technical comparisons, businesses can make use of ratings, reviews, testimonials, ambassadors, and case studies to be more persuasive in their interactions with prospects, and to expedite users' journey to the conversion point.
Keep reading to learn more about how to best leverage social proof.
Social Proof – A Powerful Engine for eCommerce
As people increasingly move online, unfortunately their concerns also increase.
It looks good, but is there a better version?
Could this website be a scam?
Isn't this too cheap to be a good product?
These kinds of user questions are omnipresent in eCommerce. They emerge throughout the buying decision process and can cost you significant numbers of customers.
How can you prevent these concerns? Well, social proof is waiting right under your nose.
"Let's see what others think about it!" – The halo effect tells us that this is really effective in influencing consumer behavior and their buying decisions.
Through social proof, you build a structure of those who vouch for your business. Whether it is third-party sources or directly from your customers, this evidence of trust can enrich your online presence.
Not only that, but social proof can increase your engagement process and help guarantee your customers will stay for the long run.
Here are some interesting stats to take into consideration:
If you are looking to improve your eCommerce business through social proof, let's start with a list of tactics.
8 Types of Social Proof
If social proof got your attention, it's important to know that there are various angles to approach this strategy. To help you, we put together a list of the most-used social proof techniques in eCommerce:
1. Persona Endorsement
Because every eCommerce business has its unique approach to the market, so are the options for valuable endorsement generated by others. For example, influencer approval of clothing products is very effective, while expert approval works better with software services.
Those personas have their own community they influence and they know how to communicate with its members. They could provide a valuable channel to not only promote your products, but also to associate them with a trustworthy source for your customers.
Studies indicate that over half the America's population considers celebrities' approval as an influential factor in their buying behavior. With the influencer movement at its peak, now is the perfect time to include them in your social proof strategy.
However, you should allocate serious time in researching your persona(s), as the influencer's beliefs may transfer onto your brand and cause audiences to associate you with their ethics and integrity. Just being influential doesn't mean they are also good for your business.
A good example could be:

Source: Tiffany & Co.
2. Reviews and Testimonials
Although there are many forms of social interaction in eCommerce, the most commonly adopted form is online ratings and reviews.
Yes, almost all internet users do this!
People's own experiences with your products will provide strong authenticity. How products behave in real time is usually a hot topic in the review area. These types of reviews help other prospects considering the same product, especially in forming an impression on the lifecycle of the product or in setting expectations for how support issues are handled.
Customers can also rate your products, and who doesn't love the look of a 5-star approval as people manifest their great experience with your business.
An alternative to reviews is testimonials. 100% controlled and displayed by you, with the customers' approval, testimonials are more qualitative social proof content, and they allow you to filter the valuable reviews from the bad ones.
Whichever you choose, don't forget to display them on your homepage to build more trust!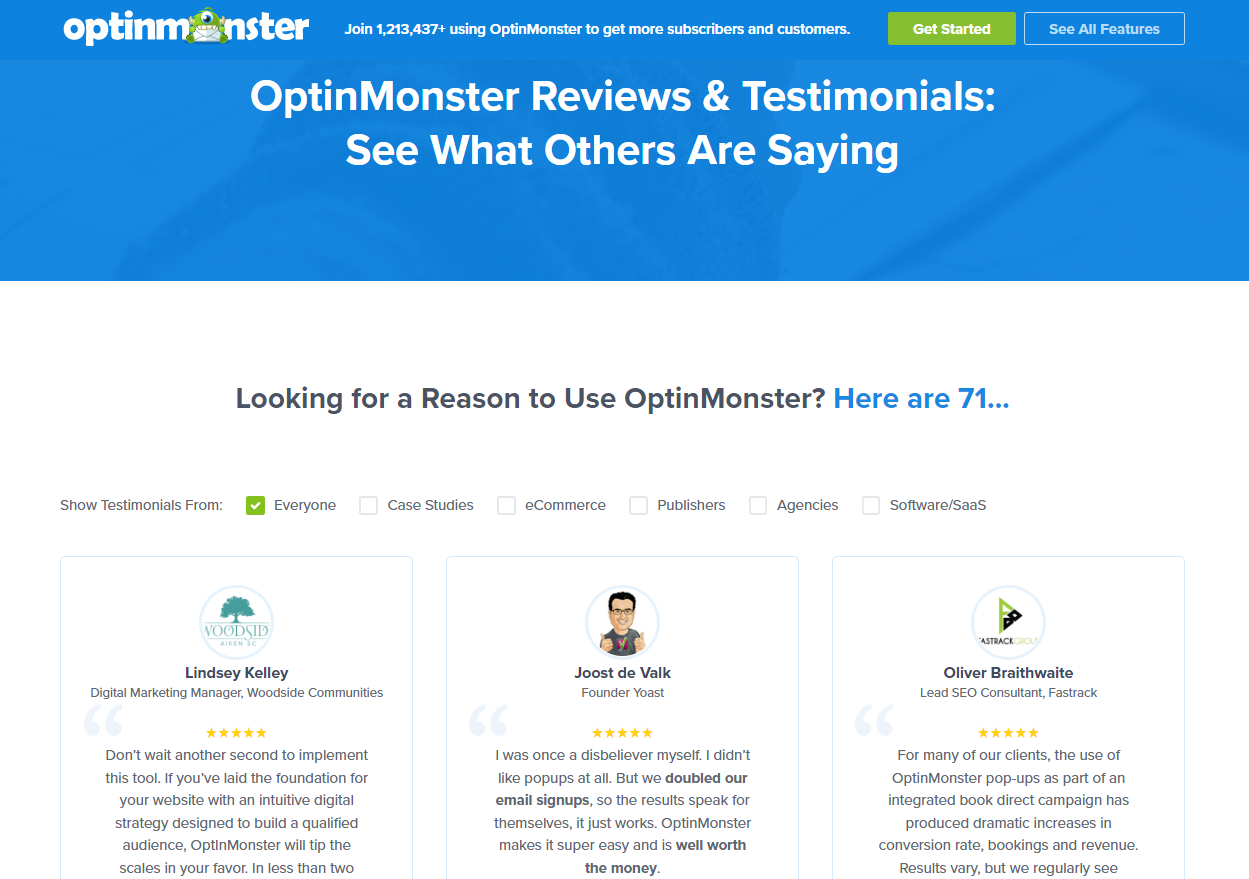 Source: OptinMonster
You will be happy to know that Reviews and Testimonials are just the tip of the iceberg when it comes to customer advocacy, and there are other ways to leverage your customers' involvement.
3. Rating Platforms
Sometimes, ratings from customers displayed on your website are not enough.  Skepticism can cause prospects to question the reliability of these claims/statements.
When it comes to these situations, the answer is third-party rating platforms. Those platforms allow certified users from all over the world give a rating for your product and share their feedback.
If you're considering leveraging the power of a rating platform, G2, TrustRadius, SoftwareAdvice, and Capterra are good platforms in the software space to consider. For brick and mortar, pay close attention to Google Reviews, Yelp, Facebook, and Trip Advisor. Start by creating or claiming your business account on these platforms and then build your strategy on how to invite satisfied users to share their impressions on your products there.
Bonus: Check out this article to find out why online customer reviews are the ultimate salesperson for eCommerce.
4. Case Studies
You want to prove to prospects and customers that your business is 100% built around them. Case studies are one of the most professional ways to show that your company cares about its relationships with its users and takes pride in the results you achieve for them. This is an elegant way to create social proof alongside your customers, and also provide valuable insights about your products and the way customers use, benefit, and enhance their lives with them.
Whether it is software used for work or a security system at home, case studies will help you better explain to people why they need your product and give them an opportunity to see how other users have achieved success through your offering.
They are also one of the most long-lasting social proof techniques, and can be reused as a content piece on your social media or in newsletters, campaigns, blogposts, etc. for a long time.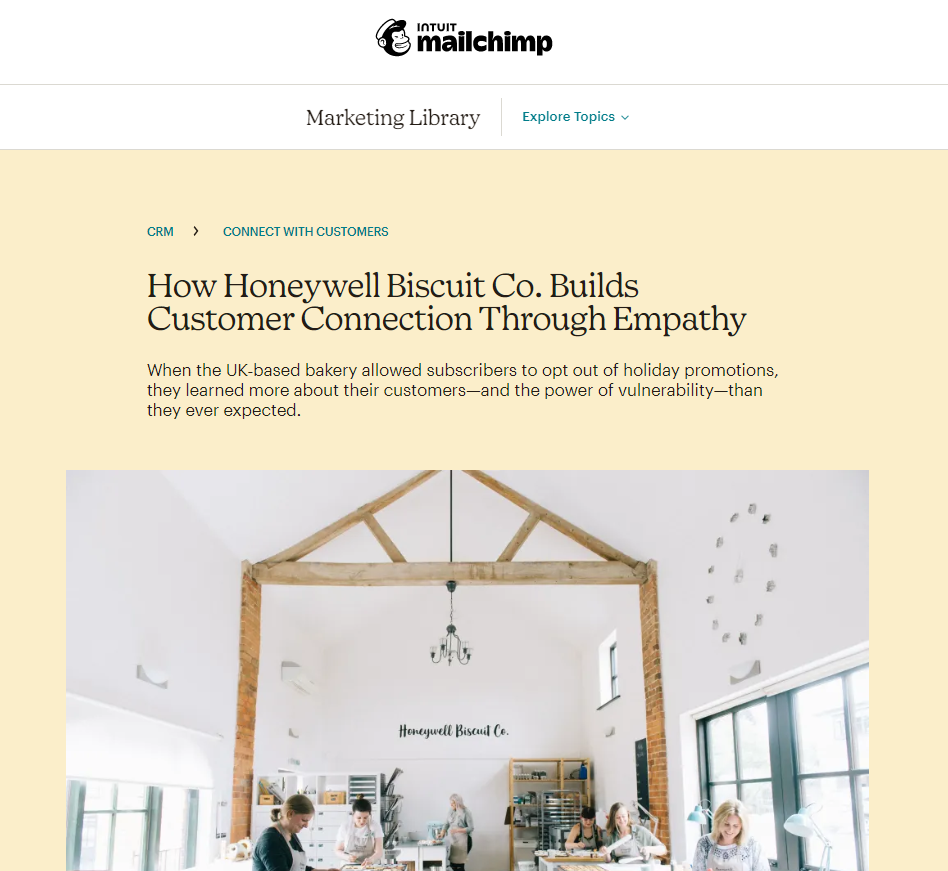 Source: Mailchimp
5. Trust Badges
Compliance aspects are sensitive and important, and not all internet users know how to check them, especially when buying online. Everyone is leaving all those wonderful reviews, but what to do if the brand itself is not receiving enough trust from its prospects?
This is when you should provide some higher-level reliability. Whether it is a national compliance certificate, or an international award, just displaying it at all touchpoints could help the prospect make a more informed decision. You can share these trust badges on your home page, on your social media, or you can even integrate them on your content designs (Datasheets, Newsletters etc.).
Here are some examples of trust badges:
Certifications
Safe, encrypted checkout
HTTPS and SSL certificates
Free, easy returns
Virus software logos
Money-back guarantees
Ratings from third-party sites (Capterra, G2, Trustpilot, etc.)
High-profile news publication logos
Logos of brands that the customer already trusts
Payment logos like Visa, Mastercard, or PayPal
A simple badge of trust will increase your engagement process and give greater weight to your brand claims.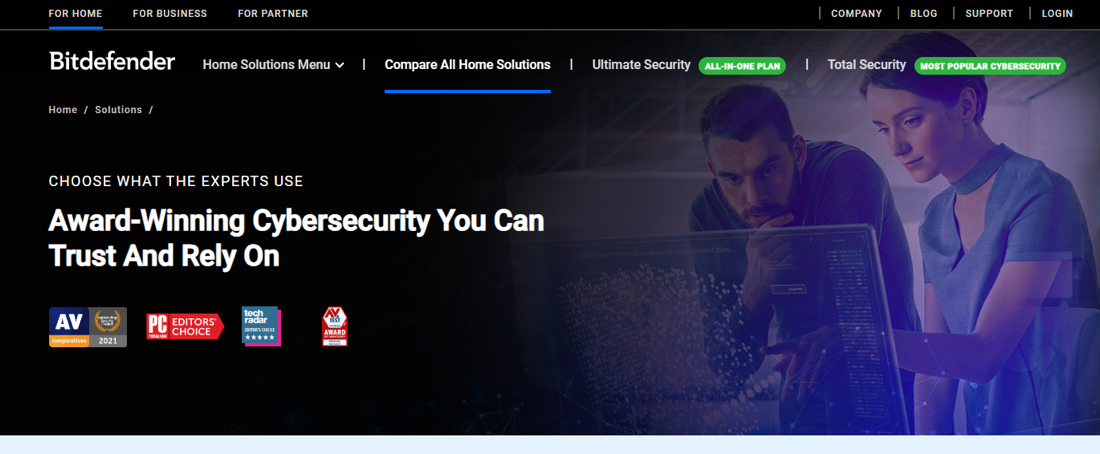 Source: Bitdefender
6. Referrals
For SaaS businesses, for example, referred traffic has one of the higher conversion rates out of any other social proof technique. But don't skip this one, because it can also apply to any eCommerce business.
Each customer is a potential source for new leads, so encouraging referrals just fits perfectly into your strategy. Most of the time, referrals are a rewarded kind of favor you ask from your customers. But make sure it is done in a measured way, so you don't reduce the recurring revenue. Each customer should have a limited number of referrals for which they are rewarded.
7. Expert Reviews
Expert input for your product has the potential to be seen as professional advice with a certain level of authority. Considered to have a more knowledgeable perspective in their area of specialization, an expert's opinion becomes a valuable tool in social proof practices.
However, take into account that the type of product for which reviews are sought is also an influential factor in assessing the nature and role of social proof. An expert review comes in handy not just as an act of advocacy, but also because it contains the most appropriate and intelligible language to best communicate with your prospects.
Hence, the expert's opinion approach is highly effective, especially when shopping for expensive or technically complex products.
8. Social Proof in … Social Media
Finally, while carefully deciding on what social proof strategy best fits your eCommerce business type, don't narrow your perspective only to external elements. Your very own presence on social media generates insightful social proof resources that can be used in your favor.
Being aware of social media references to your brand, reviewing and replying to Facebook and LinkedIn discussions, enrolling in social media groups, and interacting with prospects will humanize your brand while bringing it closer to your existing and potential customers.
Where to Leverage Social Proof
After you've gathered all the social proof strategies essential to enriching your eCommerce business, you have to make sure your prospects stumble upon them in all key places.
A common and safe place for that is your website home page. Whether showcased on your page cover or a pop-up window, organize your homepage UX so that every visitor is met with a social proof element. Testimonials and trust badges are of good and efficient use in this case, and in fact social proof embedded within the homepage is SaaS businesses' favorite approach!
Furthermore, consider your customer journey with your brand and products. What are the most common places they visit? Try to integrate social proof in your product pages and cart to strengthen engagement. Also, don't forget the almighty power of social media; share your social proof on every channel you have.
Successful Social Proof Examples
I know it sounds good so far, but does it really work? Here's your proof:
1. Slack and Client Tweets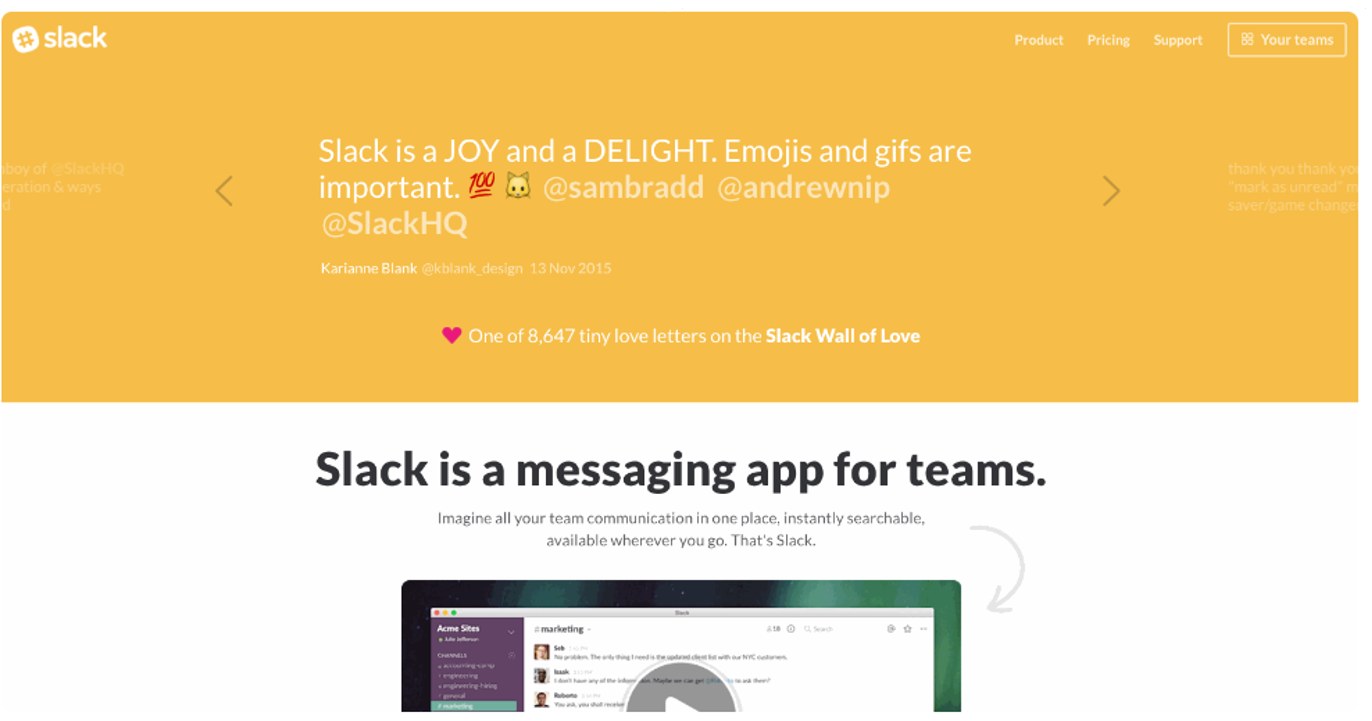 Source: Slack
Slack is taking advantages of its user-generated content, right in the homepage banner. As a service developed to ease users' workflow, meeting potential customers with positive reactions engages them into the idea of a good choice.
2. UNICEF Goodwill Ambassadors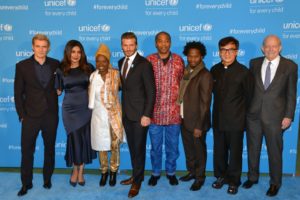 Source: UNICEF
You would think the idea of donating to a good cause would be enough for people, but UNICEF has a good strategy behind its very long list of Goodwill Ambassadors. Having hand-picked celebrities from all kinds of industries (entertainment, technology, politics, academia, etc.) means having access to every single type of community out there. Their reach is remarkable!
3. Dropbox Referral Program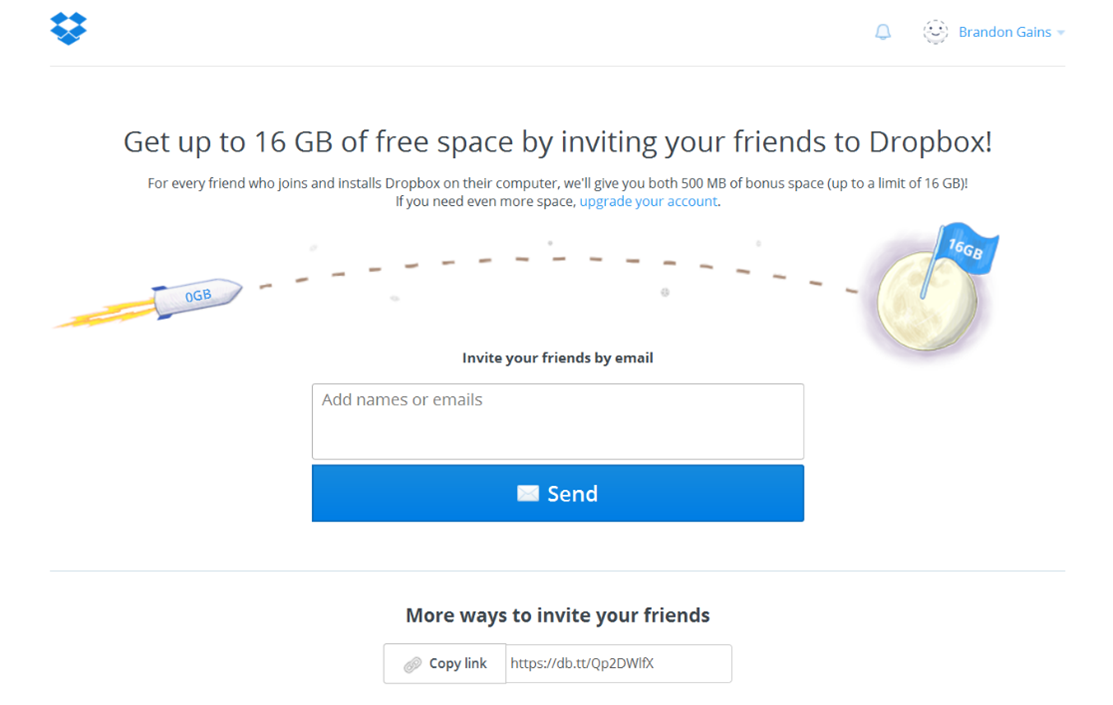 Source: Dropbox
Considered one of the best referral programs ever, Dropbox offers up to 16GB free space for inviting your friends to use the platform.
4. Trust Badges of Mondly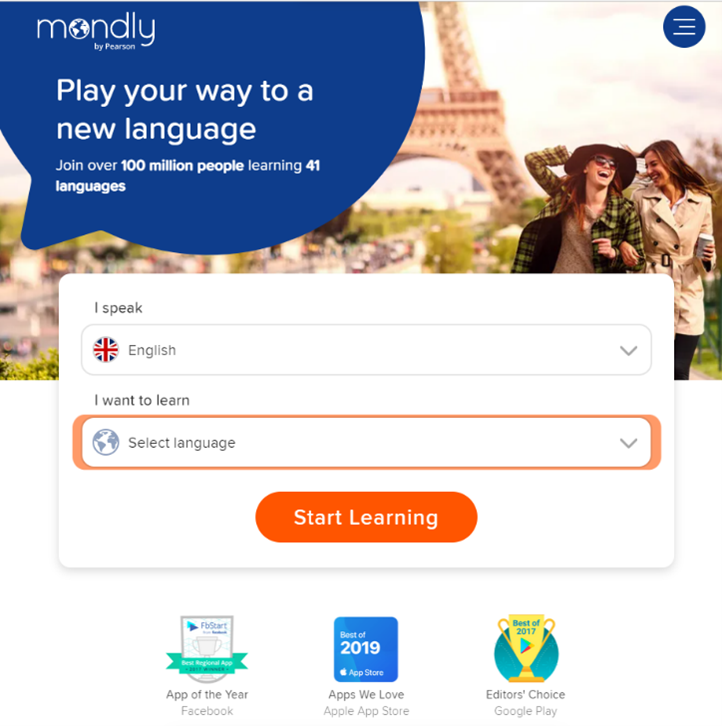 Source: Mondly
Remember the importance of home page displays? Mondly is doing a first-class job with those awards listed visibly, above the fold. All visitors who land on their landing page are greeted by these badges, which builds the brand's credibility and strength in the process.
Make sure you include trust badges in your customers' journey with your brand and don't be shy – brag about them.
5. GoPro as a User-Generated Content Mastermind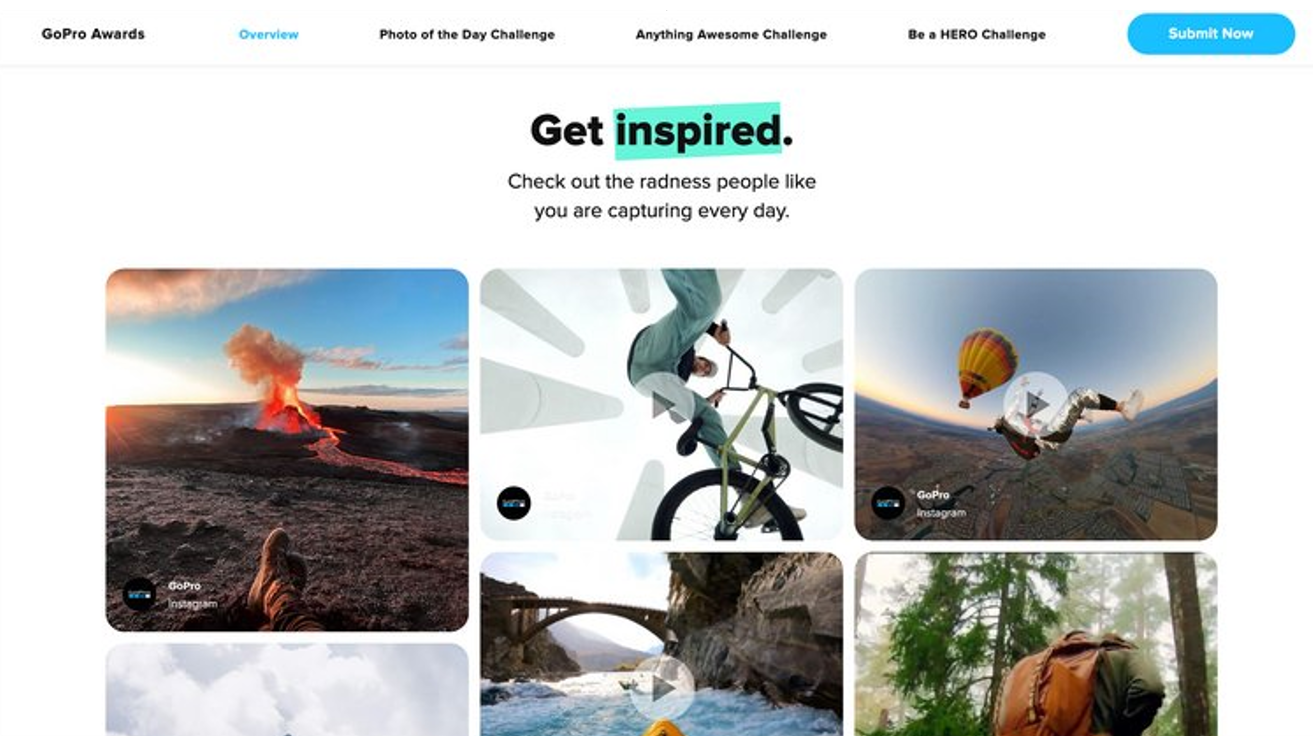 Source: GoPro
Those clips are insane, and GoPro knows it! Their customers love a good use of their product and how extreme you can go while having your GoPro intact. And the company doesn't shy away from displaying them on the website either!
Conclusion
Social Proof is a must. Your eCommerce business might already have some content ready to use! All you must do is grab it and shape it in ways that best fits your business. Consider your ethics and industry's trends. What kind of social proof is right for you?
After answering this question, be creative! People will love a unique interaction with your brand. And don't forget to use the almighty social media. Share, share and over-share everything, everywhere.
Customer engagement is a process.  Make the best out of it with social proof!