Rich, colorful and vibrant, Mexico is home to some of the world's best food, beaches and historic sites.  It's also one of the hottest eCommerce markets with exciting growth potential for local and international retail brands.
With a GDP of more than $1.2 trillion (US), Mexico ranks among the world's top 15 largest economies. And it's growing fast.  With its rising middle class, booming manufacturing base, and technological investment, it's well poised to reach the top five by 2030.
A dynamic high-growth e-market
The Mexican retail eCommerce market has grown by 300% over the last five years, pushing it into 16th place globally – ahead of its neighbor Brazil. As well as fueling domestic digital retailing, Mexican shoppers' desire for international brands and products is also powering a healthy cross border market More than two thirds (67%) of Mexican online consumers now shop cross border, and 6% of all online sales come from foreign merchants.
As in other countries, the eCommerce market in Mexico received a boost during the pandemic, creating a million new Mexican online shoppers, and pushing user penetration to 74%.
Mexicans are moving online for convenience, time saving, and the ability to comparison shop and find promotions and discounts that they can't get offline. As a result, eCommerce now represents 36% of all Mexico's retail sales, and is forecast to reach $53 billion (US) by 2024.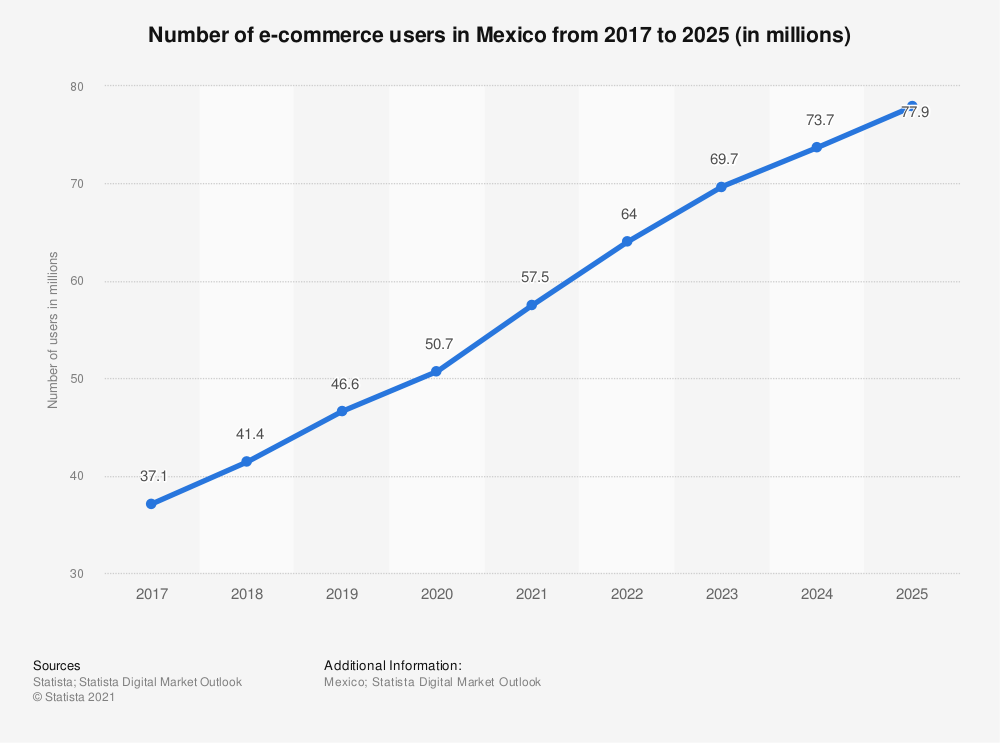 Riding the Mexican digital wave
Analysts predict there will be 78 million online shoppers by 2025 – more than both the UK and Germany.  Growth is being fueled by large public and private investments in the country's internet infrastructure; increasing smartphone adoption; streamlined customs procedures; and the rising adoption of electronic payment methods, such as digital wallets.
Importantly for eCommerce brands, Mexico also has a large base of young, increasingly affluent online shoppers. 69% of Mexican online shoppers have a middle or high household income and over half (53%) are under the age of 34, giving it a younger demographic than the US.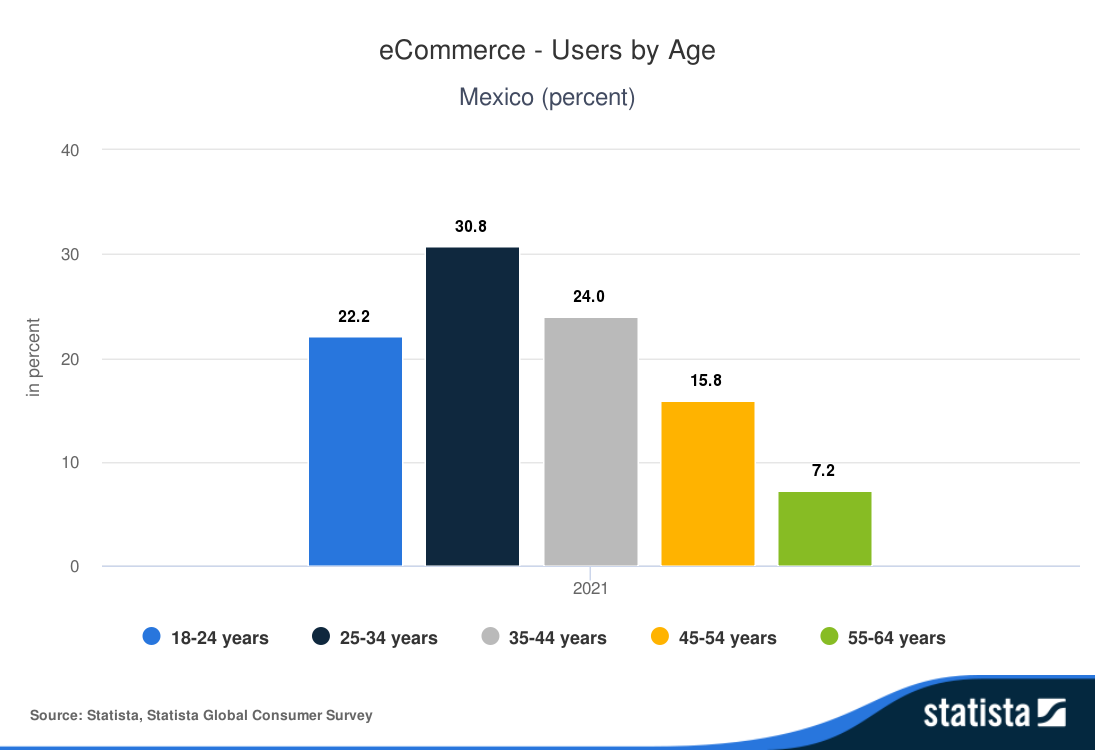 And they're eager to spend online – the ARPU (Average Revenue Per User) for Mexican online shoppers is expected to reach $705.79 (US) by 2025. In terms of volume, the top products purchased are electronics & media (31%), followed by fashion (24%), toys, hobby & DIY (18%), furniture & appliances (16%) and food and personal care (10%).  There's also high growth in online subscriptions, digital music and epublishing.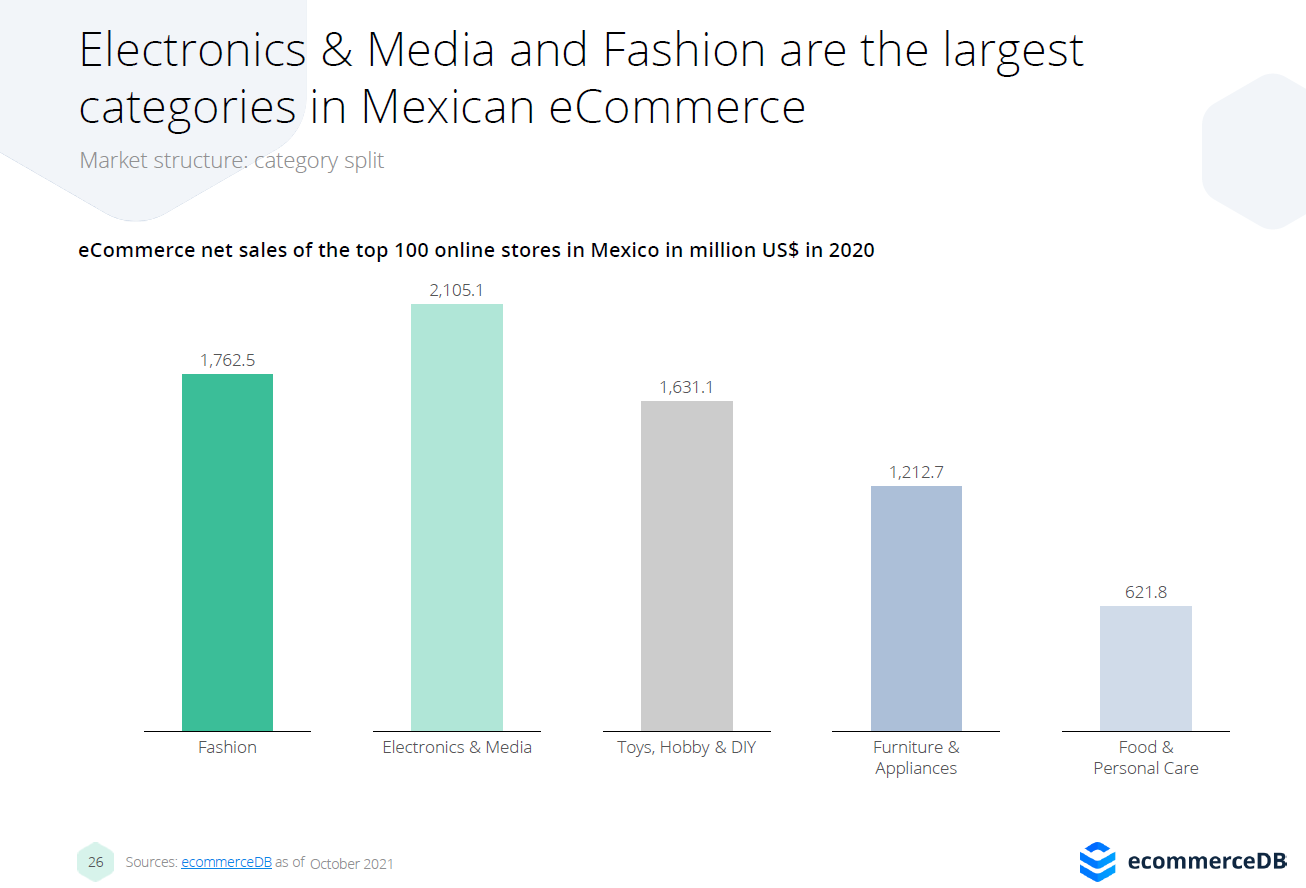 The challenge for digital retailers
While Mexico has done much to reduce its income and technology gaps, the country still ranks among the world's lowest in terms of consumer spending, banking rates and smartphone adoption. In 2020, online sales made up only 6% of all retail sales.
What sellers need to do to win
To develop and grow your eCommerce market in Mexico, it's vital to understand and cater to the country's unique buying and payment preferences; to navigate local banking and logistical requirements; and to find a way to wrestle market share away from local favorites like MercadoLibre and Coppel, not to mention big global retailers.
Here are five ways to boost success:
1. Optimize stores, payments, and cart flow for mobile
With over 88 million mobile internet users in Mexico, it's no surprise that the smartphone has surpassed the desktop as the preferred way to shop online. M-commerce sales in Mexico are forecast to reach $33 billion (US) by 2024.  Retailers must be ready with responsive platforms that deliver for shoppers wanting to search, browse and buy using their mobile phones.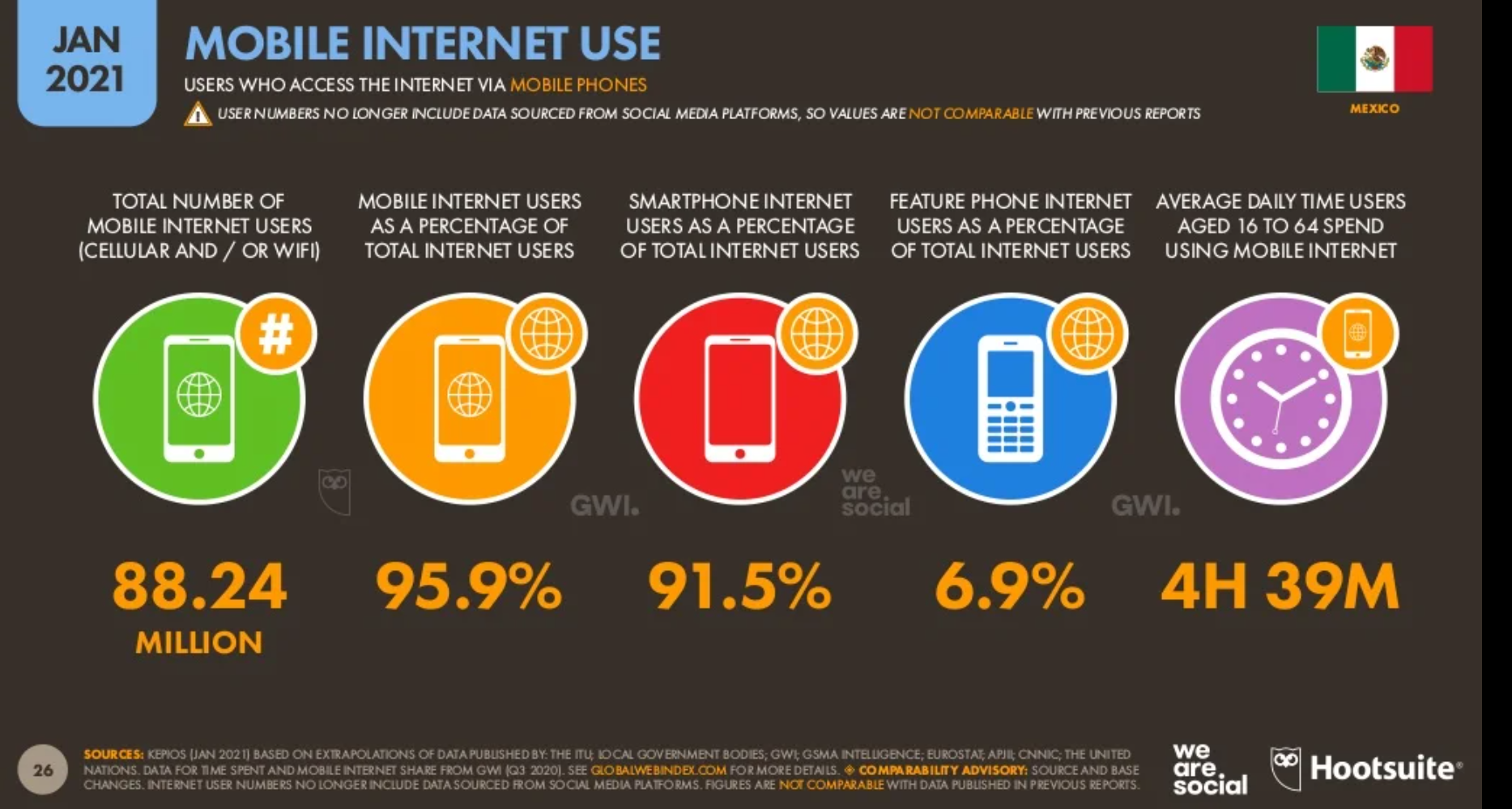 2. Embrace key sales seasons
The hunt for online bargains, has become part of the national fabric and is now celebrated three or four times a year via events like the week-long 'Hot Sale', Mexico's Black Friday or 'El Buen Fin' and 'Children's Day'. These offer valuable opportunities for existing and prospective merchants looking to enter the Mexican market.
3. Be inclusive with payments
The most popular online payment methods in Mexico are debit and credit cards (47%). Digital wallets are also on the rise as are installment-based payments for more expensive items. Merchants should consider offering domestic BBVA debit and credit cards and local favorites, such as MercardoPago and RapiPay. With 27% of 2Checkout orders in Mexico conducted via PayPal, we also recommend adding PayPal express optimization to help boost conversion rates. While the trend is towards e-payments, 70% of Mexican consumers don't own a bank account, so pay on delivery or buy online, pay in store (BOPIS) can help empower cash-only customers.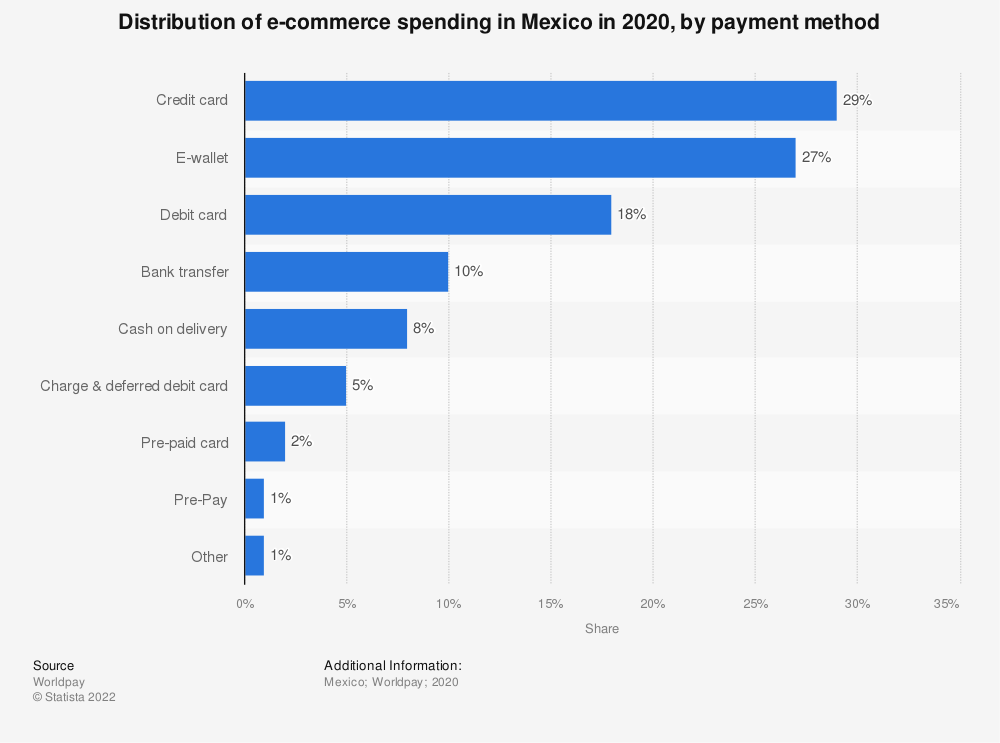 4. Wherever possible, localize the experience
Mexicans are skeptical of new brands and will abandon a seller at the first sign of friction. To help build trust cross-border retailers should reassure them with a great native experience in terms of language (only 12% speak English), currency, and social and other proof displayed in the shopping cart. 2Checkout recommends using dynamic templates that automatically localize pricing and language based on the customer's browser. Our studies show setting the language to Spanish in Mexico, generates a 12% higher conversion rate.
5. Test and Optimize Cart Flows
While many of 2Checkout's merchants utilize a streamlined flow for Mexico, those that have tested a flow with the review step have experienced a 2% higher cart conversion rate. This is especially true for orders greater than $10 in value. While the data points to a clear preference for including the review page, we recommend testing your flow, as your results may vary.
6. Take action to protect your customers
Shoppers aren't the only ones shifting their activities online, fraudsters are too. Include security measures such as 3D Secure and the new 3DS2 protocol and use eWallets and direct debits, to help minimize fraud and chargebacks. At the same, time keep customer data safe and avoid non-compliance fines by ensuring you adhere to local consumer protection laws like the Federal Law on Protection of Personal Data Held by Individuals (LFPDPPP).
7. Based abroad? Don't fall into the VAT trap
The Mexican tax authorities (SAT) require non-residents providing specific digital content and services to collect 16% VAT on sales to Mexican customers. Overseas retailers should check if these rules apply to their products.
Get more details and insights on what it takes to provision your business for success when expanding cross-border to Mexico, by ready our full eBook here.