As one of the leading eCommerce and payment providers, we are constantly working to create new solutions that bring you the best results in terms of sales, revenue, and customer satisfaction.
Our most recent release is PrestaShop, which includes a variety of international payment methods and out-of-the-box capabilities, powered by advanced ordering engines. The introduction of our new PrestaShop module helps merchants optimize their conversion rates and the overall checkout experience in their stores.
New 2Checkout and PrestaShop Module
With more than 270,000 online businesses in 195 countries as customers, PrestaShop is one of the biggest eCommerce website builders in the world.
With its capabilities for fast store-building, PrestaShop offers merchants the possibility to optimize their online businesses by adding multiple plug-ins for a variety of purposes, from customer engagement and marketing to shipping and payments.
2Checkout is a long-time partner of PrestaShop, and many of our merchants are using the Legacy 2Checkout hosted cart integration. Now, our new-and-improved PrestaShop module will offer merchants access to more and better eCommerce capabilities through our new ordering engines.
With access to the most popular international payment methods, 100 display currencies, and 30+ checkout languages, we enable merchants worldwide to welcome their clients with an improved localized experience, offering multiple types of checkout experiences.
Convert Plus – Hosted Cart
Convert Plus helps you simplify the process of collecting payments from your customers, while offering a straightforward and unique buying experience with the most popular international payment methods and inContext PayPal Express.
Built with the latest technologies, our API-driven ConvertPlus is highly optimized, requiring minimal input on the shopper's side during the payment process.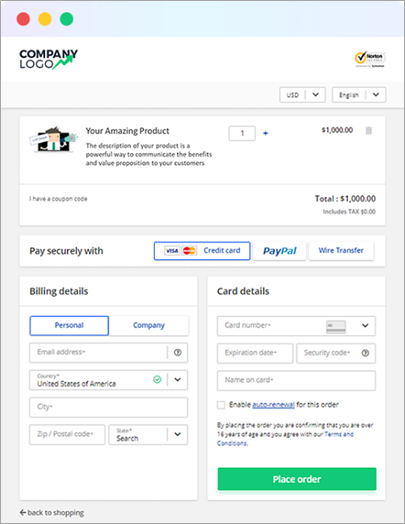 Inline Cart – Hosted Cart
The Inline Checkout is a simple and straightforward interface that follows the latest conversion optimization best practices, offering your customers access to the most popular international payment methods and features for deep localization.
With Inline you remove any distracting elements during the ordering process, without redirecting customers to other pages.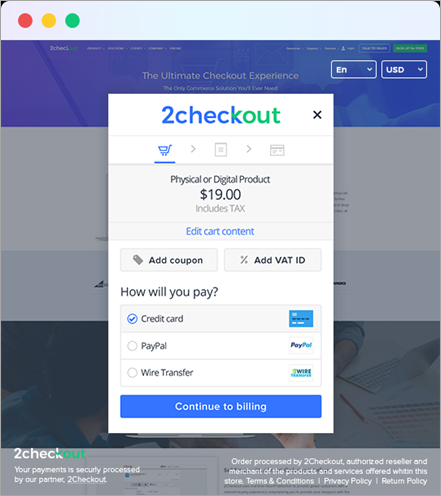 2Pay.js – API Payments
2Pay.js is a checkout solution built with security and compliance in mind, and maintains a seamless approach when it comes to the integration with your online business.
With 2Pay.js, the card data is collected by the 2Checkout system, tokenized, and stored in a secure environment, while leveraging one of the strongest encryption algorithms. All these steps ensure you can enjoy full cart ownership without touching customers' card data, as well as a simplified PCI DSS validation process.

What are the major benefits of using the 2Checkout Module for PrestaShop?
Easy Integration
Integrating 2Checkout in the PrestaShop store is easier than ever with a simple configuration. There is no need for any complex coding, and all the integrating implementation takes place in the admin backend.
Improved Checkout Experience
With a seamless look and feel, optimized purchase flows, and deep localization, the 2Checkout carts are poised to increase conversion rates at the global level.
Extensive Security
2Checkout identifies fraudulent activities and prevents them from hijacking customers' payment processes through a multi-tier defense strategy. 2Checkout ensures high security by following many standards including PCI DSS, GDPR, BBB Accreditation, SSAE 18, and Privacy Shield.
Worldwide Services
2Checkout serves numerous businesses from countries all over the world. It offers and optimizes functions to make them available to as many customers as possible.
This update will help merchants generate more customers and revenue, as customers will benefit from improved checkout flows for a more intuitive and overall better experience.
PrestaShop integration is available only for 2Checkout accounts that handle their own tax and invoice management (2Sell and 2Subscribe).
Any questions regarding the updated PrestaShop module? Our Knowledge Center outlines the necessary steps to complete integration with PrestaShop, so make sure to check them out!