At the end of last year, we've challenged our vendors with a contest for Affiliate Program Managers. The competition ran for three months (November 2017 – January 2018), and it has been a very good opportunity to engage Affiliate Manages and Affiliates at the same time. We've designed the contest for three distinct categories, this way everyone had a fair chance to win our amazing prizes.
Without further ado, we are very happy to announce the winners, Masters of Affiliate Program Management 2018:
Expert Level – Bitdefender
Professional Level – Movavi
Kick Starter – ATI Studios (Mondly Languages)
Expert Level
Bitdefender demonstrated (once again) that they have a strong affiliate program and comprehensive experience in affiliate program management, generating a 35% increase in sales during our contest. They are the big winner of our USD 10,000 worth package prize and we are very proud to be their main e-commerce provider and affiliate network partner.
Allow us to present you the person behind their program and let her share some thoughts with you:

Andreea Cristina Marin, Affiliate Manager, Bitdefender: "We are honored to have received this prize from 2Checkout's Avangate Affiliate Network, and we want to thank you for being such a stout community and for all your efforts as our affiliate partners. This prize is the result of a team effort."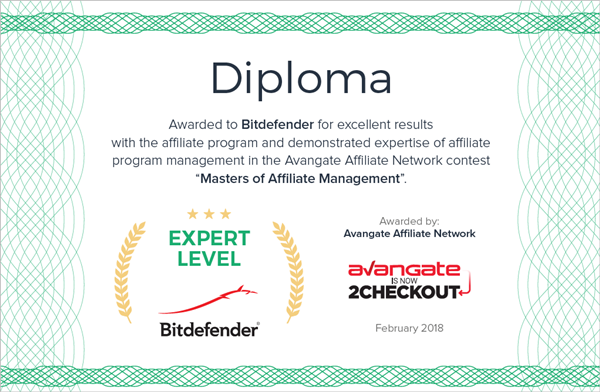 If you are an affiliate, check out the Bitdefender Affiliate Program or sign-up here.
Professional Level
For a mature program to generate high incremental results year over year is not an easy task and it requires a lot of hard work from the Affiliate Manager to achieve such results. We are proud that Movavi has chosen Avangate as their network provider and we want to reward their work and remarkable results. Movavi has proven their expertise and in-depth understanding of the affiliate marketing industry and win our Professional Level prize worth USD 6,000.

Maria Morozova, Head of Partner Department, Movavi: "Working with 2Checkout's Avangate Affiliate Network team has always been a wonderful experience and we have had all the support needed to achieve our goals. We like to challenge ourselves and set high objectives every time. The team we have built here at Movavi is the proof that passion is the key to success."
You can also read this client success story and find out how Movavi increased sales by 44% YoY.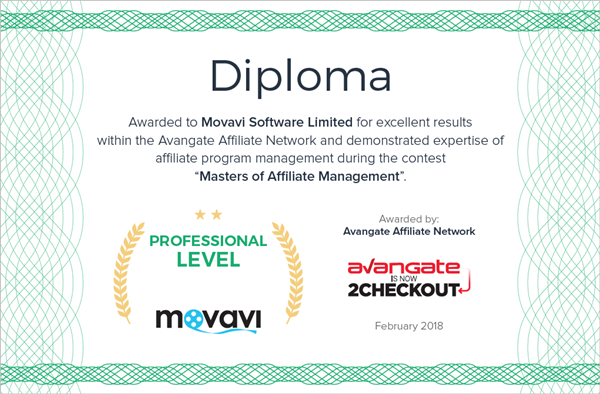 Check out Movavi's Affiliate Program page or simply sign-up here.
Kick-Starter
We wouldn't want to let the newcomers be unseen so we had a dedicated tier in our contest for such programs. We know how hard it is to start a new affiliate program from scratch, especially in today's competitive online environment.
Mondly Languages has successfully kick-started their affiliate program and we are very happy to have them on-board! They have a great app for learning new languages and it has already helped millions of people to develop their skills. Mondly is the winner of our Kick-Starter category and a prize package worth USD 4,000.


Alexandru Iliescu, Chief Executive Officer, Mondly Languages: "We're excited to have been selected as a winner in Masters of Affiliate Program Management 2018 contest. 2Checkout's Avangate Affiliate Network team has been wonderful to work with and helped us setup a strong affiliate network in no time. We're looking forward to continue our growth together."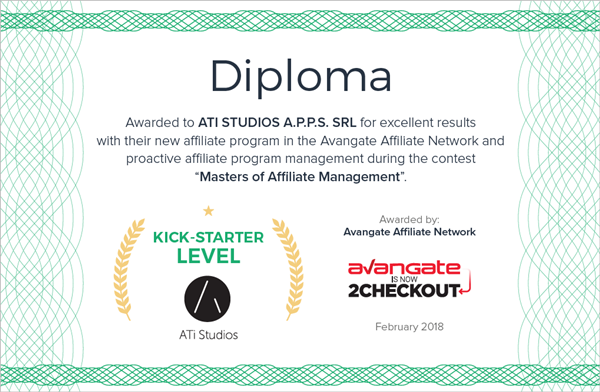 If you are an affiliate promoting educational products, don't miss this opportunity and join Mondly's Affiliate Program here.
We are very happy to have such dedicated partners in our network and we encourage all affiliates to check out these affiliate programs and search for more opportunities by visiting our marketplace page.
Congrats again to the winners of our 2018 Masters of Affiliate Management contest!