Hi, sellers!
Now that the world appears to be slowly recovering from the pandemic, it's time for your business to do the same. So we're bringing you some resources to help you adapt to the "new normal".
Getting back to business as usual will require you to make sure you are offering secure online payments, to communicate in a transparent manner, to improve acquisition and retention efforts, as well as focusing on combating churn. Following are our go-to resources on how to make it through these uncertain times.
Less than two weeks are left until our annual online event, CommerceNow 2020, taking place on June 10-11. We're bringing you some of the best speakers out there, and they cannot wait to share their knowledge. Aleyda Solis, SEO Consultant & Founder of Orainti, Purna Virji, Senior Manager of Global Engagement at Microsoft, Patrick Campbell, Founder & CEO of ProfitWell, are just a few well-known names on the list. Are you ready to step up your eCommerce game?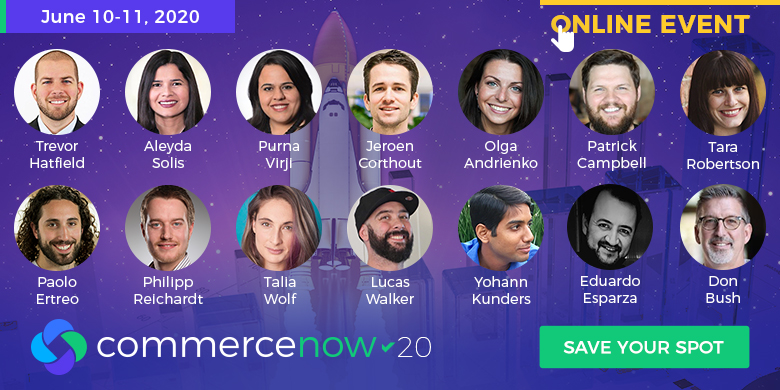 We're very excited to let you know we won the trophy in the Best Payments Solution category in the 2020 SIIA CODiE Awards for the third year in a row! Over the years we have received – and we continue to do so – many awards and certifications that acknowledge our company and its best-in-class solutions for digital commerce.
Adriana Iordan, VP of Product Management and Growth Services at 2Checkout, shares her go-to books and blogs for inspiration and the latest industry news. If you feel stuck in your creative process or you want to know what's new in the industry, take a look at this list, you'll certainly find it useful.
One thing that unites us during the pandemic is communication – even if it's at a distance, we need to make the best of it and keep our stakeholders close by remaining transparent. If you don't know how to handle the changes brought on by this global challenge, our guide is a great starting point.
Even if we are currently facing economic uncertainty, the explosive growth of the eCommerce industry, largely sparked by social distancing, is not going to end in the near future. So you should think about ways to capitalize on this growth and the opportunities brought up by the shifts in consumer behavior. Don't worry, you've got this!
Digital payments are becoming increasingly important, but their security may still be a concern for merchants and shoppers. However, there are mechanisms in place designed to keep fraudsters away. Especially now, when our lives seem to be moving in online altogether, we can't do anything else but embrace online payments and make sure their security is enhanced.
Both acquisition and customer retention are important for sustainability and growth: one is an easy measurement of success while the latter is more cost-effective. Choosing one to be your focus is really a matter of budget and priorities, even though we suggest you don't neglect any of them.
As a subscription business owner, you'll spend a lot of the time combating churn. So we're coming to your aid with some tips on how to reduce the number of customers that are cancelling. Surveys show appetite for subscriptions is on the rise so make sure you properly monetize this market tendency.
This webinar with Marius Baraitaru, Product Manager at 2Checkout, and Vojtech Stribrsky, Online Sales Manager at Avast, will give you tips to fight subscriber churn more effectively. Our experts suggest reframing voluntary churn as a rich source of insight for business development – knowing why customers are leaving can help your company optimize its strategies and offerings.
We take pride in working with such great customers like VWO! Our years-long partnership has enabled us to contribute to VWO's 8% overall revenue uplift from recovery tools, a 6% improvement in authorization rates, as well as optimizing the company's eCommerce operations. We're looking forward to many more years of working together!
Stay safe and focus on further growing your online business!