This month, we offer several ways to cultivate sales growth with newer techniques like AI and social media, alongside optimization of your existing signup forms and landing pages.
Also, we have a favor to ask. Will you take a few minutes to respond to our eCommerce Trends survey? Based on the findings, we're going to produce a report on the state of digital commerce in 2018, so we'd really appreciate your input!

Let's get started!
Great changes are taking place in the recurring revenue world. The old methods of building your product, setting your pricing, and spending your scarce resources just aren't going to work anymore. The future of the subscription world is driven by customer data. Keep on reading to learn more!
Artificial intelligence is a must-have tool for any eCommerce business, to help it be more efficient and highly visible in a very crowded playing field. Personalization, customer service, social listening, are just some of the ways AI can benefit your business. Read on for more!
As the May deadline for GDPR compliance approaches, many companies still have a lot to do. If you haven't done much yet, it's not too late— but you should get started now. Reading this article is a good first step, but make sure to take action as soon as you're done—and involve others in your company as well.
Customer acquisition gets a lot of attention, but customer retention can be the key to building your business. When the sales funnel ends, your opportunity to really engage with a customer is just beginning.
Save your seat for this webinar with HubSpot's executive strategist Sam Mallikarjunan, to get acquainted with how customer success improves acquisition, discover techniques for optimizing customer retention and much more!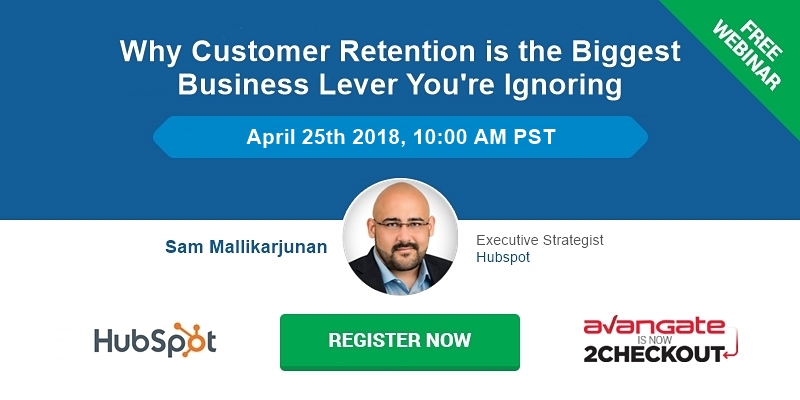 Are you selling digital products worldwide? Domestic payment methods and currencies can make international customers feel more "at home" in your shopping cart, which results in higher conversion rates. This datasheet shares more than 45 payment methods by region and at country level, supported out of the box by 2Checkout. Get your copy!
Every year, software and online services companies lose millions of dollars in potential recurring revenue to customer churn. Fortunately, there are tactics and tools that you can use to combat churn and this is what the current eBook is about. So get your copy and start fighting churn!
Want to fuel your social media game? Then you might need some smart tools to help your brand get ahead. No worries, we have a few suggestions for you. This is a must-read for social media managers and community managers!
How do you grow your mailing lists and generate more leads?  We have a hint: signup forms. These bad boys are the foundation of any successful marketing automation flow. Here a few proven ways to get the optimization mojo flowing for your business's signup forms.
It's a shame that more businesses don't focus on building relationships. You should stop focusing only on grabbing the sale. Look at the immediate value you can offer and build it into your wider conversion funnel. This great article from Conversion Sciences shares some great tips on how to start focusing on value, rather than just the sale.
Chargeback rate is an important indicator of the health of your business. You should aim to keep chargebacks at the lowest possible level, otherwise, you lose money. This eBook will guide you through the chargeback process, helping you understand why chargebacks occur and how to minimize them.
As always, subscribe to our newsletter and be the first to get the latest news, blogs, whitepapers, and webinars on how to grow your eCommerce business.