Hello sellers, 
Now that the summer is in full bloom, we're kicking off this month's roundup with actionable tips on how to expand your business overseas and what it takes to enhance your shoppers' journey by localizing the buying experience to their preferences. Next, we're sharing pricing and payments strategies that can help you upscale your online business, exciting Fintech trends to keep an eye out for, and best practices to optimize your eCommerce checkout flow and boost your conversion rates. 
And if you didn't have a chance to attend our global virtual event in June, CommerceNow'22, we'd like to let you know that all sessions are now available on-demand, so you can watch at any time.  
Happy Selling! 
We recently attended eCommerce Tech Global where our very own Nataliya Shadykulova, Head of Digital Sales EMEA, talked about the main aspects you need to know when planning your expansion into local markets. Make sure to check out her session!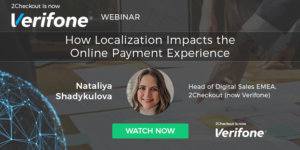 We're moving towards a cashless society, where online payments and digital currencies will be the norm and no longer just options. Find out if your business is ready for the change. 
As the Fintech industry evolves, more innovative products and services have started to emerge. Stay up to date with the biggest trends that are bound to shape the eCommerce landscape. 
As a merchant that looks to expand their eCommerce business on the international markets, one of the most challenging aspects that you can encounter is to achieve full compliance with the various taxation requirements. Requirements that differ from market to market. Read our eBook to learn what to expect in terms of taxation when selling digital goods to European countries. 
Knowing when to update your subscription pricing can be a great way to grow your business. Find out how making changes to your pricing can help you attract new customers and increase revenue from your existing ones. 
Cold emailing often closes deals faster, requires very little investment, and is much easier to scale. Now is the time to learn how to boost your SaaS conversions and generate qualified B2B leads. 
Starting an online business might be a little tricky at first. Luckily, you can avoid making some common mistakes by asking yourself just a few crucial questions right from the start. 
The checkout page is one of the strongest pillars of conversion when it comes to selling online. Watch our latest "Give me 5" video where Gabriela Florea, CRO Manager at 2Checkout (now Verifone), shares five best practices that will help you optimize your checkout flow, boost your conversion rates, and ultimately drive more sales.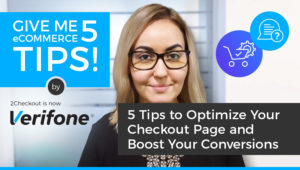 As an eCommerce business owner, it's important to make a habit of exploring new ways to lower costs and increase your profit margins on a regular basis. Discover these eight effective techniques to optimize your strategies and drive more revenue to your online business!   
One of the main keys to hyperboosting your sales at a global level lies in constantly looking for new opportunities to improve your checkout process. 
Find out how Driver Easy from Easeware saw an 8% increase in online sales after a collaboration with the Verifone CRO team.  
Summer sales are fully booming now! What is an eCommerce strategy that you can swear by for this time of year? We'd love to hear your thoughts in the comment section!