2Checkout provides a monetization platform that maximizes your revenue and makes global digital sales easier. Our platform includes multiple types of ordering engines designed to improve conversion rates and improve business metrics. In a recent 2Checkout workshop with my colleague Madalin Cojocariu, Product Manager, APIs and third-party connectors, we showcased a complete walkthrough for how our hosted and API ordering engines are easily set up to help merchants accept payments from all over the world, and how they help online sellers improve business performance. 
Read on for a quick overview of the options, or watch the workshop for a full demo of the products. 
Why is Choice of Ordering Engine Important?
To understand why ordering engines are so necessary, it's important to take a step back and look at some global eCommerce statistics. Worldwide eCommerce purchases have a 4.3% global  conversion rate, and it's only 2.6% in the United States, while average online order value is currently $179 on desktop and $79 on mobile. Use of the right ordering engine has great potential to positively impact merchants' CR and AOV rates, as our recent workshop showcases.  
Recent studies have found that the global cart abandonment rate is 71% and estimates that there is $18 billion lost to cart abandonment globally each year. Recovering some of this lost revenue is a worthwhile endeavor that can help online merchants build their business. 
What Business Needs Do Ordering Engines Solve?
 Years of experience gathering data on online purchases have helped 2Checkout identify a variety of key initiatives for delivering a great eCommerce experience. The right ordering engine helps sellers tackle business needs in order to provide an effective online purchasing experience and a smooth checkout process. Our ordering engines are developed to help online businesses: 
Simplify eCommerce management

 with a frictionless experience and multiple payment options. 

 

Create a seamless brand experience 

with optimized checkout flows that are tailored to a brand's eCommerce needs.

 

Convert more initiated orders in successful sales 

with fully optimized shopping carts.

 

Deliver full control over the entire customer experience

, from the checkout page to customer data.

 
Engaging in these efforts will help merchants get more out of online sales and grow their business accordingly. 
2Checkout Ordering Engine Options
 To support the best online shopping experience possible, 2Checkout offers two ordering engine options: hosted and API. We offer two hosted ordering engine alternatives, ConvertPlus and InLine Checkout, both of which seamlessly integrate into your store, regardless of the type of technology used in the backend: 
Integration via buy links

 

JavaScript library or 

 

Third-party platforms (Shopify, Magento, PrestaShop, WHMCS, OpenCart). 

 
In addition to the 2Checkout hosted checkout flows, there is also the option to integrate with our Ordering APIs. The APIs enable development teams to customize or create a  unique ordering process, while having full control over the checkout experience. Furthermore, by using our JavaScript library, the 2Pay.js embeddable fields can be added to keep customers' card data safe. 
Hosted Carts: ConvertPlus and InLine Checkout
ConvertPlus
As a 2Checkout hosted ordering engine, ConvertPlus provides an optimized digital experience and improves conversion rates through a multitude of monetization tools. Able to handle the sale of any type of digital and physical goods, ConvertPlus offers a frictionless checkout experience, with added-value capabilities such as advanced marketing tools, security, geo-IP detection and more to help businesses raise conversion rates substantially. 
eBook: Dive deeper into ConvertPlus capabilities and uncover how it can help you simplify the process of collecting payments from your customers.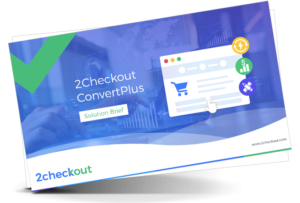 The 2Checkout platform data shows potential to increase conversion rates up to 20% with ConvertPlus by leaning on a variety of conversion improvement options. Global payment methods  and PayPal Express can deliver up to a 10% boost in conversion, while the optimized checkout flow with fewer fields and improved loading time can lift conversions an additional 10%. Meanwhile, multilanguage checkout with geolocation capabilities can deliver as much as a 15% increase in conversion rates, while promotions and marketing tools can net 6% more. A combination of these factors will deliver real results. 
InLine Checkout
While the same capabilities and benefits from ConvertPlus apply to InLine Checkout as well, this type of ordering engine addresses the buying experience of customers differently. Since its core design is based on an iFrame that greets the customer right after they've decided to buy the products, InLine Checkout doesn't redirect prospects to a new page.  
This is an added benefit that comes only with this type of checkout page, along with preload optimizations, meaning that the page is always loading in the background based on user interactions, which results in a 60% reduction in the perceived loading time.   
eBook: Read about the simple and straightforward checkout experience InLine checkout brings to your ordering process.
Furthermore, as customers are preparing to pay for their orders, the InLine Checkout is set to remember past interactions. When a new customer decides to buy from the same merchant, they will automatically be sent in the 3-step flow provided by InLine, (Payment Method Selection, Billing Address, Place Order). Following these three steps, returning customers are automatically sent to the last step of the order placing flow, which has a big impact on the speed with which they can pay for the products and, consequently, on the satisfaction perceived by the end-user.  
No need to take our word for it—listen to our customers. VideoSoftDev (VSDC) used the ConvertPlus shopping cart to increase conversion rates by 9% and streamline global checkout, while Epubor saw conversion rates go up 20% by using the InLine Checkout, which optimizes a preloaded checkout and improves conversion with fewer fields. Together, these ordering engine options pack a real punch when it comes to growing online sales.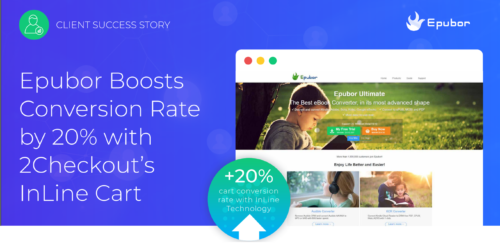 Enriched Checkout Capabilities with API 6.0
Beyond hosted engines, our API 6.0 checkout integration is the go-to option for all merchants that want to retain full control over the shopping experience. Our public API includes all the tools necessary to build a personalized shopping experience, while integrating with the 2Checkout monetization platform and taking advantage of its wide array of tools. 
With our API integration, merchants have all the capabilities needed to scale in every market they're selling into: 
Simplified PCI compliance.

 Accept credit card payments all over the world, with the protection of full PCI compliance. Our 2pay.js Javascript library allows merchants to accept credit card payments on their website, optimizing the compliance procedures to a simple SAQ-A questionnaire, the least complex compliance level.

 

Access to global payment methods.

 With API 6.0 online sellers can now reach global audiences, allowing them to shop with the payment methods they prefer, such as PayPal Express Checkout, Bank transfer for Non-SEPA countries, Diners Club credit cards, Boleto bancario in Brazil,  and other digital wallets, which positively impacts conversion rates. What's more, our API integration also boosts authorization rates, keeping fraud rates low and collecting more of the merchant's due revenue.

 

Management of full subscription lifecycle.

 The 2Checkout API can be used to manage subscription details, access payment data or resend invoices. Setting up a new subscription for a customer is super easy; if needed, dynamic products can be created on the fly. Unlike other payment providers, with 2Checkout the merchant has full data ownership of payment and subscriber data.

 

Access to additional marketing tools. 

To help merchants increase their AOV (Average Order Value), our API 6.0 supports running marketing campaigns. Use tactics such as promotions, cross-sales or upsells, discounts or coupons. Automate cart recovery activities and collect more from each visitor.

 
Check Out the Demo
 Not convinced yet? Check out the full workshop for additional information on 2Checkout integration options and a demo of the tools so you can see the magic for yourself.