Most businesses these days have an online presence. However, not all companies are paying attention to their website's accessibility to people with disabilities. There are now more than 400 million active websites, and all these websites operating in the United States are legally required to provide equal accessibility to all people following Title III of the Americans with Disabilities Act.
To be ADA-compliant, the sites must be free of barriers that would make it impossible or challenging for people with disabilities to make use of them. Inaccessible websites can also mean missed opportunities for businesses.
Safeguard Your Website: ADA Compliance Levels
There are some guidelines that e-commerce websites must follow to be considered ADA compliant. These guidelines are broken down into three primary levels, which include.
A = must support
AA = should support
AAA = may support
AA is what most websites should aim for because A is too light and may not fully comply with the regulations, and AAA is often too strict and limiting in terms of design and interactivity.
How to Make eCommerce Websites ADA compliant?
A company with more than fifteen employees is required to comply with ADA standards, both online eCommerce websites, as well as brick-and-mortar stores. This includes smaller eCommerce agencies and national brands that sell across multiple platforms.
Why is ADA Compliance Important?
A lack of accessibility compliance will lead to lots of problems for your business. For example, a successful business cannot reach potential customers if those customers cannot use your website because of accessibility issues. It is easy to underestimate the scale of people who rely on accessibility features to access websites.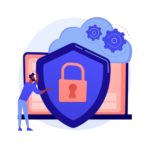 According to a recent report by CDC, approximately 61 million people, making up about quarter of the American population, live with some form of a disability. Moreover, this segment also has an estimated $645 billion in annual disposable income, making it hard to ignore for any business. Consider the potential customer reach through positive word-of-mouth your business will get by providing an accessible website.
Accessibility also helps to improve your website's search engine performance. If your competitor has a website with accessible features, but if your company does not, potential customers are more likely to see your competition ranked higher in search results.
Web Accessibility Lawsuits in the U.S
Everyone has the right to equal treatment and should not experience discrimination because they have a disability. Many laws in the United States support this right. If your company violates one of these laws, then you may find yourself at the defensive end of a lawsuit.
An international legal firm, Seyfarth Shaw analysed that in 2019, web accessibility federal lawsuits hit record numbers, with 11,053 suits filed in federal court, which is an exponential increase from the previous year. California had the highest number of web accessibility lawsuits, but that may be in response to a ruling by the United States Court of Appeals for the Ninth Circuit, which overturned a federal judge's dismissal of a case against Domino's Pizza in 2017. A man who was blind complained that he was unable to use Domino's website or mobile app because it was not accessible to him. This reversal might have prompted more plaintiffs to launch web accessibility lawsuits in California.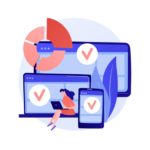 California and New York both have their state laws banning discrimination against people with disability. It is the Unruh Civil Rights Act in California, while New York has a New York State Human Rights Law. Many web accessibility lawsuits recently, have also been filed based on Section 508 of the Rehabilitation Act, which mandates all federal agencies to provide information that is accessible to the disabled population.
People have taken legal steps against both the Social Security Administration and the Department of Homeland Security over Section 508 of the Rehabilitation Act.
Tips to Protect Website from Accessibility Lawsuit
Every website is at risk of a web accessibility lawsuit, yet this does not mean that website owners and admins should be worried. Instead, they can take action to make their website as accessible as possible. There is a misconception that web accessibility is complicated or confusing, but getting in compliance with ADA can be done with a reasonable effort.
Here are eight steps your eCommerce company can take to protect itself against an ADA Title III web accessibility lawsuit and make your website accessible to people with disabilities.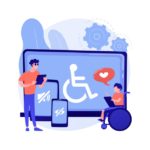 1. Familiarise Yourself with WCAG 2.0
There is no clear definition of what makes a website accessible. Still, the Department of Justice considers a website accessible if it meets Level AA standards of the Web Content Accessibility Guidelines (WCAG) 2.0.
It might be best to get familiar with the WCAG 2.0 standards so your company can make a plan for getting in compliance. Visit the WCAG website to learn all about the regulations and get advice on meeting the guidelines.
2. Have a Meeting
All stakeholders must be aware of the importance of web accessibilities and their role in complying with the regulations. Hold a meeting to have an honest talk about these issues. It is important to remember that web accessibility covers many website factors, including design, architecture, styling, captioning, and more. Not all these factors are going to be relevant to each employee in the company. You can have a general discussion about the issues of web accessibility, which relates to the employees, instead of burdening them with learning all about the WCAG 2.0 standards.
For example:
Designers need to use color and contrast to take individuals with a low vision into account.
Site architects can ensure that content is conveyed with text and programmatically, and not just through styling. This will ensure that individuals using screen readers can access it.
Developers should code consistently and in a manner that will make the website accessible to individuals using assistive devices.
Editors and content creators should use titles, headings, Alt text, and link text in a way that will make pages usable by individuals using screen readers.
These are just some examples of what will help in making websites accessible. Employees or departments will have to do further work to learn about the specific WCAG 2.0 guidelines that apply to them.
3. Start Documenting the Process
Document all the steps you have taken to improve the accessibility of your e-commerce website, including all the meetings and website updates. A good Audit solution would be aCe or aXe. This documentation will be extremely useful in fighting against any accessibility lawsuit you might face in the future.
4. Audit Your Website
Use the W3C Validator website and type in your e-commerce website URL. This will give you a necessary audit of accessibility issues that are currently present on your website. Unfortunately, all the results won't make too much sense to non-technical people, and you probably won't get any advice on how to fix the problems.
Fix all the problems that the tool pointed out. Without some website policy changes, likely, the same type of accessibility errors will again occur. Expert help might help in solving this problem.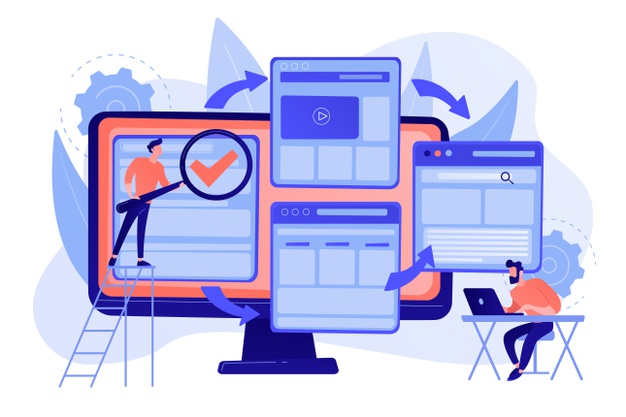 5. Hire an Expert to Help Your Company
Web accessibility covers a wide range of problems. It would likely take a considerable use of resources to get all stakeholders up to speed on the issues which apply to them. Instead, a much simpler solution would be to hire an expert. The accessibility expert will create a plan for fixing issues and ensure that your e-commerce website complies with the regulations. An "expert" does not necessarily have to mean a full-time employee or a contractor.
Companies like accessiBe provide automated solutions for helping companies achieve complete compliance with WCAG 2.0. The first step is to implement an accessible interface by upgrading the UI and making design-related adjustments. Moreover, the AI-powered background process optimizes your website with a screen-reader and easy keyboard navigation.
6. Fix Priority Issues First
Once you're aware of the accessibility issues your eCommerce website has, steps can be taken to fix them. The problems can be arranged by how impactful they are. Alternatively, you may choose to focus on issues by how easy they are to fix them.
At the W3C website, steps can be taken to find quick tips for making your eCommerce website more accessible. Some problems you can address first are,
Use alt text to describe the images.
Provide captioning and transcripts of the audio and video files on your website.
Use text that makes sense for links. Link texts should have a context.
Use headings to organize the pages.
7. Talk to Your Designer and Developer
If you have outsourced your website design and development, discuss with them to see whether accessibility has been taken into consideration and what more steps can be taken to make the site accessible. If you have an in-house design or development team, start training them on WCAG 2.0 guidelines to comply with the ADA standards.
8. Get Contractual Provisions
If you have third-party contractors for your eCommerce website, consider contractual provisions that will state that they are responsible for accessibility. These provisions can protect your company from a lawsuit.
Conclusion
The current rulings and settlements point to the fact that WCAG 2.0 and Level AA are universally accepted standards of web accessibility. Any company that proactively strives for online accessibility should comply with ADA standards. Legal experts believe  that companies will open themselves up to litigation if they ignore their obligation to ensure their website and apps are accessible.
Companies that make an effort to comply with the requirements of WCAG 2.0 (or 2.1) and Level AA will protect themselves against this kind of legal action. People with disabilities who visit the eCommerce website also feel welcomed and will be able to interact with your site with ease.
____________________________
Author Bio
Hazel Raoult is a freelance marketing writer and works with PRmention. She has 6+ years of experience writing about business, entrepreneurship, marketing and all things SaaS. Hazel loves to split her time between writing, editing, and hanging out with her family.