So your software business is at the point where you think you're ready for the next step. Be that to embrace a new business model, go into a new market, or simply optimize your eCommerce operations. You're interested in finding a digital commerce platform that will help streamline sales and let you focus on your product and customers.
But how do you evaluate commerce platforms and choose the one that's right for you?
First, let's step back for a second.
Why (Modern) Digital Commerce Matters
Why do you need a modern digital commerce platform and why legacy solutions fall behind?  Because today's customers are demanding and unforgiving. You need to be ready to capture their interest at any moment, on their terms (and devices). The tools you're using need to be flexible enough to handle all aspects of selling online, especially as your business grows and enters new markets.
Additionally, the requirements for eCommerce keep expanding and getting more complex. These include new payment methods, taxation changes, customer experience, personalization, usage-based/subscription models, digital distribution partners and more. This complexity is not only difficult to handle, but also creates revenue leakage that costs your business.
You need to figure out what technology you need to service customers at every moment, offer the right model at the right time, recover revenue, go global and iterate faster while simplifying and scaling your business.
Understand the Digital Commerce Technology Stack and Payment Processing Models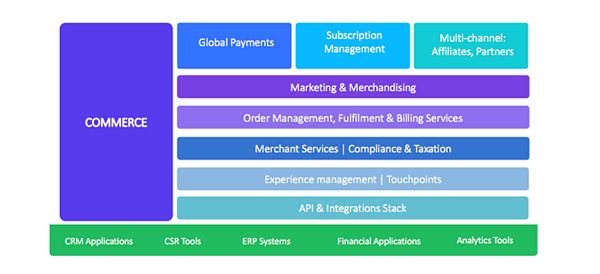 Picking the right platform starts with understanding the full technology stack and payment processing models that are involved in your decision. Your commerce platform will encompass a plethora of important elements: payments, subscription, multichannel, marketing, order, merchant services, customer experience and APIs. Not only that, but your commerce platform also has to interact with your other tools, like CRM, CSR, ERP,  analytics systems. Make sure to have a plan for integrating all of these elements.
In addition to the technology stack, you should know about the different payment processing models available to you. You can choose a merchant of record (MoR) or payment service provider (PSP) model. Each has its own advantages and disadvantages, depending also on your business needs. To understand the models better, here are some explanations:
MoR: The digital commerce vendor is the merchant of record and held liable by the bank to process customers' payments.
PSP: You get services for accepting electronic payments by a variety of payment methods. You need to be the merchant of record and have a merchant account.
Curious about the main differences between the two models? Check this out:
The MoR model is well suited for digital products (electronic software download, SaaS, media, etc.), with standardized packages and licensing. MoR comes as advantageous also for global sales and B2C or B2sB sales with simple sales cycles.
You may prefer a PSP model if you are doing domestic selling only, offering products that require third-party setup or onsite support, or when engaging in complex B2B deals.
Understanding Solution Types
Now that you know the basic technology stack and payment processing models, it's time to look at the different types of commerce platforms available and assess your business needs to find the right one for you. The different types of platforms range from full commerce solutions for digital goods to subscription and recurring billing tools, as well as payment gateways or processors and shopping cart/ eCommerce tools. Depending on your business type and goals, you will choose either a full commerce solution or mix and match between solution types to get the right mix.
How to Self-Asses What Your Company Needs
To assess your needs, think about your business goals and objectives, such as entering new regions, trying new business models.
Along with your goals, consider the main pain points and challenges you face today when it comes to your digital commerce operation.  For example, is it cumbersome to release new products, are you slow to make changes to pricing, you have low conversion rates or cannot easily customize the eCommerce experience by yourself?
Based on these two, you'll be able to correctly formulate requirements.
Then, think about the in-house resources you can dedicate to commerce (during implementation and most importantly, after), define your budget, identify your stakeholders (get buy-in from all the roles that have a stake in this and can help make a better decision) and consider risks and assumptions before completing your analysis.

Consider that your commerce platform should be useful to you throughout the entire subscription lifecycle as you acquire, onboard/activate, upsell/cross-sell, upgrade and renew customers to enable continuous retention and grow customer lifetime value.
To be relevant throughout every stage of the lifecycle, the solution you go for will need to include complete subscriber management and flexible pricing, as well as revenue recovery tools for new accounts or renewals.
Without all of these tools, you'll be leaving money on the table.
Assessing TCO, ROI and Success for your Digital Commerce Platform
Any digital commerce platform has trade-offs. There are the costs for the platform and tools, as well as potential additional costs such as gateway fees, credit card fees, overhead, chargeback handling, tax management and more. Make sure you understand exactly what's included in the cost of your platform and what's extra to add up your total cost of ownership.
At the same time, digital commerce also provides revenue uplift in the form of cross-sales or upgrades, revenue recovery for renewals, improved approval rates, optimization tools and more. Weigh the additional revenue against your cost of ownership to determine your return on investment in digital commerce. Take into account additional sales channels that you can connect to, such as affiliates or digital distribution partners.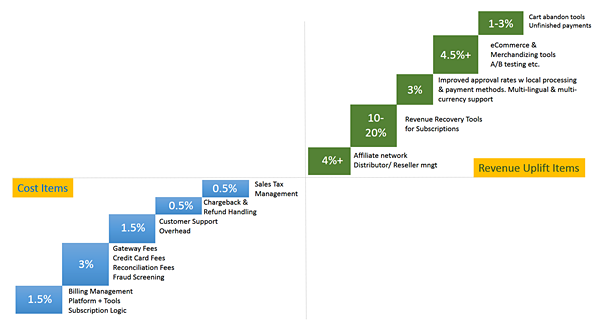 Metrics to Track
To evaluate success, identify key metrics to track before and after your platform implementation. These may include revenue and sales, support response time, cart loading time, sales cycle timeline, conversion rates, cart abandonment, subscription renewals, customer lifetime value, CapEx/OpEx, marketing costs, internal work hours required to manage the platform and more. Without baseline metrics to compare to, you won't be able to fully understand the impact your digital commerce platform has on sales or profitability.
The Due Diligence
Getting the full picture of what you're getting into also requires that you ask commerce providers some common and not so common questions:
Typical implementation times -> implementation times for situations similar to yours.
SLAs -> Platform uptime, shopper support, vendor support
Support team -> Location, working hours
Demos & trials -> Can they set up a sandbox or demo account matching your requirements
Look and feel, platform configuration -> Will you have control over the look and feel, the configuration of the commerce experience? Will you have the right to do it, or have self-service tools at your disposal?
Usage and integration of analytics & marketing tools
User management -> Number of users typically needed to run day-to-day activities (asses if you will be able to reduce the human input required to do the same tasks or will you need additional resources or IT support).
Areas they will touch, rights & permissions.
Reporting -> How it is supporting current & future needs
Contract -> Are you locked in into a long-term contract or is it month to month?
Risk & Compliance -> Who carries the risk of taxes, export compliance, PCI compliance, refunds & chargebacks. Check the general liability clause in the contract.
Data -> Who owns the data and how easy is it to get the data if you leave?
Hidden fees -> Foreign exchange markup, international surcharge, chargeback fees. Initial and on-going professional services fees.
Business benefits the provider expects you to experience -> Revenue increase, faster time-to-market, new market penetration, scalability, increase in conversion, authorization rates, etc.
Learning -> Will you get thought leadership pieces, invitations at events, regular business review meetings, industry content to learn from.
Metrics to measure and quantify benefits.
Partners -> What technology partners & service providers do they work with that will bring you additional benefits?
Only when armed with this information can you make a truly informed decision about the digital commerce platform you will choose.
Got what you need to get started? For more details about choosing the right digital commerce platform for you, watch the full webinar.