Affiliate Marketing Works When Done Properly
Are you looking to increase Affiliate Network sales and not sure how? Have you connected to several affiliate networks and sales are still not picking up? Don't have the additional staff to manage affiliates day in and day out?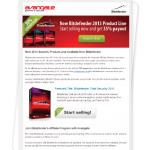 If you are confronted with any of the above, or have just started in affiliate marketing and not sure how to go about it, don't lose heart. Affiliate networks do require day-to-day management and support in order to be successful.
Of course we take pride in the number of affiliates we have attracted in the Avangate network, recently passed the 35,000 milestone and growing. But just being connected to many partners is not the recipe for success. What holds valid is that with the right tools, counseling, and guidance, the effectiveness of the affiliate channel is increased.
We have spoken about these issues with many people involved in affiliate marketing – on the vendor side, the affiliate managers, on the affiliate side as well as with experts in the field. And all of them emphasize the same key things: relationships & communication. Here's what Marius Motohon, Affiliate Manager at Bitdefender, provider of innovative security solutions, commented on the subject: "It takes time to find the right partners and then you need to communicate with them on a constant basis. Automation and mass campaigns have their value, but the larger the deals, the more important it is to have one-to-one relationships, and this is what Avangate facilitated for Bitdefender."
And just to prove this with hard core numbers, here are some results that Bitdefender obtained with the help of the Avangate Affiliate Doctor & affiliate managed services:
95% increase in affiliate-generated revenue within 6 months
46% increase in the number of clicks generated by affiliates, resulting in increased product awareness
5% additional revenue from correct affiliate sales tracking and increased affiliate retention
Read the full case study on the Clients section from our website.
Have you got a similar affiliate success story to share?