Nowadays everyone is talking about increasing your conversion rate as the main driver for generating more revenue online. Well, it is, actually :) and it's up to all entities in the buying process – vendor, resellers, affiliates – to optimize this in order to generate more sales.
From the data we have, the customized shopping carts perform 2.7% better (in absolute value) than the others.This means that if you optimize your order interface, you may generate an additional sale for each 37 sales you're already generating.
As a member of the Avangate Affiliate Network, you have advanced tools to improve this very important KPI. One of the unique possibilities we offer in our affiliate network is the affiliate order interface customization.
Did you ever wonder how the users act during the buying process? What happens after your visitors are redirected to the shopping cart / Avangate secure servers?
Why customize your shopping cart?
If you're using buy links directly to the shopping cart on your affiliate website, you should consider customizing your order interface template, at least for the following reasons:
Increased trust – when shoppers are redirected to our payment interface, the vendor default template will be used. Some of the visitors may consider this untruthful and, thus, abandon the shopping process.
Control the shopping process – you know best (or at least you should have an idea of) what your audience's needs and website flow are. So, you can serve them the right things in the shopping cart and avoid issues like an inappropriate shopping cart template defined by the software vendor or any other changes in various stages of the shopping cart that might affect your conversion rate.
Market the products better – many say that the software vendor is in the best position to market its products. However, there are many examples that prove the opposite – affiliates having more success in selling products than the vendors, given the fact that, for example, they may address specific niches, local audiences and so on.
Optimize the shopping cart – give your customers contextual links to your website, recommend them other things or just focus on the buying process – whatever your optimization strategy is, you can put it into practice.
Don't forget – a very important part of the customization part is continuous testing – you shouldn't look at this as a one-time operation after which you're done, waiting for your conversion numbers to skyrocket.
How others do it
Along with some vendor shopping cart examples, here are a couple of customized affiliate order interfaces from our network that have very good conversion rates: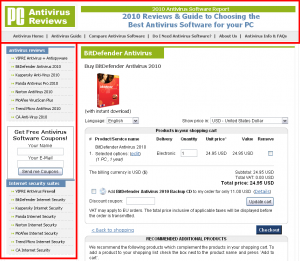 Here's what they have to say about this:
[…] Of particular note is the optimization that we can now do that we weren't able to with other companies. On their system, we've been able to increase revenue at our antivirus review site by over 20% and conversions over 30%, which are good numbers by anyone's measure. […] – K. Smith, Co-Editor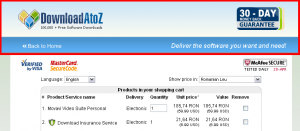 As you can see, all of them have something in common – they preserve the layout of the original website, with contextual information added for the convenience of the buyer.
So, my advice is to go ahead and start customizing your affiliate shopping cart. The worst thing that can happen is to increase your commissions! :)