How can one get a channel distribution as conflict free as possible, that generates both online and offline software sales and in the end it makes everybody involved happy – resellers, distributors, affiliates and vendors?
First of all, in case you are wondering why am I writing about selling software offline on an eCommerce provider blog, well, it's because unlike other providers,  we also have ARMS (Avangate Reseller Management System) – a standalone Partner Relationship Manager system.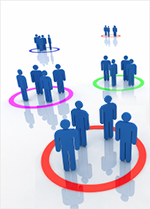 I will try to keep it short (I'm running out of coffee) and not write about ARMS (ARMS does this and ARMS that. You can read this on our website anyway).
At a first glance, online sales and channel distribution are competing over the same customers so I want to focus here on when is good to use offline resellers and distributors, potential conflicts with online sales and give you an article to read about solutions to these conflicts.
Most software vendors that already sell online think about channel distribution, handling resellers and distributors, as an un-necessary overhead. Indeed if you just started up, you should stick to online sales, but it would be good to use resellers as soon as possible.
Let's think about your sale force. You have the site which is your 24×7 sales guy and probably a variable size sale team that pitches buyers, answers phone calls, takes care of invoicing and so on. In the best case scenario, you have localized your site to target local markets, still, you need to get everybody to the one single focal point – your site (and your sales team behind it). Now, let's say you have one million potential customers, what rate of success could you have in getting them all to your site? What would you say about having more entry points?
So when is it a good idea to distribute your software through resellers and distributors?
When you could use the resellers' sale force to approach local markets (let them make the sale to the final customer)
When you want to take advantage of the reseller position in a certain market and share risks and opportunities with them
Your software can be packed with additional services provided by the resellers for the end user benefit
Take the load off your support team (resellers could do support locally)
Where can conflict arise?
affiliates 'stealing' online customers from resellers
end-customers buying directly from vendor's online store
multiple resellers in the same territory fighting for the same clients
vendor trying to expand faster than the resellers can cope with
vendor and reseller located across continents, making communication between them more difficult
Solutions?
…rest at ease:
Software distribution channel conflicts CAN be solved!
Find out how to protect your channel and make the best of it – read full article that my colleague Delia has prepared.  Time to get another coffee!
How do you deal with these issues? Please share your perspectives via comments.