We are living in challenging times. While the COVID-19 outbreak impacts countries worldwide, we are doing everything we can to support our clients and our affiliates to run their affiliate program business within Avangate Affiliate Network.
As a digital company, we are geared up with all the tools needed for the best online experience, providing support 24/7 to both companies and their affiliates.
Our affiliates are currently continuing to drive web traffic and sales volumes with minimal disruption, helping companies reach new customers from different countries. Either through review websites, blogs, social media, paid search, download portals, or coupons and discount sites, you can find the suitable type of affiliate to ramp up your online business.
Our team is working on creating opportunities for publishers during the pandemic, enabling our customers to build key relationships with high-traffic volume affiliates and increase affiliate sales of their software and digital products.
The companies that act as advertisers in our affiliate network are adapting to the "new normal,", implementing various government measures and self-imposed social distancing, while also addressing customer behavior shifts due to COVID-19 economic limitations.
For a deeper understanding of the current business context (and because being in the know has a reassuring effect on all of us), we have gathered some insights from our clients on how they are dealing in the pandemic context. Following you will find messages of encouragement and hope, examples of specific actions taken for helping the community, and some sneak peeks on what opportunities lie ahead of us: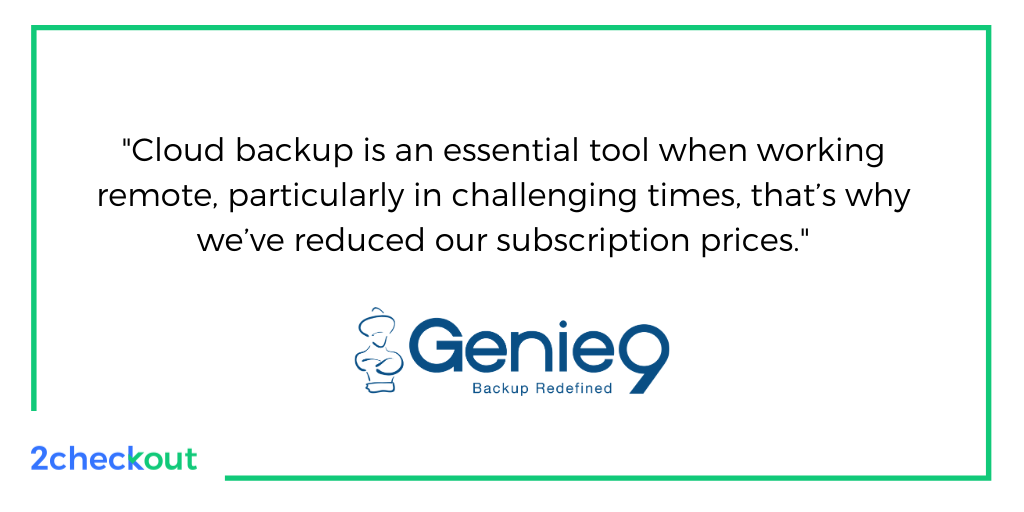 "The health crisis has affected us, much like millions of other employees around the globe, in that our teams have shifted to working remotely from home. We forecast there will be an increase in demand for cloud services during the crisis, particularly backup and storage, as on-site access to data is increasingly difficult. In order for businesses to keep operating smoothly, they will need every piece of information that they usually access from their offices, on a day-to-day basis, right there in front of them while they work from home. 
We are working remotely and using applicable tools like video conferencing and chat apps, which are more fluid than emailing back-and-forth. Our working hours remain the same, including lunch breaks and leaves. In short, it's business as usual. From a commercial perspective we're reducing our subscription prices to make our solution accessible to all types of businesses, no matter their size or financial clout. We believe cloud backup is an essential tool under normal circumstances and should certainly not be relegated only to those that can afford it during challenging times.
We've actually seen an increase in subscriptions as businesses and individuals realize local (on-site) data backup is not an acceptable solution for most businesses; even home users are seeing the value in cloud solutions," Genie9.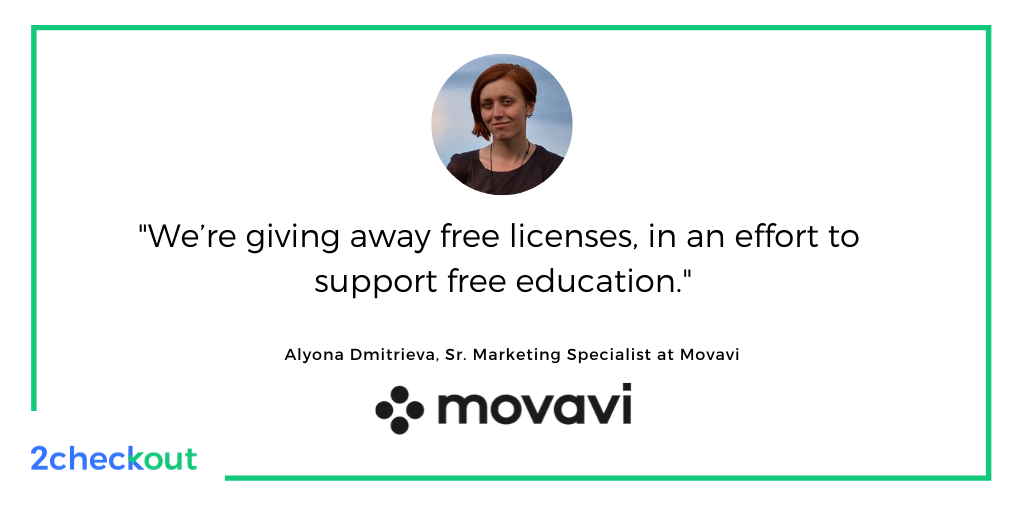 "Movavi has headquarters in Russia, Cyprus, and the US, and all of our employees are working remotely these days. Despite some minor technical difficulties, we have fully established our interactions and work processes online and are working almost as usual — the only difference is that everyone is in their home workplaces, cozy and safe.
As our top products are intended for working with multimedia, they turn out to be very useful for online learning, remote work, and just sharing warm wishes and memories through long distances. We see a growing interest in our programs for video editing and screen recording, and we hope all our new users will appreciate the efforts and stay with us after the pandemic is over (and hopefully that doesn't take too long!).
To support education, which is surely having a hard time right now, we have launched a giveaway of free licenses. Any school, university, or other educational organization can get our products for free for their teachers and students until the end of June, 2020.
We try to stay calm and positive-minded, support each other, follow the medical recommendations, and keep everyone safe and healthy," Alyona Dmitrieva, Sr. Marketing Specialist at Movavi.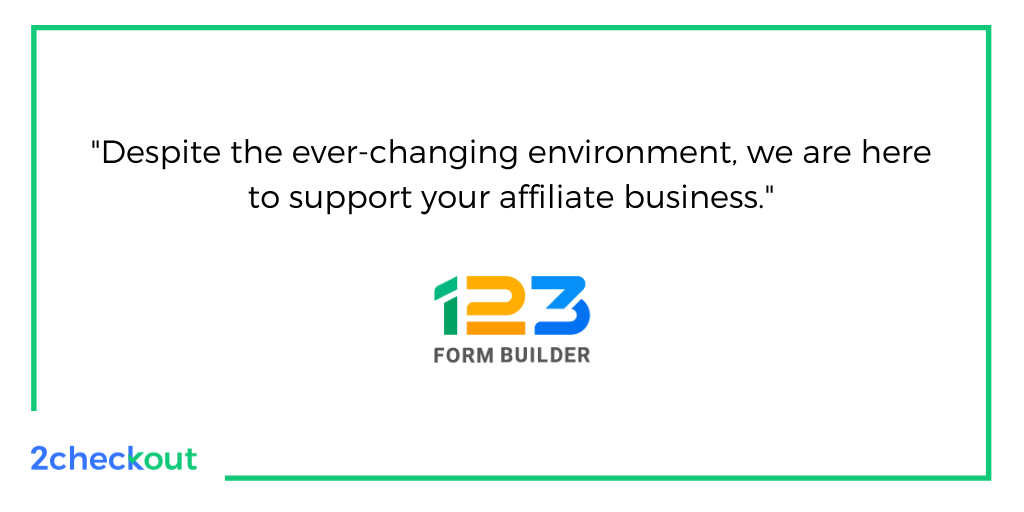 "Undoubtedly, the Coronavirus crisis is affecting and will continue to affect the economy. Some businesses are closing shop, while others are shifting gears and adapting to pandemic times by either going online or by manufacturing the health products everyone needs so much these days.
Here at 123FormBuilder, we haven't seen major changes since the outbreak of the pandemic. We do see normal seasonal fluctuations in numbers, but overall, the nature of our business has sheltered us from the serious impact that industries like tourism and manufacturing have experienced. We are hopeful that things will continue to stay on track.
The world out there is not only facing a major crisis, but it is also going through a forced transformation as well. In China, there are apps designed especially for teachers and students so that educational activity can be as effortless as possible. In Europe, thousands of teachers are moving their lessons onto Skype, Zoom, and Google Hangouts, trying to make the most of what technology has to offer. Chances are that this is just the beginning in terms of how businesses move online," 123FormBuilder.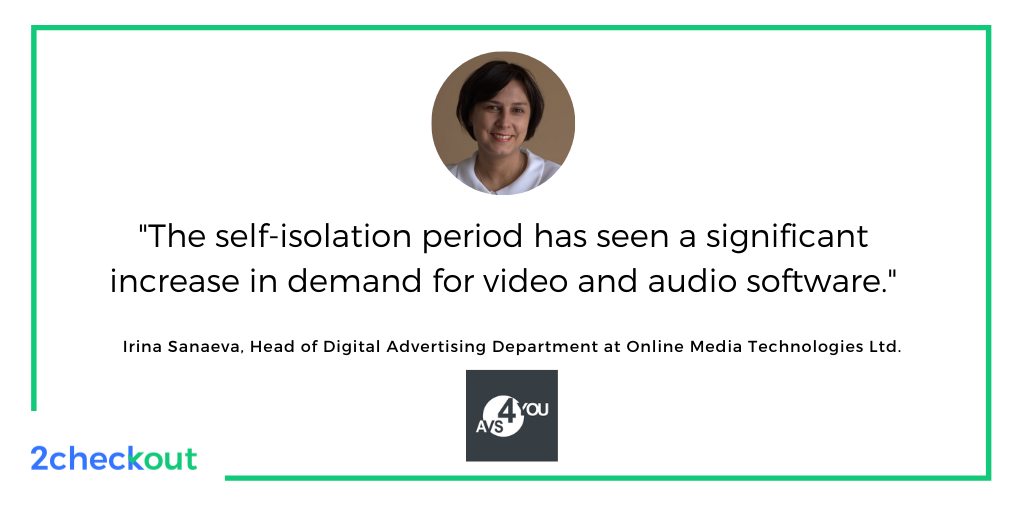 "Like the majority of international companies responding to the pandemic spread, Online Media Technologies Ltd., the owner of AVS4YOU.com project, has adopted a policy of remote work for its employees. However, we continue to sustain the whole business process from promotion, online advertising, and support of our partners and affiliates to providing assistance to both existing and new customers. For an example, AVS4YOU will participate in the Affiliate Spring Sale contest offering all affiliates an exclusive 30% discount on a complete package of five professional multimedia tools.
It is no great surprise that this self-isolation period, which has proven to be an effective precautionary measure, has contributed to a significant increase in demand for video and audio software. Other online tools have also enabled people to work efficiently from home, organizing free conferences, facilitating the e-learning process, and keeping them busy during off-time. AVS4YOU is here to help everyone in this rapidly evolving situation.  With our software, you can create video lessons, video projects, record webinars and tutorials, rescue your old VHS tapes, digitize video collections, turn photos into captivating videos, work with all types of image and document files for free, and more. Please stay safe and healthy," Irina Sanaeva, Head of Digital Advertising Department at Online Media Technologies Ltd.
To sum up, we are here to support your affiliate program business, despite the everchanging environment, with all that affiliate marketing has to offer:
performance-based affiliate rewarding
strategic partnerships
high traffic volumes
new customers
great ROI.
Find out more on how you can increase your affiliate sales. If you feel an affiliate program could help you better reach audiences in these times, get in touch with our Affiliate Management team at affiliate.network@avangate.com.