Updated in April, 2022.
One of the biggest challenges facing an affiliate program manager is recruiting new affiliates and finding new traffic sources that will bring potential buyers.
According to a study from Unicode, the affiliate marketing industry is responsible for about 16% of online orders, which is quite a significant number. But if you don't have members in your affiliate program, things get a bit more complicated.
Between finding the right partners, preparing your outreach, and sending ongoing follow-ups, it's quite common for an affiliate manager to spend more than half their time on recruitment-related activities.
Since we know that recruiting new affiliates can sometimes prove difficult, we would like to share some tips that you can use to optimize your affiliate recruitment plan and find new partners. You may have already tried some of these, and others will be new to you.
Whether you have an already-established affiliate program, or you are preparing to launch one, here are seven easy tips that you can use to recruit affiliates by yourself:
1. Have an optimized affiliate sign-up page on your website.
It is a common practice for merchants to focus so much on nurturing and managing affiliates that they forget to optimize their affiliate sign-up page.
While this isn't a direct outreach technique, optimizing your affiliate landing page can have a positive impact on its organic rankings, while also improving the user experience. Publishers usually go straight to the merchant's website when they are interested in a certain product, so it is easier to get them on board by making the information available to them.
Check your website and make sure you have a visible page for your affiliate program that includes the program description, commission structure, and benefits for the affiliates, as well as a clear sign-up button. Aim to have a short conversion path and make it as straightforward as possible. Visitors should be able to find all important information on this affiliate landing page.
And don't forget to share a backlink to this page whenever you reach out to people through email campaigns or on social media.
Bonus: Check out these best practices on how to use affiliate marketing to boost your eCommerce sales.
2. Invest in PPC (Pay Per Click) recruitment campaigns.
Paid campaigns can boost your affiliate program and can help you efficiently find the right affiliates as the targeting options are very complex. Indeed, it's a bit more costly than SEO or content initiatives, but the results appear faster, and with less effort.
You're not limited to Google ads, and you can also test Facebook ads or even LinkedIn ads, if your budget is a larger one. Choosing the right channels highly depends on your target audience.
Create a relevant keywords list for your industry and start with a test budget. Add all the relevant information to your ad copy and make it compelling. Don't forget that the landing page is really where it all comes down to getting potential affiliates to sign up.
Watch the performance of the ads closely and optimize once the results start to show up. Have clear KPIs in mind and aim for a CPA that you're comfortable with.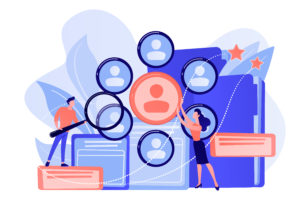 3. Use segmentation to find your ideal affiliate profile.
Your existing affiliates are a great starting point for creating your affiliate profile. You can split them by category (coupon/discount sites, review/content, SEM affiliates, etc.), by geo-targeting (select the top 10 selling countries), or by performance (split them into tiers based on sales volumes).
The ones that are common to all your criteria represent the types you should target in future outreach campaigns. By doing this exercise you optimize your recruitment efforts and improve their results.
Now that you know your ideal affiliate profile, you can use the data to start searching and identifying the affiliates relevant for your program. You can do that by manually searching and selecting the top affiliates for each relevant segment.
Your search is more focused now and that will be evident in the increased number of successful partnerships.
4. Reach out to affiliates directly.
Perhaps the best way to make sure affiliates hear about your affiliate program is to contact them directly.  In order to obtain a good response rate, keep the message concise, use a clear call to action, and include links to make things easier for the affiliate.
It is recommended you make the affiliate feel special and motivate them to act. You can do that by creating a personalized offer for them with a higher commission, by extending the cookie lifetime, or through offering a bonus.
It's true that this is a task your affiliate manager should do on an ongoing basis and it's a long-term project. However, these personalized outreaches will bring you better results, as opposes to cold, automated campaigns.
5. Join an affiliate network.
No doubt, affiliate networks are some of the best places to look for new affiliates. When joining an affiliate network, you get your products listed in its directory, which brings extra brand visibility and more chances of affiliates finding your listing or offer.
When working with third party platforms, such as already established affiliate networks, it is important to know that you can access certain recruitment solutions that are offered to you as an advertiser within the platform. Work closely with the network to identify the right strategies for you and identify your ideal affiliates.
When choosing the right affiliate network, it's also important that it offers the affiliate niche you need.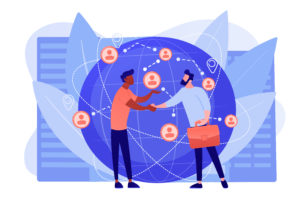 6. Attend industry conferences and trade shows
Trade shows and conferences like Affiliate Summit, Affiliate World Europe, DMIEXPO, and PI LIVE are great places to meet new affiliates as well as to rekindle your existing affiliate relationships.
These events give you the opportunity to establish powerful connections with your partners and expand your influence in the industry, improving your working collaborations and increasing sales.
While most of these trade shows are not free to attend, as they involve conference tickets, travel, and accommodation, you can always compare the costs against the benefits. These can surely be an excellent opportunity to pitch your affiliate program to some new top affiliates in your industry.
7. Run contests and special campaigns for affiliates.
Contests are a great way to boost sales for existing affiliates; they can motivate dormant affiliates and also be of interest to new affiliates.  New affiliates may be more attracted by raffles, as they offer everyone a fair chance to win. For a faster onboarding process and a quicker affiliate activation, you can condition the raffle entry with a required action (for example, have at least one sale during a certain period).
Promotional campaigns are a very efficient way to generate new sales and increase conversions and they should not be left out of your affiliate program strategy. Performance is the main criteria for rewarding affiliates for their hard work. However, you should always set clear terms and conditions from the start for each campaign, aligned with your end goal, so that everything is transparent.
A good affiliate marketing program should never stop growing. If you want to increase your traffic and sell more, recruiting and engaging new affiliates is a must.
Keep in mind that in order to successfully grow your affiliate program by bringing in new affiliates, you need to know what affiliates best fit your strategy, find them, and reach out to them with the appropriate message. Nobody can resist a good incentive. Go get them!
If your sales need a boost and you haven't tried affiliate marketing yet or you simply want to optimize your affiliate program and don't know where to start, then make sure to watch this webinar.  We'll discover together the opportunities that come with selling through the top affiliate network for digital goods worldwide.