Social media is already popular, but it's still constantly evolving. As a matter of fact, the number of social media users in January 2017 grew by 21% compared with 2016. That tremendous YoY growth tells us that social media isn't going away anytime soon(Yay!).
Over the past decade or so, we've seen social media marketing grow from an often overlooked and sometimes superficial tactic to one of the most influential and sophisticated digital marketing techniques. Social media initially seemed limited to B2C companies, but it's expanded across industries and is now used by every type of organization, especially B2B companies.
Taking that into consideration, I figured I could share some quick tips and tricks to plan and start your social media strategy and survive in the competitive B2B market. And if you're already one step further along, you might still find some ideas here worth incorporating into your game plan.
Let's dive in!
1. Keep Everything Tidy and On Trend
Believe it or not, many companies aren't using a social media calendar. Keeping track of what content is being published and when is extremely important. Whether you want to share your expertise on a subject, talk about the latest industry trends, offer company news or share a case study, these are all useful things that should be included in your company content calendar.
This way, you'll be able to plan great social media posts days or even months ahead of time, as well as have a clear view of the webinars, whitepapers, events, podcasts and other initiatives you need to promote. Hubspot offers a free social media calendar template, so check it out!
You should also take advantage of trendjacking. Trendjacking is following a major online trend and using its buzz to your benefit. Need an example? Check out the picture below that shows Intel participating in the #ILookLikeAnEngineer hashtag featuring women engineers.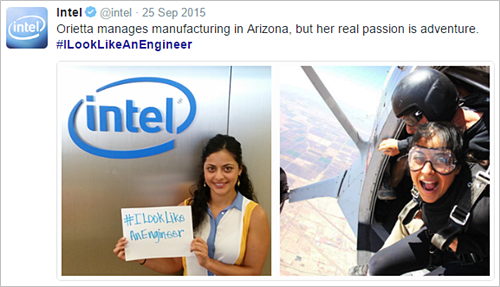 If something is trending on the web and happens to be relevant to your product or service, don't miss out. Use trending hashtags to make your post easier to find and hop on the bandwagon: your followers are probably already talking about the topic, so why shouldn't you step in as well? It shows that you stay up to date with the latest news and care about the same topics as your followers.
Here's another good example of trendjacking, with security software company Bitdefender commenting on a ransomware virus called WannaCry.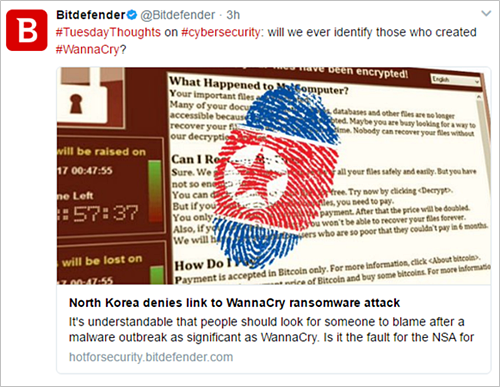 In 2017, companies will focus more on engagement and conversations, especially B2B. So don't get stuck thinking up a topic to discuss, look around and find a smart way to join the conversation.
2. Tap into Advocate & Influencer Marketing
Turning leads into customers is the goal every marketer hopes to achieve, but turning customers into promoters puts the cherry on top of a success sundae.
More and more B2B companies are now ramping up their customer engagement programs, both for acquisition and retention, in order to build their brands and ultimately increase revenue. Just don't mistake building awareness, which has short-term effects, with creating a lasting brand image through reliable advocates.
Recommendations from happy customers might come in the form of a positive review, testimonial, tweet or Facebook post, all of which are more likely to influence a purchase than a claim directly from your company. You can either start looking for your advocates manually in-house or use advocacy marketing platforms, such as Influitive, to help you discover, mobilize and recognize your loving customers. You can build communities on your advocacy platform and invite customers, partners and employees to complete different tasks like referrals or product reviews. As a thank you, customers earn points, badges, events invitations, gift cards and more. To discover the brand advocacy software that could work for you, check out this recent G2Crowd Grid.
Track down your happy companies and help them share their happiness with others! Amplify your voice through customers and influencers and you might just see a significant impact on your brand.
Our little magic box (aka Bitdefender BOX) brought us "The Most Innovative Company" award. Thank you, @avangate! pic.twitter.com/OZ4FVgBNiY

— Bitdefender (@Bitdefender) August 11, 2016
It's also important to build long-term relationships with influencers. The right ones can give your social media reach a significant boost. The key is to identify those thought leaders, industry experts, analysts, bloggers and other figures who are truly influential with your target buyers.
I recommend using tools such as FollowerWonk by Moz, Buzzsumo and Klout to identify suitable influencers and figure out which individuals will help deliver your message to the right audience. But before you get started, you should learn the 4 major rules of B2B influencer marketing to make sure you're doing things right.
3. Pay to Play
Slowly but surely, organic social media posts are being eaten by paid ones, so don't miss out on this opportunity to get more exposure by spending a little money. Paid social media advertising isn't very expensive, so find out how much campaigns cost on your most used social media platforms and add a line item to your marketing budget for social ads.
Sponsored posts on Facebook and promoted tweets are also smart ways to target your message to the right people. Facebook's newer advertising options, such as carousel ads and dynamic ads, increase the quality of your ads and improve the overall the user experience. Social network ad spending is likely to exceed £26.5 billion in 2017, and expect it to grow exponentially over the next few years.
4. Focus on Visuals and Interactive Content
Adding pictures or even videos to your social media posts not only drives engagement, but also increases credibility. It's a big mistake to believe that images are only for B2C brands. Many B2B giants share pictures with followers; it's a good way to make your brand more visual, broaden your appeal and become more memorable. Also, as our attention spans get shorter and shorter, visuals provide a good way of making sure your posts do make an impact with your target audience.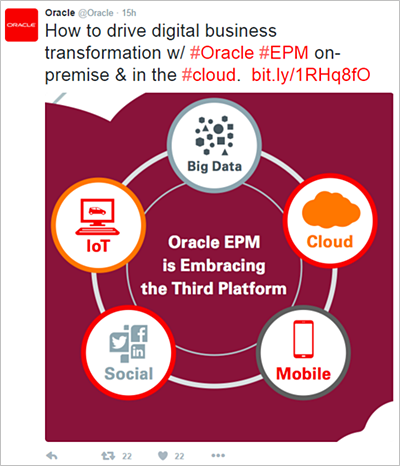 Don't forget to analyze your audience and see what types of pictures work best. A great tool for designing stunning graphics is Canva, which is very intuitive and easy to use. Canva for Work launched a couple of years ago, and it's designed specifically for marketing materials, presentations and social media graphs, so you might want to check it out.
Pay special attention to video. Studies have shown that 96% of consumers find videos helpful when making purchasing decisions online. Live streaming became popular in 2015 and is now something every marketer should experiment with, especially B2B. Making your brand more human with a glimpse behind the curtains and showing the face behind the business will definitely help build trust. There are plenty of good ways to jump in to live broadcasting, such as participation at live events, interviews with employees or influencers, product demos, Q&A sessions and important announcements.

Once you pick the right live streaming tool for you (some of the most popular ones used worldwide are Periscope, Meerkat and Facebook Live), you can start working on your strategy so that your live streaming will have the desired outcomes.
5. Start Employee Advocacy Programs and Reward Social Media Interactions
Experts say that customers will never love a company until its employees love it first. Even though influencers may have greater reach and, well, influence, it's a shame not to use the valuable human resource that your company has to offer in the form of employees. Studies have shown that employees have an average of 10X more social connections than a brand does, giving you a great place to start.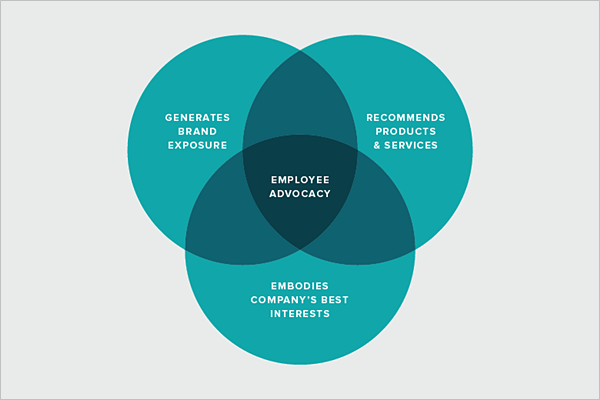 Source:getbambu
Employee participation can be an easier and cheaper way to promote your brand than other social advocacy programs. Plus, your team knows more about the business than any influencer ever will, so it's easier for them to build trust. Here are six steps to inspire employees to become brand ambassadors.
6. Respond Fast—Very Fast
Studies show that 42% of customers who complain on social media expect a response within the first 60 minutes. Does your team respond in less than an hour? If not, you may be leaving money on the table.
Actually, another study finds that customers are prone to spend 20-40% more when companies engage and respond to their messages on social. What does this tell us? That you should monitor your brand mentions at all times and leave automated replies when your team is offline: Facebook Messenger and Slack both let you use chatbots to maintain a decent response rate on social networks.
Keep in mind that responding fast doesn't mean you need to stare at your social media channels all day long: you have other things to do, after all. You can use tools such as BrandMentions or Mention and get live updates about your brand from the web and social media. Plus, here are some great tips you can follow to build better relationships with your customers on social media.
While it's key to keep your accounts up to date and respond as fast as possible, the most important thing to remember is to always listen to your customers and prospects, don't just promote your brand. Build meaningful relationships, be human and offer personalized responses and you'll succeed on social.
Many B2B brands are killing it on social media, so improve your strategy for 2017 and reap all the benefits.
Also, feel free to share your tips and tricks in the comments below!