Internationalization investments designed to take your business beyond the comfort of core markets need a fine-tuned, strategic approach to be successful. Easier said than done? Not if you have the right strategy and the right partner to help you with the heavy-lifting. Globally connected shoppers might be just clicks away, but they're guaranteed to be drastically different from your core customer base.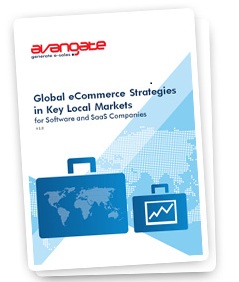 Learn how to solve the global ecommerce puzzle one local piece at the time, by downloading and reading Avangate's free "Global eCommerce Strategies in Key Local Markets for Software and SaaS Companies" whitepaper. Here are a few tips from the whitepaper:
Translating content alone is not enough
Not even by far. It's a good place to start however.  When translating content steer clear of machine translation and invest in professional translator with a complete linguistic arsenal that goes beyond vocabulary to encompass cultural particularities.
A low cost alternative is to find native speakers interested in your product/service and offer them free licenses/subscriptions in exchange for their translations. But it should be perfectly clear that you'll have to do much more than provide shoppers with content in their native language.
Preferred payment options and local currencies
Are both essential to localization. Did you know that:
over 40% of shoppers in The Netherlands prefer to use iDeal, a standardized online banking-based payment method;
PayPal is now the preferred online payment method for German shoppers;
Alipay is the dominant online payment platform in China, accounting for a share of approximately 50% of the market;
30% of all online payments made by Brazilian shoppers are processed through the Boleto Bancario system;
Konbini payments total as much as 18% of ecommerce transactions in Japan.
Shoppers are traditionally accustomed to purchasing in their local currency, and it's also vital that their preferred payment option is at their disposal.  Learn about the top markets for Software & SaaS, and the must-have online payment methods and impact on sales.
Regional pricing strategies
Variable regional prices are a critical resource to localization. Adapt pricing to emerging and developed markets. Furthermore, differentiate price strategies from country to country, testing to see which one converts best.
Regional prices are a powerful tool when it comes to boosting conversion rates.
For example, in tandem with optimizing the shopping cart, Avangate worked with AVS4You to help drive a consistent revenue increase with the help of regional prices. After tailoring the pricing strategy specifically to two European countries, and displaying prices in local currencies, AVS4You witnessed:
a 40% increase in sales volumes for France;
a 20% increase for Germany.
Download the whitepaper for examples on how to approach regional pricing and what to expect.
Localization targets
Choose them wisely. Do extensive research and make sure that your business is a good fit for a new market, that there's sufficient demand to justify investing in a presence there, and that expansion will result in growth.
Do you want to expand to mature markets? You'll need to consider US, UK, Germany, Canada and Australia.
Revenue generated by Japanese shoppers in the first half of 2012 outpaced that in Germany, Australia and Canada.
Sales in Australia have been on the increase throughout 2012, outpacing those in Germany and Canada.
BRIC countries have been evolving extremely well over the past three years, but no emerging markets managed to make it into the top ten, although Russia and Brazil are extremely close to Spain, spending-wise.
Chinese spending increased consistently in the last three years, outpacing that of India, Mexico and South Africa.
Read Avangate's free localization whitepaper for a few more suggestions per the sales data in the Avangate system.
Partner with the right ecommerce provider
The wrong partner can act as an encumbrance to global growth. You need the right commerce platform partner to support your expansion into local and niche markets worldwide and help you reap inherent benefits.
Expanding our localization capabilities was a key part of the Avangate 2012 summer release, with new regional pricing goodies, increased international support coverage, and the introduction of new local payment methods.
Hope you enjoy the whitepaper and please share your thoughts on localization strategies!