Running your own eCommerce business is not an easy task, especially if you are seeking constant growth. And if it didn't happen to you so far, you will run out of ideas on how to grow your eCommerce business, at some point. That's why we asked 11 of the best digital marketing, growth hacking, and eCommerce experts out there the following question:
"What's the one growth hack every eCommerce business should leverage?"
Curious about their answers? Read on to find out!
1. Andrew Youderian
Andrew Youderian is the founder of eCommerceFuel, a private community and eCommerce job board for 7-figure store owners. He's also an eCommerce entrepreneur, blogger and podcaster.
"I think my top growth hack is to master a single customer acquisition channel before you move on to another. Especially when starting out, it's common to split up time trying to market across 5-6 different channels and fail to get traction. Instead, store owners should focus all their efforts on the one channel they think they could do best – social, email, SEO, etc – and commit to mastering that for a 6-12 month window.
Once they start seeing diminishing returns, they can go ahead and move on to other channels. But often people don't give their marketing the focus and time needed to succeed."
2. Nicole Reyhle
Nicole is an entrepreneur and eCommerce expert. She is the founder of Retail Minded, a trusted resource for retailers and small business owners who seek business advice, best practices and insights on the latest industry trends.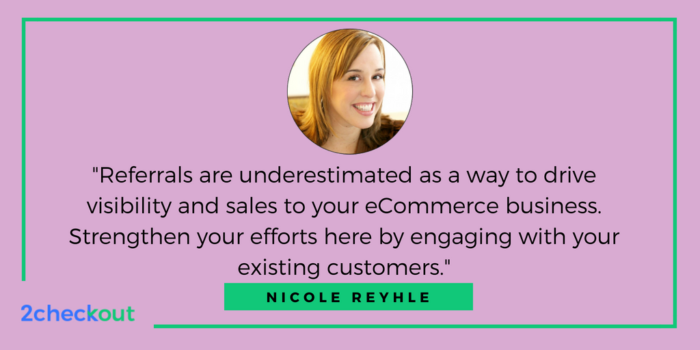 "Referrals are underestimated as a way to drive visibility and sales to your e-commerce business. Strengthen your efforts here by engaging existing customers with ways they can help spread the word about your online inventory while also giving them a reason to want to share this insight.
There are three key ways to do this and engaging each of these strategies can help increase your e-commerce success. Affiliate programs, customer referral programs and partner programs each drive traffic to online stores.
The key is to identify what makes the most sense for your business while giving your audience a reason to want to get engaged and spread news of your business. Offering incentives that may include dollars to be spent on future inventory or direct cash back are two ways to do this – but the main takeaway is this. Get people talking about your e-commerce business to ensure more people are constantly learning about your e-commerce business." 
3. Steve Chou
Steve is running his own eCommerce store that made over $100,000 in its first year of business. In addition to being an entrepreneur, he teaches others how to grow their eCommerce businesses.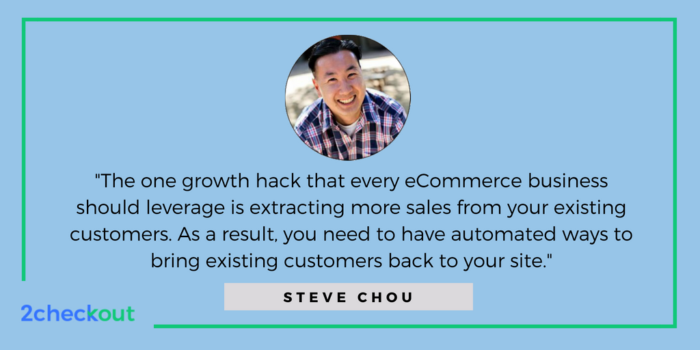 "The one growth hack that every eCommerce business should leverage is extracting more sales from your existing customers.  According to Bain & Co, a 5% increase in customer retention can increase a company's profitability by 75%.
As a result, you need to have automated ways to bring existing customers back to your site.  For example, you should be sending out win-back email campaigns to customers who haven't purchased in a while. 
You should be running parallel Facebook retargeting campaigns to former customers. 
You should be utilizing Facebook Messenger and Push notifications to continue to engage with your clientele.
One thing that we do with our store is we pick up the phone and call our biggest customers.  By speaking to our most lucrative clients and offering them coupons and dedicated support, we've been able to retain consistent business every year."
4. James Gurd
James is an expert in eCommerce and he often engages in conversations on Twitter, giving advice to anyone who reaches out.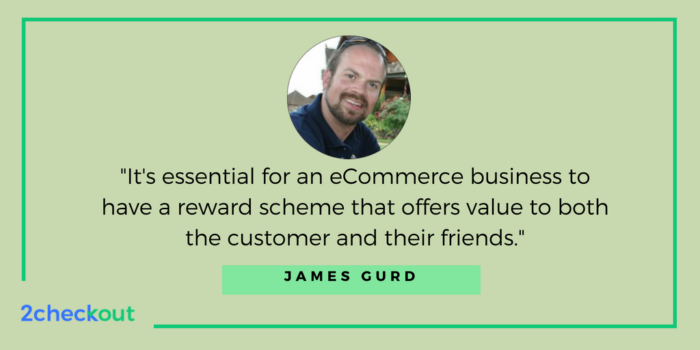 "Refer a friend scheme. Turn existing customers into loyal advocates based on NPS scores. Identify your advocates (e.g. people who rate you 9 or 10 on an NPS survey) and then send them follow-up campaigns to encourage them to share your brand/products with their friends.
It's essential though to devise a reward scheme that offers value to both the customer and their friends or family. Don't just reward to referrals! This could be a simple money off next order, but ideally, you want tiered systems that increase the rewards the more people do/spend e.g. each time a referral makes a purchase, your customer earns X as a reward. If they spend more than Y, the rewards multiply."
5. Branden Moskwa
Branden is an eCommerce influencer and the eCommerce Allstars Podcast host. When he's not giving eCommerce related advice, he is growing his own business.
"While the concept of growth hacking itself encompasses the 80/20 rule, in my opinion, this is the most valuable principle to apply in eCommerce. It's simple, 80% of profits are more than likely coming from 20% of your products. Leverage this and put all your efforts into these products."
6. Tiffany Da Silva
She's one of the best Growth Marketing consultants out there and the founder of Flowjo, a collection of digital marketing and growth hacking tools. The quote below is an excerpt from the Flowjo Growth Hacking Box.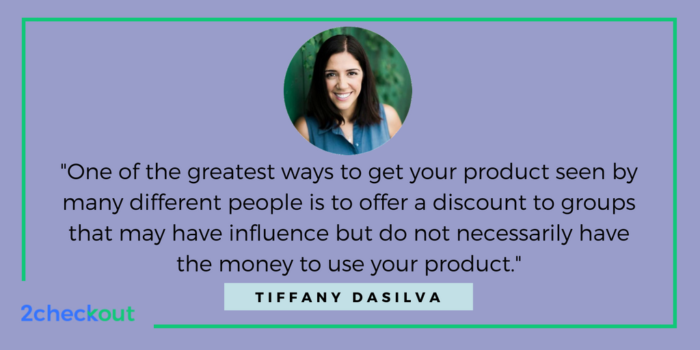 "One of the greatest ways to get your product seen by many different people is to offer a discount to groups that may have influence but do not necessarily have the money to use your product. Some possible groups to reach out to include: startup incubator programs, women's groups, universities, agencies, coworking spaces, youth groups.
Pro tip: You can go one step further by asking them for a link, tweet or blog post in exchange for a discount. If you're offering a discount to universities or incubator programs, consider teaching up with other companies to host a free webinar or event where you can explain the product or service. This gives you something to talk about on social media and can help keep the attention on your brand." 
7. William Harris
William is the founder of Elumynt, an eCommerce growth agency. He's a well-known eCommerce expert with bylines in Fast Company and Entrepreneur.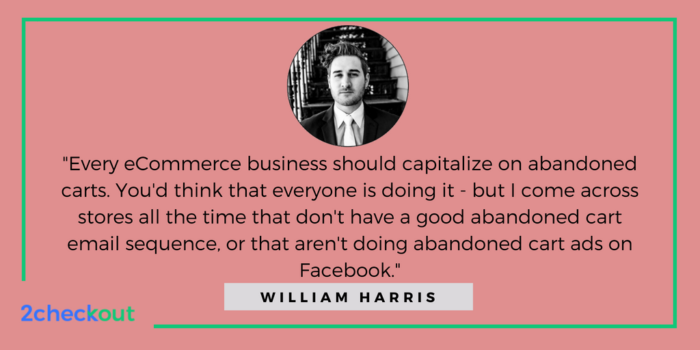 "The one growth hack every eCommerce business should be doing is capitalizing on abandoned carts. You'd think that everyone is doing it – but I come across stores all the time that don't have a good abandoned cart email sequence, or that aren't doing abandoned cart ads on Facebook.
It's probably the easiest money you can make online."
8. Shane Barker
Shane Barker is a digital marketing consultant who shares his knowledge on high-profile publications like Forbes. His specialties are influencer marketing and social media.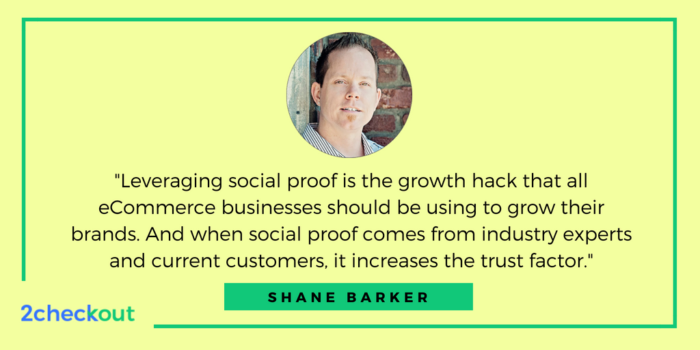 "An obvious issue that eCommerce businesses need to deal with is that they don't have a tangible presence. People are always more comfortable when they get to see, hold, or try a product in person. Social proof is one of the best ways to overcome this issue. And leveraging social proof is the growth hack that all eCommerce businesses should be using to grow their brands.
With social proof, you can provide potential customers with concrete evidence that other consumers have purchased and been satisfied with your products. Thus, influencing potential shoppers to buy from you. It's an effective tool you can use to drive more conversions.
How? Well, one way is to collaborate with influencers to promote a relevant product and brand content. Having them review your products on their blogs or YouTube channels is a good way to gain social proof.
Similarly, you can leverage user-generated content in the form of customer testimonials to gain the trust of target consumers. Further, you can also share case studies of other customers who have used your products and found them helpful. When social proof comes from industry experts and current customers, it increases the trust factor."    
9. Sam Hurley
Sam has gained a deep understanding of Digital Marketing and he is often sharing his knowledge in top publications like Entrepreneur, Inc, The Next Web or Forbes.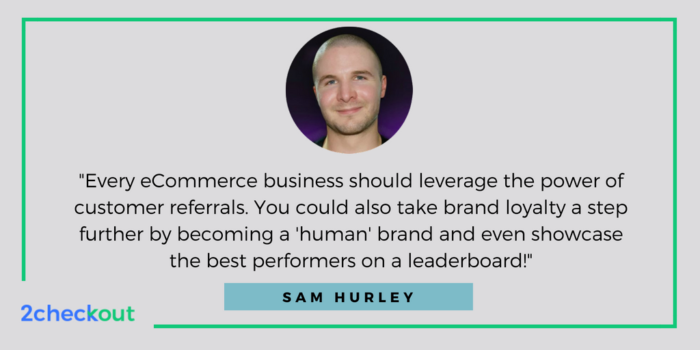 "The one growth hack every eCommerce business should leverage is definitely customer referrals. Encourage customers to spread your word to friends by offering incentives such as cash and future discounts. You should also take brand loyalty a step further by becoming a 'human' brand and even showcase the best performers on a leaderboard! (Gamification!)"
10. Jonathan Aufray
Jonathan is the co-founder and CEO of  Growth Hackers, a growth hacking agency. He's a growth hacking and digital marketing expert helping businesses achieve success on fast-forward.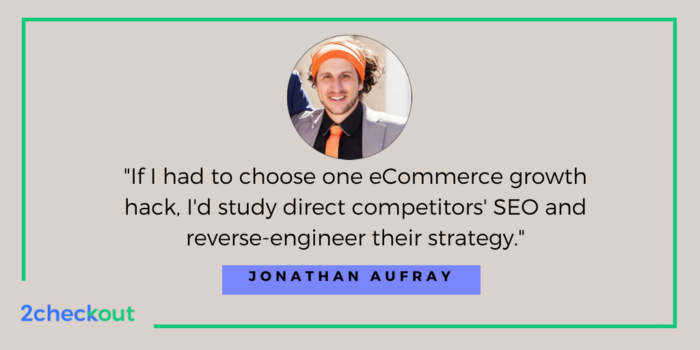 "If I had to choose one eCommerce growth hack: study direct competitors' SEO and reverse-engineer their strategy. You start by studying your competitors with tools like SEMRush, Ahrefs & Spyfu. Check for what keywords they rank for and the backlinks.
Next, you should create better content than them targeting those exact keywords.
Finally, you outreach to the sites who have backlinks toward them to propose your content."
11. Mike van Hoenselaar
He is a growth hacker, entrepreneur, and startup advisor. Mike likes doing online marketing experiments with CRO, SEO, email or Google Analytics, just to name a few.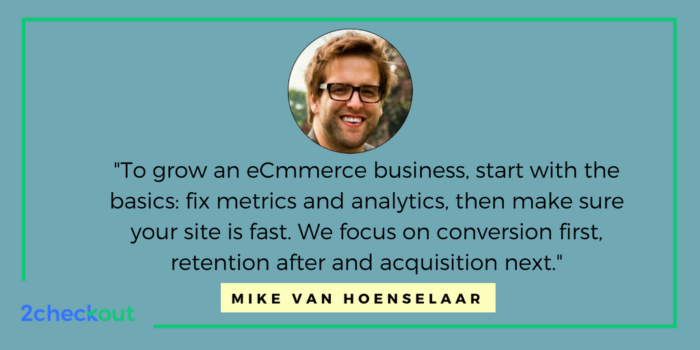 "Start with the basics first: fix metrics and analytics, make sure your site is fast and you have the power to change most vital stuff on your website, via GTM or CMS. We focus on conversion first, retention after and acquisition next. Also, finding sales partners via an affiliate, for instance, is great growth lever."
Do you have any eCommerce Growth Hacking tips that worked for our business? Drop a line below, we're eager to read them!