Updated in January, 2022
There is so much innovation and digital transformation happening in the payments industry, and it can get challenging to stay up to date with the latest developments.
And one of the fastest ways to keep ourselves informed is by following the right people on social media. They share all the latest insights, updates, and news from the payment and FinTech industry.
On top of this, social media platforms can offer you the chance to interact with experts from your industry, exchange tips and tricks related to everything payment-wise, and even form new connections.
Whether you are just starting out in the payments and FinTech industry and looking for some guidance, or simply want to stay updated with everything fresh in the industry, following the experts on social media is your go-to step.
So, get your phones and social accounts ready for a following session, because here are some of our favorite top Payments and FinTech influencers to follow this year (in alphabetical order):
1. Alex Jiménez
Alex Jiménez is a Chief Strategy Officer at Finalytics.ai and Extractable. Prior to his current role, he was a Vice President and Senior Strategist at Zions Bancorporation, where he led the overall technology investment planning process for the office of the CIO.
His other recent experience includes developing and managing Digital Banking and Payments Strategy at Rockland Trust, a community bank in Eastern Massachusetts. He also served as the Chair of the Consumer Bankers Association's Digital Channel Committee, and recently, he was a member of the American Bankers Association's Fintech Committee.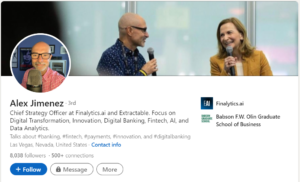 Follow him on: Twitter | LinkedIn | Website
2. Arin S
Arin is a Senior Business Consultant at StealthMode Startup with over 18 years of experience in driving commercial goals, new market expansion, leading and managing diversified Financial Services. He has in-depth knowledge of payments, payment methods, and the online gaming business.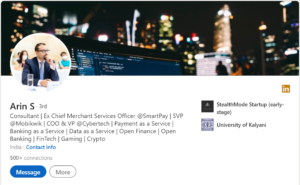 Follow him on: Twitter | LinkedIn
3. Bill Sullivan
Bill Sullivan is a globally recognized FinTech influencer, with regular speaking appearances at leading industry conferences and lots of interviews with tier 1 and trade media. He was also the Vice President – Global Head of Financial Services Market Intelligence at Capgemini.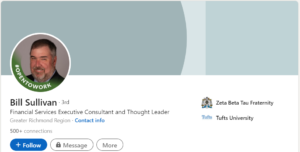 Follow him on: Twitter | LinkedIn
4. Bradley Leimer
Bradley Leimer is Co-Founder of Unconventional Ventures, which connects founders to funders, provides mentorship to entrepreneurs, advisory to corporates, and broadens opportunities for diversity within the ecosystem. Bradley writes and speaks about banking and technology trends and advises corporates, startups, accelerators, and key industry conferences in the financial services space.
Follow him on: Twitter | LinkedIn | Blog
5. Brendan Miller
Brendan is the Head of Global Marketing Strategy and Operations at Rapyd. Previously, Brendan was the Principal Analyst – Digital Business & Payments at Forrester Research. He writes mostly about retail, eCommerce, FinTech, payments, and FinTech innovation.
Brendan is passionate about developing strategy, positioning, branding, messaging, and campaigns that differentiate, demonstrate thought leadership, and result in revenue impact.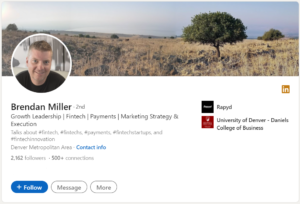 Follow him on: Twitter | LinkedIn
6. Brett King
Brett King is a world-renowned futurist and speaker, an International Bestselling Author, and a media personality who covers the future of business, technology, and society. He has spoken in over 50 countries, at TED conferences, given opening keynotes for Wired, Techsauce, Singularity University, Web Summit, The Economist, IBM's World of Watson, CES, SIBOS, and many more.
He has appeared as a commentator on CNBC, BBC, ABC, Fox, and Bloomberg. He previously advised the Obama administration on Fintech policy and advises regulators and bank boards around the world on technology transformation.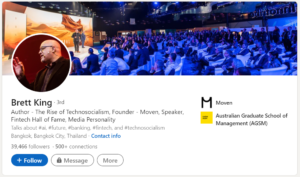 Follow him on: Twitter | LinkedIn | Website or subscribe to his Breaking Banks podcast wherever you get your podcasts.
7. Christopher Danvers
Christopher Danvers has worked with Credit Unions focusing on payments, digital transformation, and financial technology for over 15 years. He's a regular speaker at industry events, a contributor of editorial content to industry publications, and is considered an innovator and thought leader. He is currently responsible for product development and card strategy as a Senior Manager at Q2 BaaS.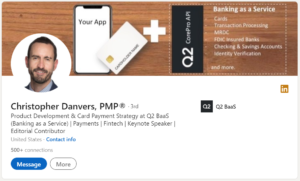 Follow him on: Twitter | LinkedIn
8. Chris Gledhill
Chris Gledhill regularly ranks as #1 top global FinTech influencer and often speaks and writes about FinTech, Banking, and the future of financial services. Chris was lead mobile architect and led the disruptive innovation labs at Lloyds Banking Group before becoming CEO and Co-Founder of FinTech startup Secco.
Chris has both a technical & business background with expertise spanning a wide range of disruptive technologies, including Blockchain, AI, API, Big Data, Deep Learning, Virtual Reality, CryptoCurrencies, Biometrics, Mobile & Wearables.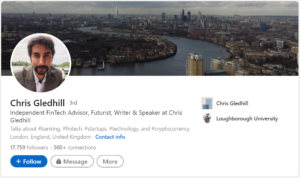 Follow him on: Twitter | LinkedIn
9. Chris Skinner
Chris Skinner is known as an independent commentator on the financial markets and fintech through his blog, theFinanser.com, as the author of the bestselling books Digital Bank, ValueWeb, and its new sequel Digital Human. In his day job, he is Chair of the European networking forum The Financial Services Club, Chair of Nordic Finance Innovation, as well as being a Non-Executive Director of the Fintech consultancy firm 11:FS.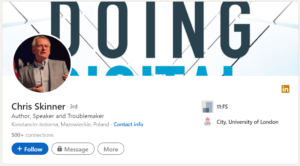 Follow him on: Twitter | LinkedIn | Website
10. Dave Heun
With over 30 years of experience in the newspaper business, Dave Heun currently works as an associate editor for Arizent, as part of the PaymentsSource group. Dave writes about the payments industry, credit card industry, mobile pay technologies, and others. Follow him to get all the input and learn top-notch best practices from the payment industry.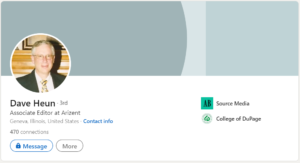 Follow him on: Twitter | LinkedIn
11. Dave Maddox
Dave is the Blockchain Go-to-Market Leader at IBM, where he is responsible for IBM Blockchain Business Development for the Financial Services Market in the US with a focus on Blockchain Enterprise Solutions.
He has over 25 years of experience in the information technology industry, where he occupied executive roles in sales management, business development, and program development. In addition, he provides deep knowledge of the Credit Card Payment Industry and has written IBM papers analyzing the industry for IBM's Client Certification Program at Harvard University.
His specialties are Blockchain Technology, Payment Processing Systems, Credit Card Systems, Large Systems Technology, and Transaction Systems.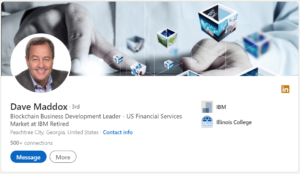 Follow him on: Twitter | LinkedIn
12. Denise Bahs
Denise Bahs is the President of Spark Corp, where she specializes in lead generation through social media cyber sleuthing and engagement. She has trained a significant number of salespeople in the tech and payments industry on how to use social media and digital marketing to nurture their prospects through the buyer's journey.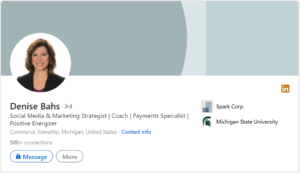 Follow her on: Twitter | LinkedIn
13. Devie Mohan
Devie is a FinTech marketing strategy and research professional with years of experience working with industry giants and startups. She has worked in strategy, marketing, and analysis roles in firms like Goldman Sachs, Thomson Reuters, Ericsson, IBM, USAID, and SunTec.
She is a consultant and researcher for several fintech startups, banking innovation groups, and investors with a keen understanding of the trends and activities of startups, banks and investors in the space.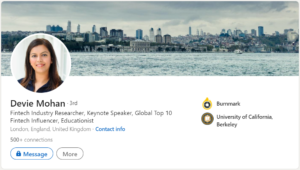 Follow her on: Twitter | Website | LinkedIn
14. Erin McCune
Erin is a Partner at Glenbrook Partners, where she focuses on client engagement in business payments, cross-border transactions, bill payments, and the intersection of corporate finance, banking, and ERP/accounting.
Erin has over 20 years of experience in leading increasingly complex payment initiatives for corporate clients, as well as advising financial institutions and payment technologists on the development of their payment capabilities. Before joining Glenbrook, Erin was the founder of Forte Financial, a consulting firm.
Her specialties are payments strategies, financial process improvement, opportunity assessment, build-buy-partner analysis, market sizing, competitive intelligence.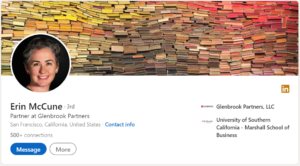 Follow her on: Twitter | LinkedIn
15. Florian Graillot
Florian is a VC investor and Founding Partner at astoryaVC investing in early-stage startups in Europe with a focus on technologies that could build the next insurance generation. He is an engineering graduate from Telecom ParisTech and business school graduate from HEC Paris. Florian regularly writes and tweets about InsurTech, AI, and startups.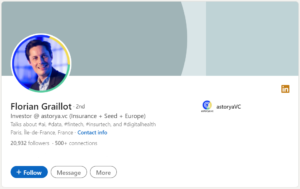 Follow him on: Twitter | LinkedIn
16. Gareth Lodge
Recognized globally as an expert in everything related to payments, Gareth Lodge provides his clients actionable insights and analysis, through his research, consulting, and speaking.
He is currently a payments Senior Analyst and Global Lead at Celent, a research and advisory firm, specializing in financial services.  He often shares insights into how a bank processes payments (payment hubs and engines), and how they move and settle the payments (ACH, Wire, Real-time payments, Swift).
Gareth is also a well-known speaker and contributor in the payments space, including retail, corporate, & card payments, having spoken at events such as Sibos, EBAday, Nacha, and Money2020.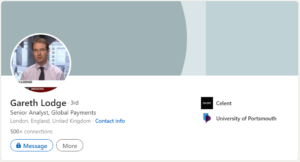 Follow him on: Twitter | LinkedIn
17. Jim Marous
Jim Marous is considered one of the top 5 most influential people in banking and also one of the best keynote speakers at industry and corporate events. Known for his understanding of the disruption in the banking industry, Marous is the co-publisher of The Financial Brand and owner and publisher of the Digital Banking Report. Jim speaks on innovation, digital transformation, customer experience, marketing strategies, channel distribution, payments, and change management.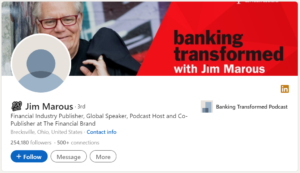 Follow him on: Twitter | LinkedIn | Website
18. Jordan McKee
Jordan McKee is a Research Director at 451 Research, where he leads the coverage of digital payments and oversees all qualitative research, market forecasts, customer surveys, strategic consulting, and go-to-market engagements. His main interests are around digital transformation strategies for payment networks, issuing and acquiring banks, payment processors, point-of-sale providers, and other payments industry stakeholders.
Jordan was listed on the Electronic Transactions Association's Forty Under 40 list in 2018. He is frequently engaged by the media to share his insights and has been quoted in the Wall Street Journal, New York Times, Forbes, TIME, Businessweek, and The Financial Times. In addition, he is a FinTech Contributor at Forbes.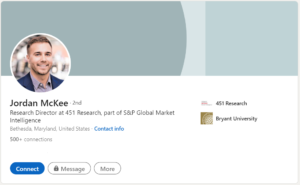 Follow him on: Twitter | LinkedIn
19. JP Nicols
JP Nicols is a trusted advisor to companies ranging from startups to the Fortune 500, a popular writer, and a top-rated speaker.
He is the co-founder of FinTech Forge, which helps financial institutions build and leverage their innovation capacity internally and through strategic fintech partnerships and investments. He is often quoted in the media, and his name regularly appears on multiple lists as an influential thought leader, but what really drives him is helping people turn ideas into results.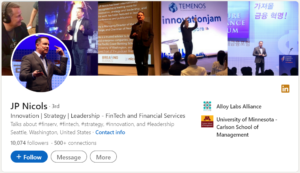 Follow him on: Twitter | LinkedIn | Website
20. Karen Webster
Karen Webster is one of the world's leading experts on emerging payments and a strategic advisor to CEOs and Boards of multinational players in the payments and commerce space. As the CEO of Market Platform Dynamics, she works extensively with the most innovative players in the payments, financial services, mobile, B2B, digital media and technology sectors to identify, ignite and monetize innovation.
Karen serves on the boards of a number of emerging companies, helping innovators develop and implement business strategies that drive market adoption for their products and services. She's also the founder of PYMNTS.com, the industry's leading B2B marketing platform.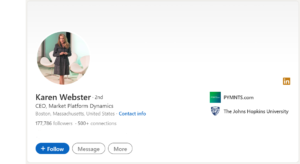 Follow her on: Twitter | LinkedIn
21. Kate Fitzgerald
Kate Fitzgerald is a business journalist with vast experience in financial services and retail, particularly payments, emphasizing emerging digital and mobile payment technology, apps, chatbots and related innovations.
She is a Senior Editor at American Banker, where she shares news and analysis regarding the digital payments revolution. Prior to her experience at American Banker, Kate held the role of Emerging Payments Editor at FinTech Futures.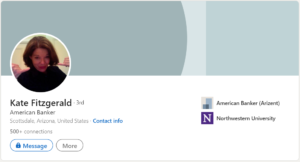 Follow her on: Twitter | LinkedIn
22. Matt Oppenheimer
Matt is the co-founder and CEO at Remitly, a mobile payments service that enables consumers to conveniently make person-to-person international money transfers. The company's vision is to transform the lives of millions of immigrants and their families with one of the most trusted financial services products in the world.
Previous to his experience at Remitly, Matt Oppenheimer was the Head of Mobile and Internet Banking Initiatives at Barclays Bank Kenya, where he led the launch of the first internet banking platform for Barclays Bank Kenya.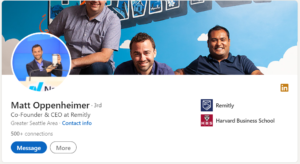 Follow him on: Twitter | LinkedIn
23. Michael Diamond
Michael Diamond is the Senior Vice President and General Manager of Digital Banking at Mitek Systems. Michael has been in the tech industry for most of his career and has worked through various arcs of interactive banking technology, including interactive voice response, online banking, mobile banking, mobile payments, and finally, mobile check deposit.
When he is not working, Michael enjoys writing and public speaking, and he is passionate about leadership and innovation, which he writes about on his blog, michaeldiamond.com.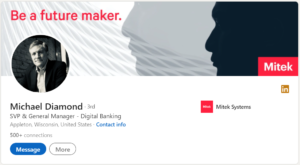 Follow him on: Twitter | LinkedIn | Website
24. Nadja Bennett
Nadja has over 13 years of experience in the payment and fraud industry, both in acquiring and gateway processing.
Nadja's expertise lies in payments, eCommerce, fraud, FinTech, unified commerce, omnichannel, and multinational commerce.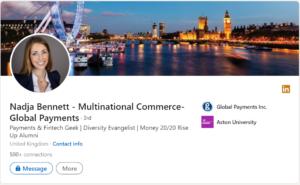 Follow her on: Twitter | LinkedIn
25. Neira Jones
Neira Jones has more than 20 years' experience in financial services and technology. She is regularly invited to advise organizations of all sizes on payments, cyber-crime, crypto-currency and Blockchain, information security, regulations (e.g. PSD2, GDPR, etc.) and on digital innovation, where she strives to demystify the hype surrounding technology today.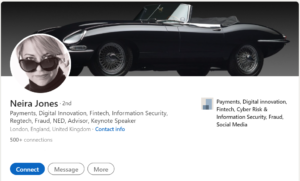 Follow her on: Twitter | LinkedIn
26. Nick Bilodeau
Nick Bilodeau is a financial services executive and a recognized industry influencer with over 20 years of leadership experience. His work has included heading marketing and product development across the payments, banking, insurance, and wealth management industries. He is currently the Executive Director of Quantum.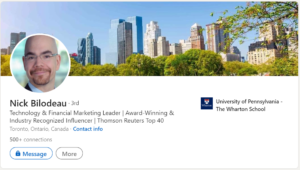 Follow him on: Twitter | LinkedIn
27. Nicole Baxby
Nicole Baxby is the Vice President of Global Customer Success at Featurespace, the world leader in Enterprise Financial Crime prevention for fraud and Anti-Money Laundering. Nicole has over 15 years of experience in the FinTech industry, and her area of expertise includes customer success, payments, and global FinTech.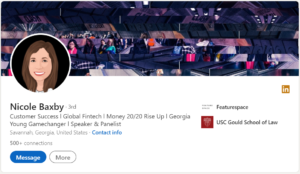 Follow her on: Twitter | LinkedIn
28. Oliver Bussmann
Oliver Bussmann is a Senior Technology Executive with 30+ years of influential leadership in different industries (High Tech and Financial Service) with UBS, SAP, Allianz, Deutsche Bank, and IBM.
Oliver is a thought leader in FinTech, Blockchain, Enterprise Mobility, and Cloud Computing. A pioneer in spotting trends and employing business-building social media strategies from the CXO role.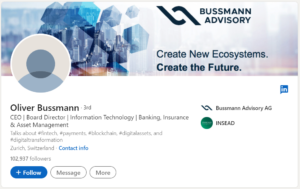 Follow him on: Twitter | LinkedIn | Website
29. Patricia Hines
Patty Hines has over 20 years of experience in financial services across business, technology, and operations. Her areas of expertise include corporate-to-bank integration, online cash management, delivery channels, and customer relationship management, along with end-to-end commercial and small business lending.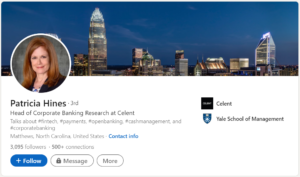 Follow her on: Twitter | LinkedIn
30. Sebastien Meunier
Sebastien is a strategy consultant and expert in the management of global transformations in financial institutions. His two key areas of focus are business efficiency and innovation in Finance: he helps banks to transform their businesses, be more efficient at every level and adapt to the FinTech boom.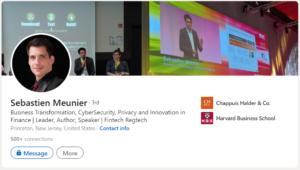 Follow him on: Twitter | LinkedIn
31. Simon Taylor
Simon Taylor is the Co-Founder and Blockchain Practice Lead at 11:FS. Simon has been immersed in the technology of financial services for as long as he's been working and is consistently voted one of the most influential people in Banking, Insurance, and FinTech by banks, his peers, and a number of industry bodies.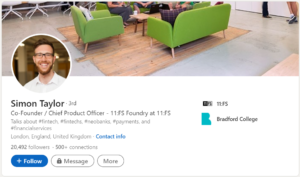 Follow him on: Twitter | LinkedIn
32. Spiros Margaris
Venture capitalist and advisor, Spiros Margaris, is the founder of Margaris Ventures. He is one of the foremost global thought leaders and experts in the fields of fintech and insurtech. He is the first international influencer to achieve 'The Triple Crown' of influencer rankings by being ranked the global No. 1 FinTech, artificial intelligence (AI), and blockchain influencer by Onalytica in 2018.
Having launched two startups in New York, including a pioneer in what would now be termed fintech, Margaris believes that his banking, money management, and entrepreneurial experience help him better understand the challenges that the financial industry faces and thus devise and support innovative solutions for them. Margaris is a frequent speaker at international fintech and insurtech conferences, and he publishes articles on his innovation proposals, inspirations, and thought leadership.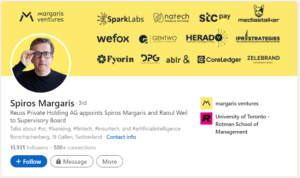 Follow him on: Twitter | LinkedIn
33. Todd Ablowitz
Todd is a globally acknowledged and sought-after authority on payment technology, mobile payments, and emerging payments trends. For over 20 years, he has helped hundreds of software companies, sponsors, and banks across the globe navigate the complexities of the payments industry. Todd has developed strategies based on trends and market demands, created and launched new products, and built and led successful sales organizations. As a result, investors, analysts, and industry watchers frequently rely on Ablowitz for expert advice, trend insights, and consulting on payments and payments innovations.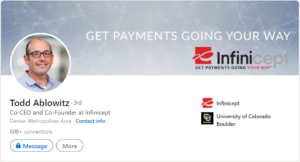 Follow him on: Twitter | LinkedIn
34. Zilvinas Bareisis
Zilvinas Bareisis is the Head of Retail Banking at Celent, where his research is focused on retail banking technologies with a particular emphasis on consumer and card-based payments and identity and authentication. Zilvinas has over 20 years of experience advising senior executives at leading financial institutions and their technology and service providers.
He has a keen interest in payments innovation and how the "perfect storm" of competitive, regulatory, and technology developments shapes consumer payments in the present and future.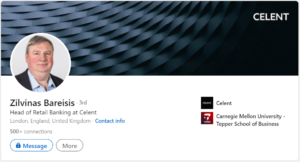 Follow him on: Twitter | LinkedIn
We hope that this extensive list of Payment and FinTech experts will help you on your new ventures in the Payment world. And if you're only looking for fresh insights and tips, still make sure to follow these experts, that constantly deliver news and industry best practices.
Which other experts are you following? Let us know in the comments below!
Want to learn all about online payment processing? Check out our Online Payment Processing Guide for all the essential tips about eCommerce payment processing!