Still unsure of your plans this summer, during these uncertain times? Well, we've got you covered, because CommerceNow '21 is coming up soon and the agenda is as promising as ever!
It's time to mark your calendar this June, because the 5th edition of CommerceNow will take place on June 23 and 24, 2021. The sessions will take place from 6:00 AM PDT to 11:25 AM PDT on both days.
In this year's edition, there will be 14 hyper-focused sessions waiting to help you take your online business to the next level. Our speakers are ready to give you all the input you need, especially now that the eCommerce industry grew exponentially over the past year. So, what better time to dive into the learning experience than now?
This year's agenda will tackle many important themes, including conversion optimization, pricing, customer acquisition, retention, revenue acceleration, customer onboarding and many more key aspects of digital commerce.
Speakers
CommerceNow '21 features an exceptional lineup of well-known industry experts, who will help you learn exclusive strategies, valuable insights, best practices and tools to grow your business. The lineup includes Sean Ellis, founder of GrowthHackers; Ayat Shukairy, co-founder of Invesp; Derric Haynie, CET at Ecommerce Tech; Ramli John, Managing Director at ProductLed; Asia Orangio, CEO and founder of Demandmaven; Randy Frisch, CMO and co-founder of Uberflip; Alexander Genov, Head of Customer Research at Zappos; Oana Trif, Director of Product Global eCommerce & Digital Business at Verifone; Amaan Nathoo, Director, Customer Success at Later; Kevin Lee, Trust and Safety Architect at Sift; Mike Korba, co-founder and CCO at user.com; Burc Tanir, CEO at Prisync;  Siddhartha Kathpalia, Sr. Product Marketing Manager at VWO; and Thomas Smale, CEO at FE International.
The two-day event will be hosted this year by Laurentiu Ghenciu, 2Checkout's Global Vice President of Digital Business.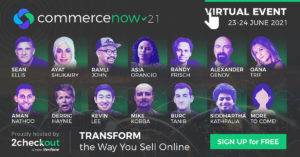 Adding to your learning experience, you'll also have the opportunity to expand your professional network by meeting and exchanging interesting business inputs and tips & tricks with industry peers.
Agenda
This year's agenda is full of exciting topics, and our guest experts are ready to share their know-how with you. For instance, Sean Ellis will show us how to use growth hacking to unleash a sustainable growth engine and how to unlock must-have value in your product to rapidly and sustainably accelerate growth.
We'll also be talking about focusing on the customer as a person, and Alex Genov will unravel the techniques that companies use to approach understanding their users, customers, consumers, fans and followers – in short, understanding the people whose lives they affect.
Maybe you've made your first sales on your eCommerce store, but you're not sure how to bring your customers back. Ramli John will teach you how to turn casual shoppers into lifelong customers by sharing his learnings regarding customer retention.
We all know by now that eCommerce is an ultra-competitive and transparent environment. Burc Tanir is ready to have a talk with you regarding how data-driven pricing can level up your eCommerce game.
But this is just the tip of the iceberg, so make sure you check out the full agenda to find out more!
This year we teamed up with three fantastic sponsors to develop CommerceNow '21. Our two Platinum Partners are ProductLed and Ecommerce Tech and our Golden Partner is Predictable Revenue.
Like the previous editions of CommerceNow, this year's event will be streamed for free and exclusively online. So that gives you the opportunity to join from anywhere in the world with just one click.
But keep in mind, the seats are still limited for this virtual event. So don't miss this learning opportunity: register now to secure your "front-row" spot today!