Empower Your Teams with Smarter Retention and Conversion Tools
In this summer release, Avangate is rolling out powerful customer-facing and under-the-hood updates to drive your customer retention and strategic global reach efforts. Start taking advantage of:
Incisive new insights into recurring payments and recovery tools performance
Intelligent retention tools and actionable data on opportunities to decrease churn rates and better manage the customer lifecycle
Customer-centric conversion mechanisms and services
Scalability optimizations from acquisition through delivery, retention, and renewals, as well as advanced tools for up-selling and cross-selling
Service Across Customer Touch Points
Authorization Dashboard
Experience unprecedented transparency and get useful insights into Avangate's authorization and recovery systems. The new Authorization & Retention Dashboard delivers a consolidated view of the mechanisms, processes and events that work in concert to boost authorization and retention rates.
Key performance areas covered:
Authorization Rates, revealing key recurring payments authorization trends such as card performance and rejection reasons;
Retention Tools, revealing key success metrics for recovery tools like Account Updater, custom retry logic strategy and salvaged revenues and subscriptions; and
Payment Insights for recurring orders, to identify trends and opportunities for optimization, and highlight issues that need immediate attention.
Configurable Partner Portals
Customize the experiences of your partners, resellers and distributors with hosted multi-language Partner Portals. New customization capabilities expand on the existing APIs to let you control and personalize the look and feel and content in the hosted Partner Portals, which are already packed full of self-service partner revenue automation features and can now be aligned with your brand and channel strategy as well.
Streamlined Ordering
Minimize data entry during the purchase process and optimize the ordering experience for your shoppers by reducing the number of mandatory billing address fields to the bare minimum, such as name, country, ZIP code and email address. This creates a feather-light checkout experience that can contribute directly to boosting conversion rates.
In addition, Avangate has introduced a new shopping cart template that simplifies the checkout process for iDeal and Direct Debit to reduce shopper strain, shorten the ordering process, and focus on purchase funnel optimization.
Mobile cart analytics
An upgraded post-sale system simplifies the task of connecting with shoppers through direct, in-cart messaging. Coverage for both desktop and mobile versions of the shopping cart makes it easy for you to reach customers immediately after they place orders. The same infrastructure integrates your preferred tracking technologies into the shopping cart to help you monitor visitors, successful sales, and the ever-critical conversion rate.
Affiliate Reporting+
The latest affiliate reporting enhancements introduce new data portability functionality and location-based insights to help affiliates extract insights from the Avangate platform. Based on the data, affiliates can adjust their marketing campaigns to deliver better experiences and increase conversion rates.
Simplify and Scale Your Subscription Business
Self-service Testing Tools (log monitors, dummy cards)
API log monitor: Avangate is now providing end-to-end visibility into API performance with a new log monitor dashboard. Track all of the events logged for your account and gain deep insight into the operation and performance of the API and webhooks.
Self-service API tools: Enhancements unveiled this summer kick the Avangate API self-service capabilities up a notch. Reproduce complex test scenarios such as cart or API purchases, or track test subscription lifecycle evolution, recurring billing and webhook calls, all to ensure that your customers will have a seamless purchasing experience.
Distributed Infrastructure
Avangate's high availability and high-performance distributed infrastructure come with the promise that the ecommerce processes essential to your business run in standalone, geography-specific systems. This ensures that orders are processed and payments authorized with the highest efficiency while reducing the risk of losing business due to unpredictable occurrences.
Extended Ordering & Subscription API
The latest capabilities added to Avangate's API extend order and subscription management functionality.
Access order details: Enhancements simplify order data extraction, offering a complete collection of details available from the system.
Update subscriptions: New flexibility for API-controlled subscription updates can change details, such as products and pricing options, on demand.
Support for new payment methods: We're adding several new payment methods in the Avangate API, including iDeal, Direct Debit, while growing support for card types with JCB and national Brazilian cards.
Smarter Payments and Conversions
Advanced Marketing Tools – abandons and dunning management, personalized cross-selling and upselling
Target your subscribers granularly with the latest dunning enhancements from Avangate. Differentiate the lead management emails sent to customers based on the types of unfinished payment events, building custom strategies to target failed recurring transactions effectively. Analyze follow-up efforts focused on retaining your subscribers with new reporting enhancements.
Take your efforts to boost the average order value (AOV) to the next level with more coverage and flexibility than ever for your cross-selling campaigns, which can now stretch effortlessly from the shopping cart to the post-sale communication process. Incentivize shoppers with discounted upsell deals, encouraging them to adopt your premium offerings.
Extended Recurring Payment Support – iDeal, ACH
Leverage a diversified pool of recurring payment options and give customers in the Netherlands and the United States more choices with:
iDeal Recurring: Dutch shoppers who prefer iDeal can now use this SEPA compliant payment method for all their recurring payments beyond the initial subscription acquisition. The latest statistics indicate that some 55% of Dutch shoppers favor the local iDeal secure online account-to-account transactions over other payment methods, demonstrating its importance in the region.
ACH (Automated Clearing House): supporting US-based business and consumer payments, ACH accounted for up to $38.7 trillion in transfers in 2013 (nacha.org). Customers in the US use ACH direct bank account transfers extensively for recurring payments, which represent approximately half of total ACH payment volume.
SEPA and EU Consumer Rights Directive Compliance
Position your business strategically across major European markets with SEPA (Single Euro Payments Area) support. SEPA regulations blur the line between cross-border direct debit transactions and domestic payments. With Avangate, shoppers in Germany, the Netherlands and Austria can now use Direct Debit for their purchases and recurring billing by providing their International Bank Account Number (IBAN) and Bank Identification Code (BIC) information.
Avangate continues to deliver the highest level of support for your business across markets in the European Union by ensuring alignment with the latest EU legislation, including compliance with the EU Consumer Rights Directive coming into effect in June 2014.
Intelligent Payment Routing – Cascading Billing, Retry Engine+
Avangate's Intelligent Payment Routing system received a major upgrade this summer, adding:
Cascading Billing: A new mechanism facilitating the successful finalization of transactions, Cascading Billing is designed to handle declined authorizations for new acquisitions and produce the highest conversion rate possible. The system ensures that failed transactions (for new customers and customers with automatic recurring payments) are retried through different payment processors, based on proprietary rules differentiating between soft and hard declines, location, payment methods and order values.
Retry Engine+: Moving beyond the initial conversion rate, the Avangate Retry Engine+ provides a powerful and highly configurable retry logic setup for failed card transactions in recurring billing scenarios, enabling targeting at the level of hours not just days. Automate safeguards to protect your recurring revenue with Retry Engine+ settings that target high authorization rates for subscription renewals and trial conversions.
Advanced Chargeback & Refund Management
With each new release, Avangate continues to focus on curbing chargeback rates and reducing the volume of refunds to minimize impact on your overall revenue. Our latest enhancement connects customers with the right shopper support channels to resolve issues quickly, deterring them from initiating disputes while at the same time taking targeted measures to lower costs.
Another new feature, just launched, enables you to personalize account statements for shopper charges with your company's information or product details. The personalized info will appear on all statements issued for credit and debit card transactions.
LATAM Entry Pack
Avangate can help you grow your revenue and conversion rates in Brazil with popular local payment methods, phone support, and strategic partnerships with payments providers, as well as local distribution and marketing services.
The graphic integrated below summarizes the conversion rate evolution for three companies working with Avangate in Brazil. The impressive results were made possible by a collection of best practices custom designed to help navigate the particular legislation and taxation rules impacting cross-border purchases and Brazilian customers.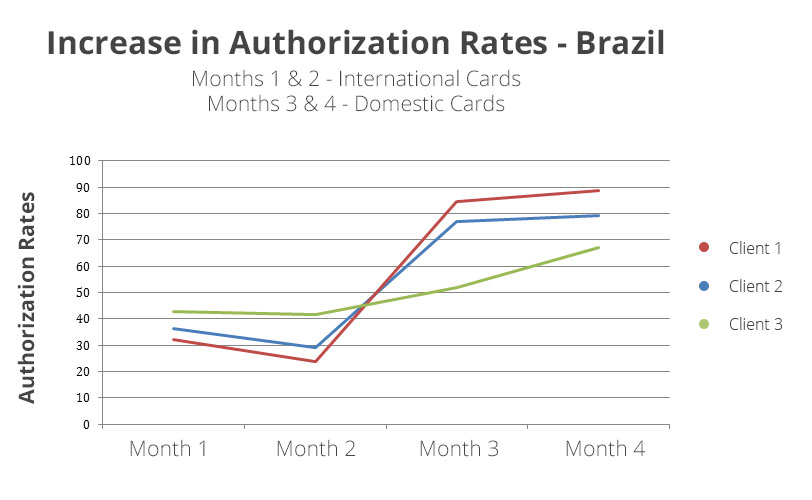 All participating companies experienced a jump in revenue, with increases as high as 200%, after they started offering local shoppers support for the national card with or without installments, combined with support for Brazilian Reals. In addition, work was done to enhance the local card authorization process and avoiding punishing customers unnecessarily through over-taxation and inflated prices.
If you're interested in reading more about Brazil payment optimizations, read our Be an eCommerce Star in the Brazil Market with these 5 Payment Best Practices blog post.
Avangate is committed to continuously improving the features, tools and capabilities that support your business globally. We're always keen on hearing back from you, so please don't hesitate to use the comment section bellow and let us know what you think about our latest release.