One of the givens of B2B is that customers demand a frictionless, consistent, and flexible buying experience. In the current changing landscape dominated by the COVID-19 pandemic, one of the corresponding challenges B2B companies have is creating that ideal customer experience across channels in a cost-effective and successful way.
As the blend of offline and online shopping has shifted to almost exclusively online, the combination of self-service and sales-assisted channels needs to be managed more carefully than ever, as shoppers move from one touchpoint to another.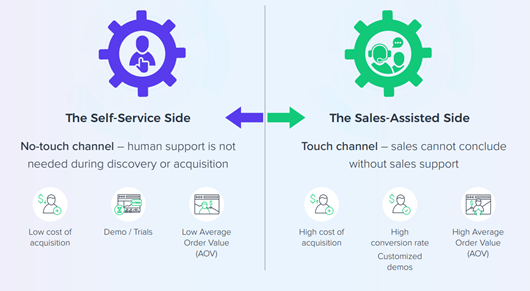 The problem is that channel conflicts are difficult to avoid, and their repercussions can have a very negative impact on your sales.
Here are a few of the problems B2B companies may experience when their self-service and sales-assisted channels are not working in a synergistic manner:
Self-service and sales-assisted product catalogs are not in sync
Complex, non-standard deals are offered for standard products
Client history is not available for nurturing flows when crossing channels
Reporting on the sources of deals is unclear
Sales team is burdened and unable to focus on relationships and outcome
Channels are cannibalized, with high-cost channels overlapping low-value clients, and vice versa
As a result of these issues, it may not be surprising that 77% of B2B buyers report that their latest purchase was "very complex or difficult," according to a 2019 study by Gartner, and only 19% of buyers claim they have the option to buy online in B2B today, as a Sana study recently pointed out.
Fortunately, however, these roadblocks can also be opportunities. With improved approaches that foster the synergy of self-service and sales-assisted, B2B can overcome the challenges and come out on top. This is where the "Infinity Loop" sales model comes into play.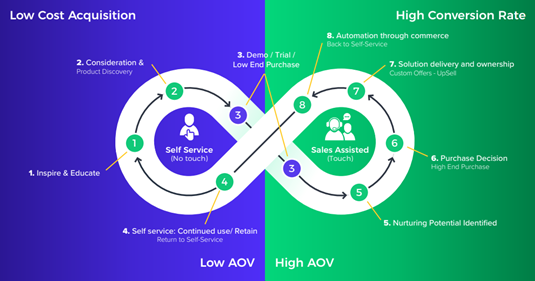 Let's dive into what this loop looks like and the problems it solves:
The self-service side of the Infinity Loop is the low-touch channel, where little customer support is needed as shoppers look for a product or service to solve their problem. The cost of acquisition is low, the client usually purchases a demo or trial, and the AOV is low.
The sales-assisted side of the Infinity Loop is the high-touch channel, where closing sales requires support from your team and the acquisition cost is high, but the conversion rate is also greater, upsells are possible, and the AOV is high.
The trick is to keep these sides from becoming siloed, and the Infinity Loop prevents this by eliminating the wall between self-service and sales-assisted. Customers move through the eight repeating stages of the Loop from self-service and sales-assisted and back again, and each stage has its own purpose and goal while also propelling the customer on to the next stage.
Stage 1: Inspiration
Customer identifies what they want. This is the ideal phase to attract potential clients in cost and time-effective ways: use your networks; outsource the inspiration; automate long-tail partnerships; and share product info with affiliates and partners.
Stage 2: Discover
Customer considers options and discovers a product that might suit their needs. This is where you need to educate your clients about your products' value to persuade them to convert: create self-service interfaces to configure products (remote "hand-holding"); enable your sales team to customize product offerings; invest in UX.
Stage 3: Low-end purchase/demo/trial
Customer commits to a small purchase. Hook your customer by providing a packaged start-up experience that leads to the next tier of your product and define the product tiers to provide evidence of added value; plan the timing of demo/trial offers; know when to automate the upsell at the end of the demo/trial; and contain the inherent costs of the demo/trial.
Stage 4: Ongoing use leads to retention
Customer begins automated eCommerce journey. Determine who and when to engage to encourage customer lifetime value (CLV) using data visibility: give your sales team data reports and supply them with actionable information; determine which customer behavior to flag for your sales team so they know when nurturing is needed.
Stage 5: Sales team connects
Sales engages potential customer directly, makes custom offers/upsells. This is where customers become high-value clients, and customer support is key: work with your sales team to find flexibility in your product offerings.
Stage 6: Sales converts
Sales team helps customer through the final steps to make purchase decision.
Stage 7: Delivery and ownership
Purchase is made, solution is provided, and customer is empowered to use it! Success!
Stage 8: Return to Self-Service:
Client returns to automated flows. This is where an excellent self-service experience during sales-assisted stages will reduce later costs and pressure on your sales team: set a threshold for what your high-value deals are and set time/budget limits; focus on the most important (rote) actions to automate, like upgrades, invoice requests, cancellations, etc.
As the B2B landscape becomes increasingly competitive and traditional sales approaches are no longer one-size-fits-all, it's likely time to engage your marketing and sales teams in discussions around how to resolve new sales conflicts.
The flexible approach of the Infinity Loop can help drive your long-tail through commerce automation, so that your direct sales team can focus on larger, more lucrative deals that require more attention. Additional tools like CPQ, integrated with your commerce, payments, and subscription billing engines, can also be tremendously helpful in automating and consolidating deals made on the sales-assisted side.
Most importantly, when customers can move smoothly from sales-assisted to self-service and the other way round, their progress through the client journey is more likely to lead to successful conversions.
Check out our infographic on sales channel conflicts to discover how to reconcile both your self-service and sales-assisted channels into a single process flow that optimizes your customers' journey.