It is no secret that the Internet has created a new range of possibilities for selling your products and expanding cross-border is on most merchants' minds. With a mature eCommerce market, Spain is an appealing destination for online sellers looking to expand in new countries or regions.
Spain's economy is growing faster than other countries in the Eurozone and businesses are beginning to take note.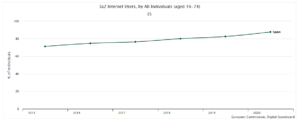 After all, Internet penetration in Spain is at an all-time high, with more than 87% of the population surfing the web regularly. And this figure is only going up, with an additional 144 thousand users logging on in 2021. As more and more people get online, this brings new opportunities to capture additional sales for merchants eyeing this region.
A Growing eCommerce Market
Spain has the fourth-largest economy in the Eurozone after Brexit, with its eCommerce B2C sales exceeding $58 billion in 2019.
Registering a 24% increase in shopper spend in 2020, the country is the second-fastest-growing region in this space. In 2020, Spanish shoppers spent ~$1,073 for online purchases, an average annual spend surpassed only in Europe by the UK, Sweden, Germany and Netherlands. Close to 60% of Spanish buyers shop online nowadays, spending, on average, $61 per shopping session.

The Spanish eCommerce market is already ahead of most central and eastern European markets. As one of the leading top 10 countries worldwide in terms of retail commerce, eCommerce accounted for 7.2% of retail sales in in 2019 in Spain. This percentage exceeds some countries from South-East Asia, and puts Spain near the top of the list.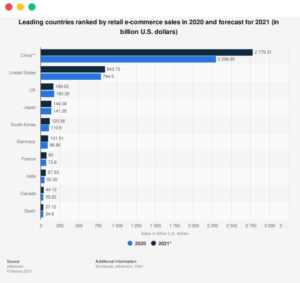 Mobile Commerce on the Rise
eCommerce growth in Spain is most apparent in the mobile market. In fact, mobile users will define Spain's digital future as 31.48 million of Spain's 47 million residents are smartphone owners.
In 2020, mobile commerce in Spain drew in $24.24 billion in revenue, and current projections forecast the market to grow to almost $45 billion by 2024.
Favorite Online Shopping Categories
The average digital shopper age in the country is 42.7 and the preponderance of middle-aged and mature consumers impacts the types of categories they prefer to purchase.
Where people spend money varies, but fashion retailers (54%) still lead the pack. The onset of the global pandemic in 2020 impacted the travel industry negatively but had the opposite effect on the food and grocery industries, as 30% of consumers stated they'd purchased food online due to the pandemic.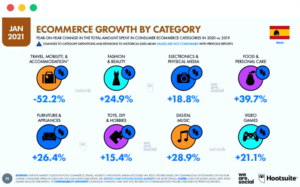 The digital media segment also saw increases in 2020, with the Subscription Video on Demand (SVoD) market growing 32% from 2019 to 2020. This segment is expected to reach $851 million by the end of this year and to surpass $1 billion by 2025.
The Spanish software market is also on a rising trend, in spite of tacking a dip in 2020. Valued at 4.5 billion US in 2021, Spain's software market is forecast to resume its growth at a 4.6% CAGR through 2026, when it will reach $5.68 billion US.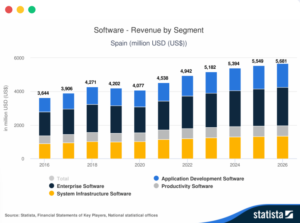 Selling Online in Spain
As with other markets, shoppers in this region expect a local shopping experience, and convert better when offered such a journey. Spanish customers expect their shopping language to be appropriately targeted, even when checking out, with 87% of locals having their native language, not English, set in their browsers. 2Checkout platform data shows that 16% more users convert in Spain when the checkout is localized for Spanish.

So, consider the language as a key element while assessing whether to sell in Spain.
Online Payment Methods in Spain
Credit cards such as VISA and MasterCard are among some of the most popular payment methods on the Spanish market, accounting for almost 50% of transactions in 2019. These are followed by digital wallets such as Apple Pay, Google Pay, and PayPal, which account for 26% of the payment split.
Instant bank transfers are also growing in popularity, with forecasts predicting bank transfers will gain an additional 10% share of online payments by 2023.
Taxes and Regulations in the Spanish Market
As part of the EU, Spain follows the GDPR privacy and security law, and all entities doing business on the Spanish e-market need to follow its requirements. To get started, Spain's data protection agency has released a tool known as Facilita Emprende that's highly recommended for online businesses.
Privacy is an important issue for all Spaniards. To make sure that users are always informed of how their personal information is being handled, websites must display a privacy policy on their home page. The contents of the policy should include what type of data is collected and how it'll be used.
In addition to privacy obligations, merchants that sell online on the Spanish market must be aware of the tax and cross-border selling requirements.
Bear in mind that Spain is a member of the European Union, which means that any company selling to Spanish consumers must meet EU VAT requirements. VAT is collected directly for all B2C cross-border sales, including digitally delivered goods, with a standard VAT rate of 21% applied in 2021 in Spain. B2B sales are handled through the reverse charge VAT mechanism, so a valid VAT ID must be collected at checkout.
Conclusion
Spain is one of Europe's hottest countries, not just in terms of its year-round sunny weather but also with respect to international eCommerce potential.
As a result, an increasing number of foreign businesses are choosing to target Spain with their online sales operations. With a growing number of potential customers and a population that's comfortable shopping from home, there's no better time than now for international online merchants to expand into one of Europe's growing economies.
For more information on how to successfully sell in the Spanish market, read our full eBook here: eCommerce in Spain – A Merchant's Cross-Border Guide to Online Sales.