A new year is always a time to reset and reflect. With 2020 now in the rearview mirror, it's hard to deny the recent transformation of the eCommerce landscape, particularly over just the last several months. As difficult as it's been, however, the challenges have also brought opportunity. Online shoppers around the world have galvanized a dramatic uptick in online shopping, with 10 years of growth happening in just 90 days at the height of the COVID-19 pandemic, according to Shopify's 2020 annual report.
This remarkable surge in growth means new opportunities and markets for merchants around the world, with more businesses looking to expand their offerings to include cross-border selling. To help you navigate these new waters, 2Checkout has been publishing a series of country guides that feature helpful insights for entering these markets abroad.
The latest in this series covers Russia, "eCommerce in Russia – A Merchant's Cross-Border Guide to Online Sales," and provides an insider's look at what to keep in mind when selling to Russian customers.
eCommerce Expansion in Russia Shows Promise for Global Businesses
Russia is the tenth largest eCommerce market in the world, with over $27B in sales, and the fifth fastest growing. Its internet and eCommerce penetration rates are relatively high, with three-quarters of respondents to one recent survey saying they shop online at least once a month, and 98% of respondents saying they've ordered products online. All these aspects make it a logical market for global businesses to expand their online reach.
Even more encouraging, Russia's customs fees on cross-border purchases position both buyers and sellers positively—Russia allows customers to purchase EUR200/ ~$240 in cross-border goods or services without taxation. For physical goods under EUR200 to be exempt from customs fees, these should also weight under 31 kg. And Russians are beginning to embrace cross-border commerce, with a 22% increase in 2018 and a surprising 50% of online orders being cross-border.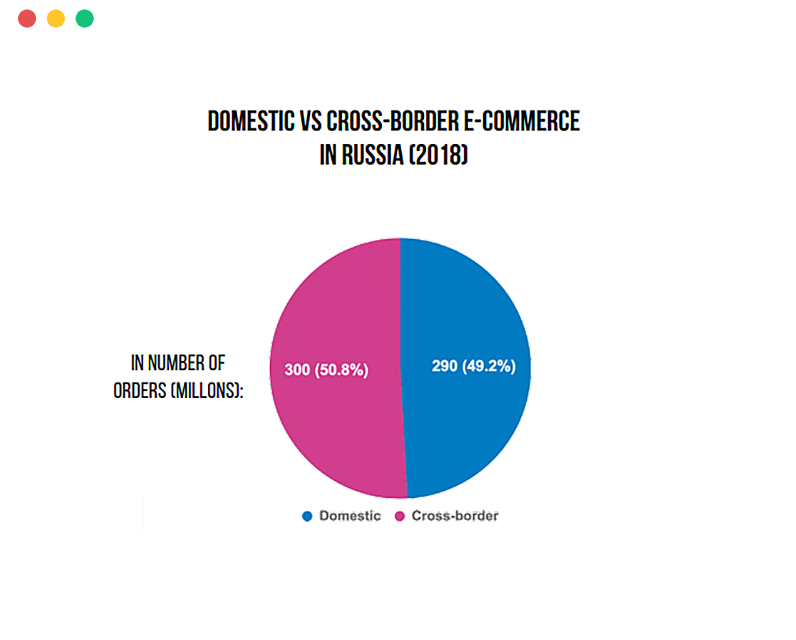 Naturally, as with any expansion there are also challenges. Like any country, Russian culture has its own particularities and preferences that need to be understood and accommodated in order to be successful. Fortunately for merchants, Russians appear to spend online a greater percentage of their per capita GDP than any other country (3.6% digital expenditure as share of consumer spending per capita in Russia in 2019, vs. 3.4% average for Europe and 2% in the Americas).
With so many opportunities available for them, Russia is indeed a lucrative market for online merchants. So, if you're just getting started and want to understand the ins-and-outs of selling online in Russia, here is an overview of what you need to know about this country's buying preferences and requirements. Our eBook is an even more comprehensive resource that will help guide you to success in Russian eCommerce.
How Russian Shoppers Like to Pay
Russia has a relatively young private financial infrastructure, and perhaps as a result, its payments landscape is fragmented. The critical aspect for merchants to remember is that although Russian consumers are embracing online commerce, they also prioritize having multiple payment options, as many as seven to ten, and prefer certain local payment methods.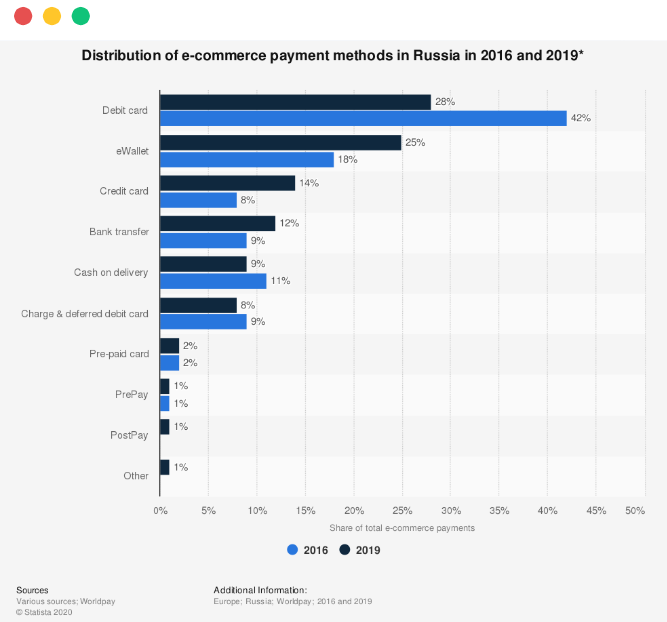 Some of the most popular payment methods in Russia include:
Global Credit and Debit Cards. Visa, Mastercard, and other global bank cards like Maestro and JCB accounted for 42% of all eCommerce transactions made in Russia in 2019.
YooMoney, formerly known as Yandex.Money, is an eWallet currently managed entirely by Sberbank. Users can pay directly with cash or credit card via several methods including online banking, mobile, payments kiosks, etc.
Sberbank Online is a payment option provided by Russia's largest bank, Sberbank; payments can be made directly from a shopper's account.
Mir Bank Cards. This bank card option is rapidly becoming a serious contender with Visa and Mastercard, as it is supported by the government and also has lower interchange fees than the two giant global cards, making it a popular option for merchants.
QIWI Wallet is an eWallet and prepaid debit card option that lets users add funds via their phone. In spite of its past popularity, on December 7, 2020, QIWI was subjected to a six-month restrictions period from the Central Bank of the Russian Federation.
WebMoney, a popular eWallet option where users transfer money into their account which can then be used for purchases.
Russian Shoppers Prefer a Localized Checkout Experience
Since 80% of the country's population only speaks Russian, it is natural that a localized checkout experience with correspondingly tailored language and currency would be the preference of most Russian shoppers.
2Checkout recommends using dynamic templates that localize these aspects based on the location and language used by the browser. Offering native-speaking phone or chat support can also be helpful to build rapport with these local shoppers.
Cart flow is also important: 2Checkout merchants report doubled conversion rates in Russia when they offer a cart flow that includes a review page.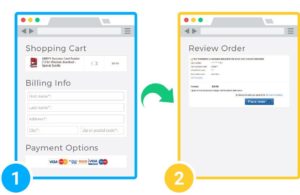 Don't Forget Russian Regulations and Taxation
It is perhaps not surprising that along with its European counterparts, Russia is conscientious about privacy and data protection; in 2006 it enacted the Russian Federal Act on Data Protection which applies to any merchant selling in the country, including cross-border. It is recommended that businesses consult legal counsel before entering the Russian eCommerce market.
Russia requires a 20% VAT (value added tax, or goods and service tax) for any B2C or B2B online purchases. Again, consulting a financial expert is advisable to ensure your business is compliant with all VAT requirements.
Conclusion: Start Your Successful Cross-Border Selling Journey in Russia
As online sales continue to explode and become the preferred method for more and more shoppers worldwide, it's clear that cross-border merchants are in an ideal position to begin selling abroad in countries like Russia. Although there are clear preferences to keep in mind, which vary by country and region, as well as legal considerations, businesses have much to gain by exploring these new cross-border markets in order to expand their business reach and revenues.
For more detailed information on how to successfully sell online in Russia, read our eBook "eCommerce in Russia: A Merchant's Cross-Border Guide to Online Sales."