As the world's most populous country with the second biggest economy by real GDP, as well as a large and rapidly growing middle class, it is no wonder that the eCommerce market in China represents huge untapped potential for western businesses. This is especially evident in the digital sector, where the availability of online payment methods in China has helped the eCommerce market there become the world's largest by some distance.
Currently valued at over $1.5 billion and projected to reach just under $2 billion by 2025, the Chinese eCommerce market will soon equal nearly one-and-a-half times that of the United States and Europe combined.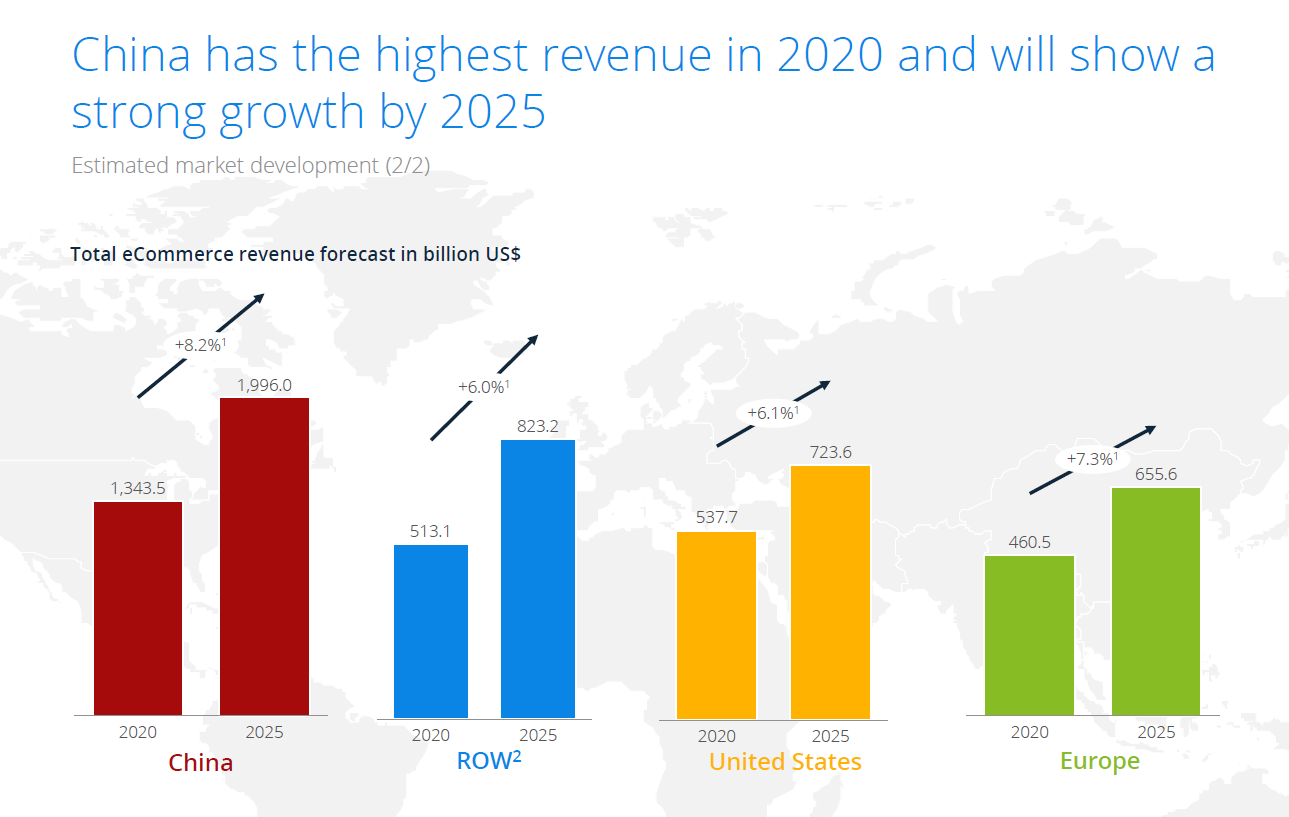 Source: Statista
The attraction for online businesses is clear, but China's unique combination of political policies, insular culture, and delivery logistics make it challenging for unestablished businesses to gain a foothold.
In this article, we look closer at the Chinese eCommerce market and how to sell online there, including Chinese preferred payment methods and consumer habits.
The Current eCommerce Market in China
China is the world's leading supplier of everything, from electronics and clothing to data processing technologies and medical equipment, which means the biggest competition for western businesses in China is China itself. There is also the political, social, and economic structure that can favor domestic sellers, especially with established mega-retailers accounting for 10% of all online retail sales.
But while this makes it difficult for new or unfamiliar online companies to establish themselves in China, the rewards for perseverance can be incredible. Consider that China has the world's largest 'middle-class consumption market segment' that boasts over $41 trillion in purchasing power. Retail eCommerce in China also makes up nearly 25% of all retail sales, with expert analysts expecting that share to rise to 33% by 2025.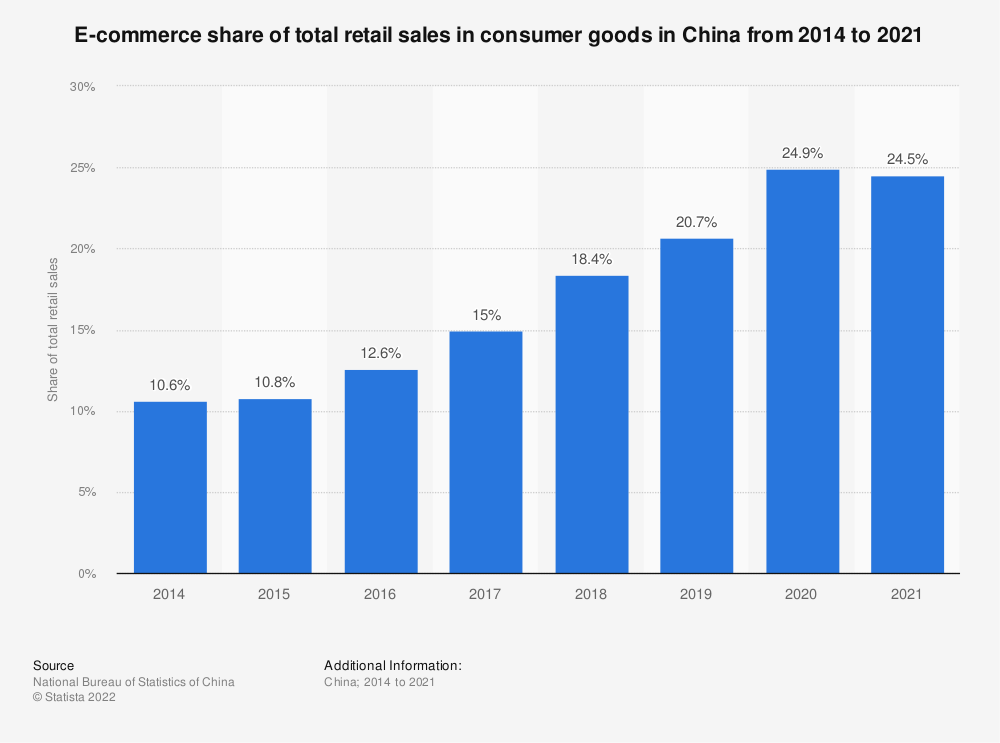 Source: Statista
Perhaps most relevantly to western businesses seeking to break into the eCommerce market in China, there is a significantly large and desirable base of young and affluent 'haitao' shoppers, which means those that buy across borders.
The percentage of the Chinese population that has internet access is also increasing. Between 2019 and 2021, China's rural internet penetration increased from just under 40% to nearly 56%, which brought the overall rate up to 73%. Just counting between 2021 and 2022 alone, the number of Chinese internet users grew by nearly 36 million.
Just 12 years ago, only 40% of China's population was shopping online. Now, that number is closer to 72% and is forecasted to reach nearly 84% by 2025. And remember, these percentages are for a general population of over 1.4 billion people.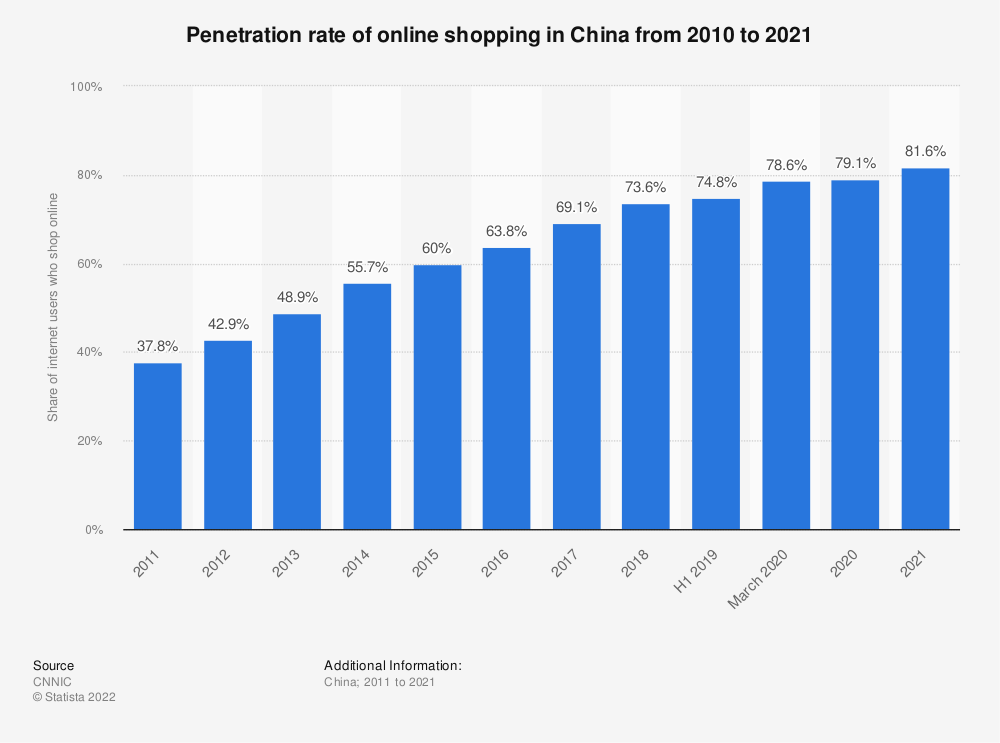 Source: Statista
Opportunity is clearly knocking for online businesses – at least for those who know how to access the eCommerce market in China.
Accessing the eCommerce Market in China
One of the biggest drivers of the increase in online shopping activity in China has been the smartphone. China has placed significant emphasis on expanding mobile broadband access, which has helped make it a mobile-first country, with 83% of the population subscribed to a mobile service and 72% owning a smartphone.
A massive 99.7% of smartphone owners in the country use their mobile devices to go online, resulting in mobile phone usage representing 64% of all Chinese web traffic. The popularity of mobile devices for internet usage has resulted in nearly 70% of all Chinese eCommerce being conducted via mobile. In 2021, over 78% of all online sales of physical goods were conducted via mobile devices.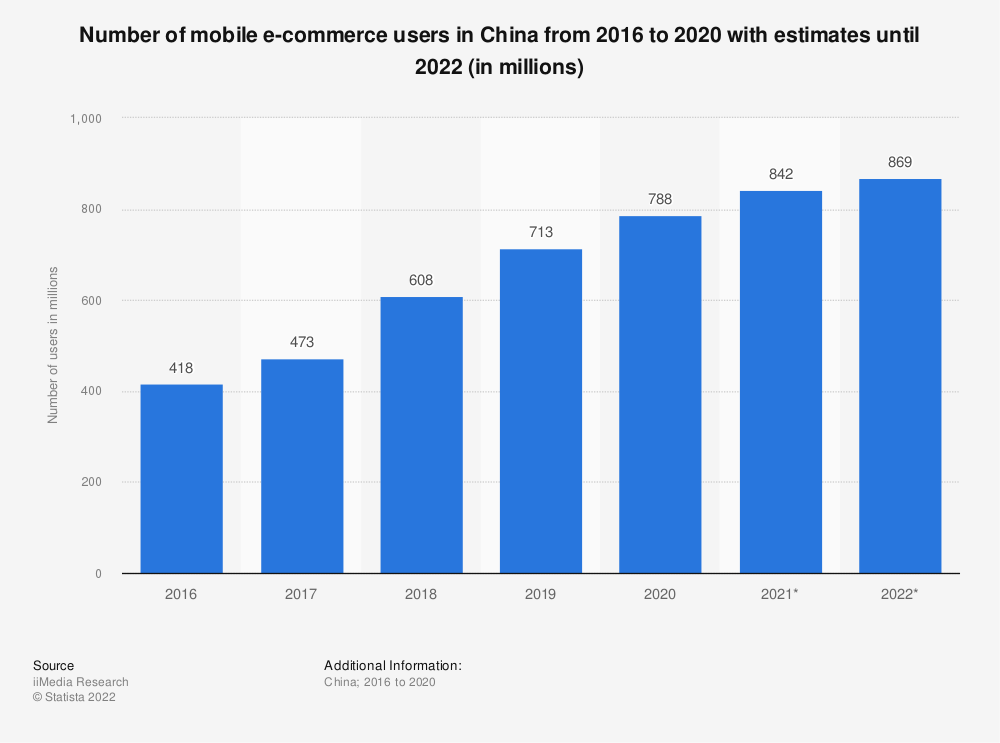 Source: Statista
Clearly, any cross-border merchant seeking to access the eCommerce market in China will need to accommodate this heavy leaning towards mobile internet usage. To stand any chance of accessing the Chinese eCommerce market, an online store must be optimized for mobile, including the general user experience as well as cart flow and integrated Chinese payment methods.
Chinese Shopping Trends and Booming Markets
Awareness of shopping trends will also help western businesses find success in China. For example, local shopping holidays are great online sales drivers, with Alibaba recently generating $38 billion during a recent Single's Day – an unofficial holiday celebrating people who are not in a relationship. Other lucrative holidays include the Chinese New Year, 6.18 Day, and Golden Week, which all generate billions of online revenue each year.
Chinese consumers generally shop across all categories, although there is a clear inclination towards toys, hobbies, and DIY, which take a 26% share of the market. Fashion is close behind at 25%, food and personal care make up 21%, while electronics and media make up 17%.
China also has the world's 5th largest software market, with the sector experiencing strong year-on-year growth. The market is on track to exceed $25 billion already, with analysts expecting enough growth over the next few years for it to reach over $49 billion by 2027.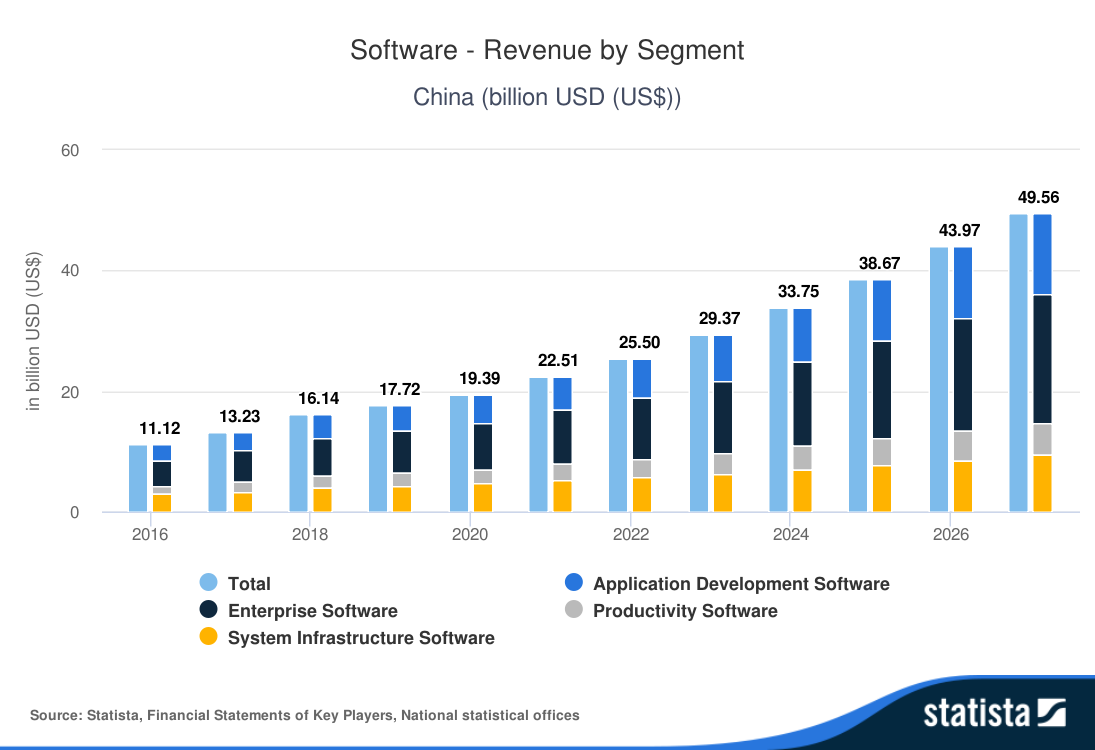 Source: Statista
The online subscription culture in China is another strong sector, with the Subscription Video on-Demand (SVOD) segment alone currently worth over $14.5 billion and expected to exceed $24 billion by 2026.
Appealing to Haitao or Cross-Border Shopper
China has spent the last couple of decades creating a rich internet and eCommerce ecosystem that includes native search engines, commerce platforms, payment providers, and social media apps. The established mega-retailers are clearly benefiting from domestic sales facilitated by this ecosystem, but there is a significant opportunity for non-Chinese businesses here as well.
The haitao shoppers, or affl­uent cross-border shoppers, represent a small portion of the overall amount of online eCommerce in China at only 3%. However, that seemingly small percentage equates to $46 billion, which by itself would place it in the top 10 of the world's largest eCommerce markets.
As well as optimizing for mobile devices, the key to successfully accessing the eCommerce market in China is appealing to these haitao shoppers, so understanding their preferences is crucial. Their affluence is a big clue, as their primary preferences for cross-border shopping revolve around quality, convenience, and status.
Haitao shoppers have money to spend, but they are discerning and desire maximum convenience along with the highest quality, as well as the affirmation that only the best of the world's top brands can provide them. These kinds of shoppers are usually busy consumers with either professional and/or familial commitments, and they are seeking out technologies, products, and services that will make their lives easier. Fortunately, they are willing to pay a premium for the convenience.
Married couples with children make up the largest portion of haitao shoppers at 72%, and they are generally known for seeking high-end items from categories including fashion and electronics. Single people make up a significant 17% of haitao shoppers, and they generally prefer luxury brands and items that can affirm their personal status.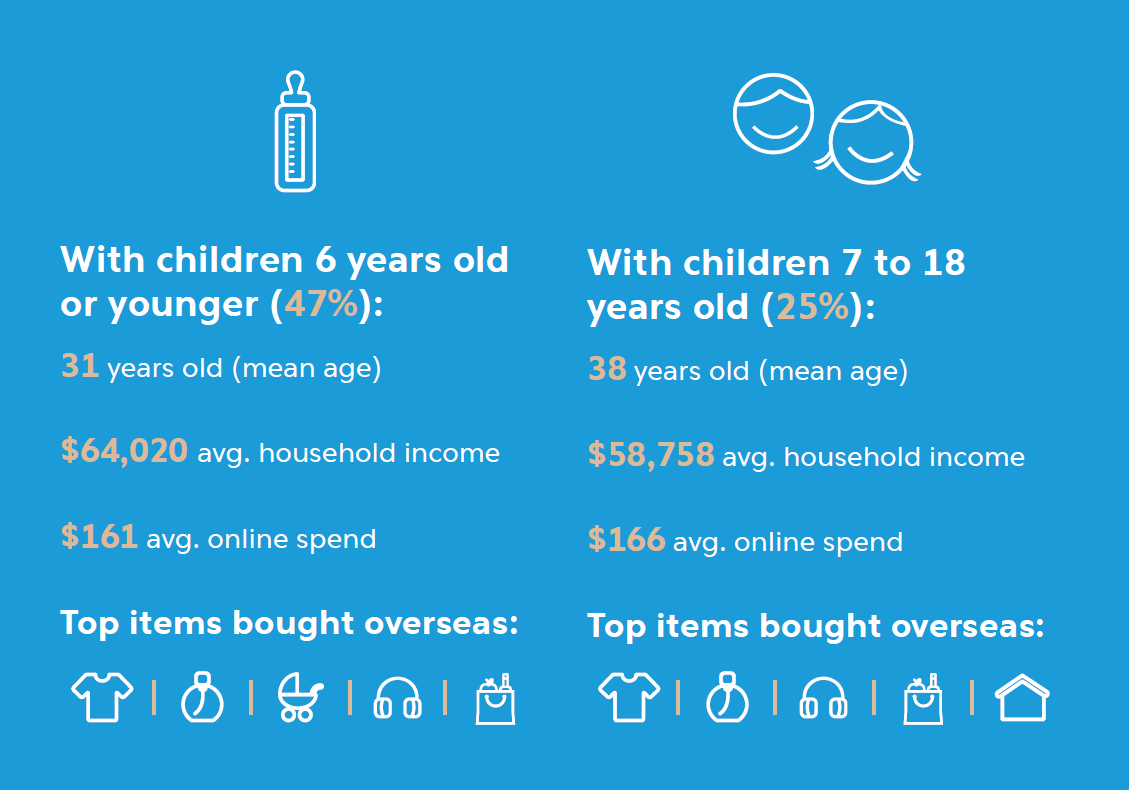 Source: PayPal
Online Chinese Payment Methods
China is currently leading the world in digital wallet adoption, with digital wallets becoming the most popular Chinese payment methods both online and offline­. In just the first half of 2021, over 87% of Chinese smartphone users made a proximity mobile payment, with a similar amount of internet users also using an online payment service.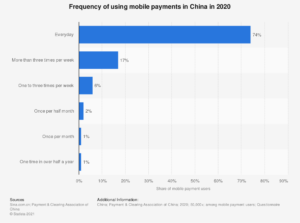 Source: Statista
While convenient for urban dwellers, digital wallets have also enabled rural shoppers without bank accounts to purchase goods online without cash. This has helped digital wallets gain a 61% share of all Chinese online payment methods. However, bank transfers remain popular, with a 21% share of online transactions, so cross-border merchants would be wise to offer their Chinese customers a good selection of popular payment methods.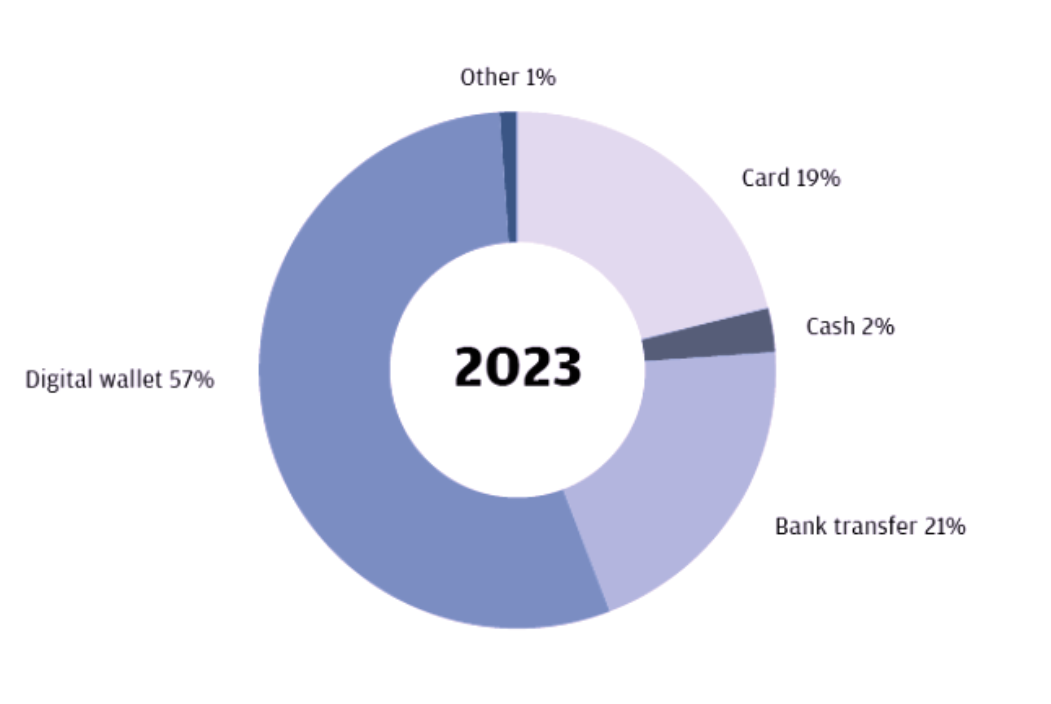 Source: JPMorgan
Selling Online in China
Such Chinese payment methods should include local payment options such as UnionPay, AliPay, Tenpay, and WeChat Pay, alongside the more familiar Visa and Mastercard bank cards. Cross-border merchants must also learn all about the privacy protections and security involved with Chinese payment methods.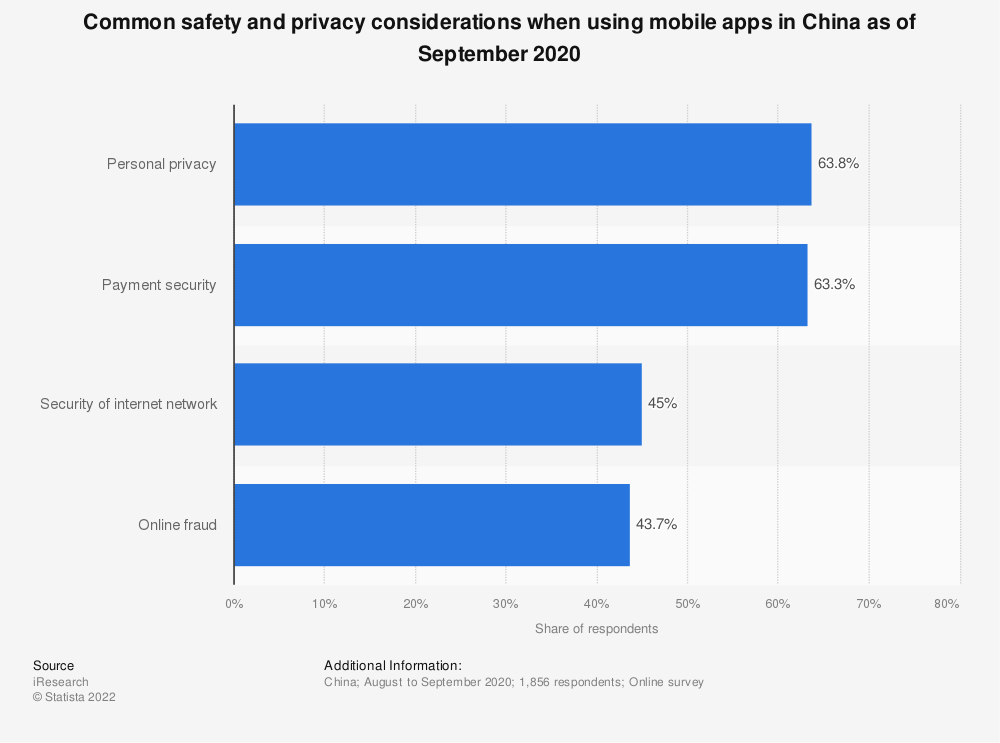 Source: Statista
To learn more about the eCommerce market in China, including the largest barriers to cross-border purchasing according to Chinese consumers, read our eBook "eCommerce in China" and discover everything you need to sell on the eCommerce market in China.