This past June, 2Checkout was the proud host of our fourth CommerceNOW 2020 online event, bringing together some of the greatest minds in eCommerce, digital marketing, conversion rate optimization, customer retention, global payments, and more, to share their knowledge and acumen.
Over the two-day event, 14 renowned speakers shared cutting-edge trends and actionable insights on how to grow an online business (even during a pandemic), with an audience of 3,000+ professionals. This is the first of a series of blog posts where we'll share the key takeaways from the CommerceNOW '20 sessions. Don't forget you can also register to watch all of the recorded webcasts here.
Three of our experts addressed the importance of Optimizations and Online Marketing Campaigns to Succeed In 2020. Among their key takeaways:
Continue to use search for a useful view of consumer behavior and intent, and take appropriate action, despite this current crisis;
Conquer your organic search challenges with sharpened and refocused SEO skills;
Make campaigns easy to understand, interesting, and fun.
In a presentation by Purna Virji, Senior Manager of Global Engagement at Microsoft, "The Digital Advertiser's Guide to COVID-19," Purna explored the elevated relevance and use of search in the context of the pandemic.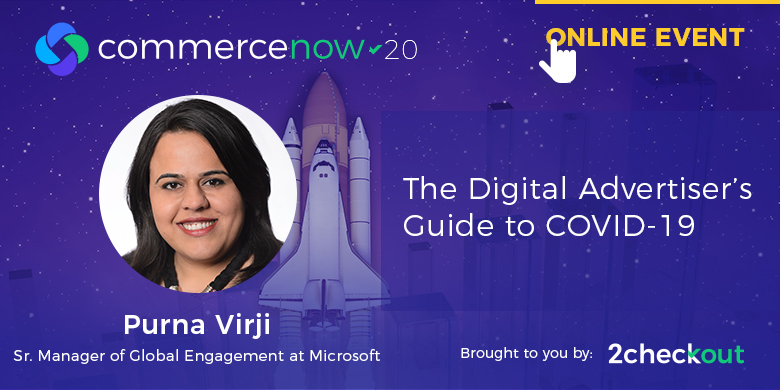 With brick-and-mortar retail shopping on hold and people stuck at home, online search is top-of-mind for customers, and what they are searching for is distinctive, too. Some searches, naturally, are down, like for travel and lodging, while financial services and retail (especially for things like home goods and appliances, since we've all become very home-focused) have gone up dramatically.
In short, however, paid search is like "a steady ship during stormy waters," Purna asserted. It's been impacted the least by COVID, she pointed out, and has simultaneously benefitted the most.
Purna advised businesses to optimize their advertising and marketing strategies by focusing on three areas:
Immediate strategy—quick actions they could take today, like modifying their message and imagery to show they connect with what consumers are facing and how their lives have changed.
Restoration strategy—what will the world look like after the pandemic? Start building strategic remarketing lists and adjust their KPI's to be more flexible with their benchmarks.
New opportunities—what ways can they capitalize on changes brought on by the pandemic? Begin to target their advertising with the re-rise of desktop shopping in mind; lower their budget but keep their advertising up and running; expand to a broader audience to reach new users who have become customers because of the pandemic.
For each of these areas, Purna supplied a checklist of items to examine, with a deep-dive into specific directives for each: Ads, Keywords, Audience, Bidding, and Budget.
Purna also advised companies to take a "health check," looking at the following:
Audience dashboard: High-level and granular views of audience performance and bid adjustments based on KPI's;
Comprehensive gap analysis: New keyword opportunities to stay ahead of the competition;
Negative keyword conflicts: Identify opportunities to resolve conflicts;
Share of voice dashboard: Identify how to optimize your budget, bid, and ads for your audience campaigns.
Purna concluded her presentation with valuable resources and helpful links about advertising and marketing during the COVID-19 pandemic, as well as charitable ways to give back during this challenging time.
Aleyda Solis, SEO Consultant and Founder of Orainti, addressed the topic of SEO difficulties in eCommerce and ways to turn them into successes, in her presentation "How to Win SEO for eCommerce in 2020—Main Challenges and How to Overcome Them."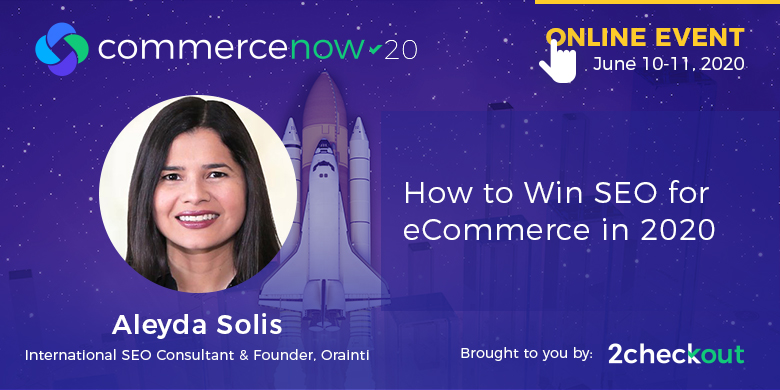 Organic search is the main traffic driver for eCommerce and shopping sites, Aleyda pointed out, but sites have characteristics that make it challenging to optimize them as effective as businesses would like, such as:
High number of products
Highly dynamic inventory
Complex taxonomy
In turn, she said, these challenges can cause common SEO issues, like the following:
Crawl budget issues
Content indexing, duplication, and cannibalism issues
Internal linking challenges
The good news? Aleyda says these issues actually can be a great opportunity to sharpen your  SEO skills, in two ways:
Optimize your product pages with limited control and highly dynamic inventory
Internal linking and indexing of facets with non-standardized attributes.
Aleyda does a deep-dive into numerous ways to accomplish these two tasks, with examples and visuals, to make it more likely that consumers will find your product and purchase it.
Olga Andrienko, Head of Global Marketing, SEMRush, presented "Ways to Improve Customer Retention: Gamification Cases by SEMRush," sharing three campaigns her company has recently conducted and the components that contributed to their success.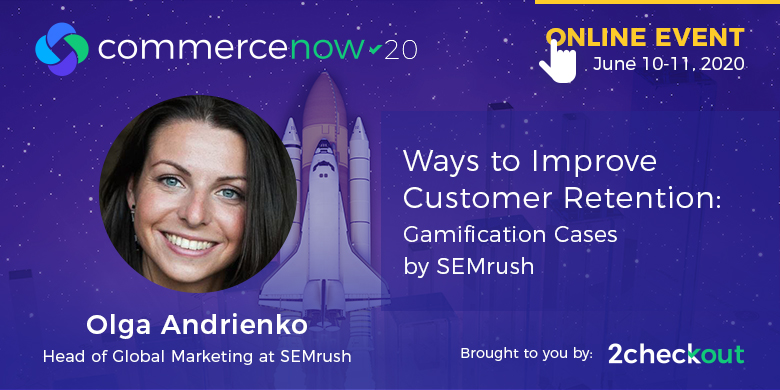 The three simple tenets Olga cites when talking about the success of SEMRush' marketing and advertising: Make your campaigns easy to understand, make them interesting, and make them fun. "Gamification is the perfect way to deliver these three things," she asserted.
In one example of a campaign using gamification, Olga described how a new eBook on SEO techniques was used as an incentive to upgrade from a basic subscription to what they call their GURU subscription. After launching the campaign, they realized their GURU clients were also interested in receiving the eBook, so they were welcomed to join.
Make it interesting: The campaign goal was to increase their clients' awareness of the range of SEO tools SEMRush offered, especially those they were not yet using.
Make it easy: They initially sent an email blast with a straightforward, non-time-consuming sign-up for five tools. The eBook was the "prize" for doing so.
Make it fun: If the user signed up for all five tools, they received a follow-up email with an animated "vault" to open, with the eBook as the "treasure" inside.
The results? An almost 50% open rate for the campaign newsletter, 750 participating, and with almost half of those who opened the newsletter—900—signing on for new project setups.
Olga described another successful SEMRush campaign: animated Easter eggs, hidden across their interface, which when clicked on would reveal information on a product tool … as well as another Easter egg to click on. Every customer who clicked on an egg would receive a personal response via Twitter, making it a very personal, fun "game" with lots of social engagement.
Their Easter egg hunt led to 9,300 users participating over the two weeks, +1,500 actions in SEMRush by users, and over 8 million impressions for tweets with #semrushegghunt. Four of the five tools featured as Easter eggs got significant new visitor boosts.
Olga also addressed their tactics for social media campaigns, and emphasized that "it's all about empathy, care, and customer support." She cited the following steps for successful social media campaigns:
Make it personal: Use the person's first name whenever possible, when communicating, to make the contact more powerful. "It will resonate more than anything else," Olga said.
Respond to unhappy customers: Retain users by responding to social media complaints where your company is tagged. You have a better chance of retaining the naysayers, even if they are unhappy, if you engage in open discussion with them.
Respond as quickly as possible: Even if you have to give them a more complete answer the next day, make contact immediately—they will appreciate it and you will build trust.
Fix their complaint: If you can, address and find a solution to the problem they are having. They are likely to become your biggest advocate.
Don't apologize for the company: Instead, use the following formula: "I see you," "I care about you," I am sorry you feel that way," and "Please hear me out."
Olga's key takeaways:
Attracting and keeping clients are equally important.
Don't invent a new platform; use your website interface, email and social media.
Talk to your audience, especially when they are upset with you.
Make your campaign easy, interesting, and fun.
To learn more about the trends, insights, tips, and tricks that some of the greatest minds in eCommerce, digital marketing, CRO, and customer experience shared at CommerceNOW 2020, you can sign up here to access all the sessions.