Looking at the B2B landscape, it's clear that it undergoes a massive change from offline to online, with a matching shift in how buyers engage with merchants. The COVID pandemic has accelerated that trend and further impacted the way shoppers behave. Traditional sales have dropped  swiftly, and SaaS products and services have exploded with work-from-home as the new status quo. In response, these businesses are pivoting their channel communications and sales approaches overnight.
As with any new opportunities, there are also challenges, but B2B merchants should not be discouraged! There is a lot of synergy between self-service and assisted sales and the two approaches should work together – in a frictionless manner – rather than in parallel, in siloed systems.
How to go about it and embrace the change?
I shared our recommendations for optimizing digital sales interactions in a recent webinar hosted by Subscription Insider.  Here's the gist of it.
We kicked off our session with a look at today's B2B market: 57% of companies plan to increase their cloud usage due to COVID-19; 30% say they will increase it "significantly more than planned," and the global cloud services market is forecasted to grow 17% in 2020, from almost $228 billion to over $266 billion.
We went on to drill into what it means to balance self-service (no-touch; customer is on their own) aspects of the approach with sales-assisted (touch; hand-holding experience) steps to control costs but increase conversions.
We depicted this equilibrium as the B2B "Infinity Loop" (with an associated, memorable Hot Wheels race track visual) that alternates between the self-service steps and the sales-assisted steps. This loop consists of six stages which repeat one after the other, as the name implies. Each step has a purpose and a goal, and we went through several recommendations for each during the session: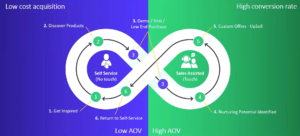 Getting inspired. Attract potential clients to extend your reach while controlling costs and upholding quality.
Recommendations: use networks; outsource the inspiration; automate long-tail partnerships; and share product info with affiliates and partners.
Helping your customers discover your products. Educate your clients about your products' value to convince them to convert.
Recommendations: create self-service interfaces to configure products (the remote "hand-holding experience"); enable your sales team to customize product offerings; and invest in UX.
Providing a demo/trial/low-end purchase. Hook your client on the next tier of your product by providing a packaged start-up experience.
Recommendations: Define the product tiers to give client evidence of added value; know timing of sending demo/trial offers; know when to automate the upsell at the end of the demo/trial; and contain the inherent costs of the demo/trial.
Nurturing potential to grow customer lifetime value (CLV). Determine who and when to engage using data visibility.
Recommendations: Give your sales team data reports, but more importantly supply them with actionable information—subscription data visibility, for example. Determine which customer behavior to flag for your sales team to prompt them to take steps to nurture them.
Making custom offers/upsell. Adapt to high-value clients; this is where flexibility is key.
Recommendations: Find balance between automation and flexibility in your product offerings.
Returning your clients to an excellent self-service experience that they can drive themselves, in order to reduce costs and pressure on your sales team.
Recommendations: Set a threshold for what your high-value deals are, and set time and cost limits; focus on the most important (rote) actions to automate, like upgrades, requesting an invoice, cancellations, etc.
NEW Channel conflicts: Do you have them? How do you know?
You have siloed channels with a wall between them: self-service and sales assisted. How do you keep them, with their individual product catalogues, in sync? How do you know how much revenue is coming from self-service and how much from sales-assisted? These are just a few of the questions and the struggles you will be dealing with in a siloed sales structure. My recommendation is to not build the wall in the first place; find ways to share information with both channels in mind.
Another issue is avoiding cannibalization. You have self-service deals, privileged self-service deals, as well as sales assisted, with progressively higher values. The problem is when they overlap. It's advisable to keep self-service limited to low to mid-value sales; privileged to mid- to high-level sales; and sales-assisted to high- to top-value, to avoid overlapping high-cost channels over low-value clients.
Finally, clarify the role of your partners in your value chain. Look at how much of your business is direct sales and how much indirect sales through partners, because it will make a difference in how involved your sales team is; in some cases you may need to externalize the sales-service side of the infinity loop. With regional distributors, they become your client and you don't have a service cost; treat them the same way you would treat a client.
What does it take? The 2 paths to synergy
In order to attain this sales synergy, you need a lot of technical capabilities, that you can get in one of two ways. You can go the "best of breed" route, where you're using different IT functionalities from individual pieces, best in their line, while servicing a wide range of clients from many different business landscapes. Integration of all these pieces is difficult, time-consuming, and expensive. Usually, only enterprise-level companies can afford it, but the biggest price they also pay is time to market.
The alternative is to remove this complexity by going with an all-in-one solution provider, who can handle the multitude of pieces for you – B2B eCommerce with self-service and assisted sales options. Either way, you are likely to end up with a blend of the two, and during COVID, having a solution that works, and offloading the heavy lifting to a provider, will help you be agile in the market.
To learn more about the how a B2B Infinity Loop approach can resolve your new sales conflicts, watch our entire session here.