When it comes to consuming the latest and greatest information and resources these days, there are plenty of options to choose from. Since hitting the media landscape in early 2020s, podcasts have slowly become a new and very popular way to enjoy content. The podcast's format usually features one or more hosts discussing various subjects. From interviewing special guests, sharing stories, to news, history, sport discussions, and even eCommerce, the podcast's umbrella covers it all.
The biggest advantage of podcasts is that people can listen to them anywhere, anytime. You can tune in on your smartphone or computer and listen while working, doing daily tasks, going for a walk, and even driving. Podcasts are always a great option to enjoy – and stay informed – while doing other activities. According to Statista's latest research, by 2024 the number of monthly podcast listeners will hit 164 million, and it is estimated that there could be over 100 million podcast listeners in the United States by 2024, up from 75.9 million in 2020.
For eCommerce business owners, podcasts offer a wide range of learning opportunities. There are a lot of smart and cool digital commerce podcasts hosting or featuring industry experts who are pleased to share their personal experiences and growth tips for a successful eCommerce journey.
Whether you're new to the world of podcasts or simply looking for your next listen, we've gathered a list of the best eCommerce podcasts you definitely don't want to miss. So, download a podcast app on your smartphone or computer and let us help you create your next favorite playlist!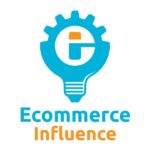 Ecommerce Influence is a great podcast for eCommerce business owners looking to convert their visitors into paying customer and then successfully retain them. The podcast offers industry updates and growing strategies, and its episodes touch on various informative topics, like a business founder's successful journey and hiring and marketing strategies.
Tune in to discover more!
Remarkable episodes: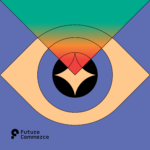 Future Commerce is a weekly retail-focused podcast that aims to offer listeners the best interviews and insights from eCommerce experts and startup founders who are shaping the retail industry. It covers the latest industry news including customer-focused and innovative trends to look for when growing and developing a business.
Check it out if you want to discover actionable advice right from the experts.
Remarkable episodes: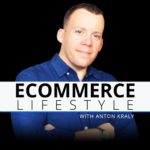 Ecommerce Lifestyle is a podcast dedicated to the whole cycle of an eCommerce business. The host Anton Kraly aims to offer the best revenue growing tactics for both entrepreneurs and owners. The podcast provides an excellent look at success in online stores and touches on topics like dropshipping and marketing tactics. Operators in the dropshipping industry will learn a lot from this podcast, as will anyone who is active in the digital commerce environment. Try it out!
Remarkable episodes: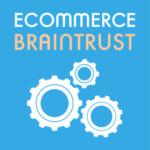 Next, we have eCommerce Braintrust, a podcast dedicated to the latest eCommerce trends and innovations. The host discusses with industry expert guests about how to build a successful business and what are the best strategies for a business to scale in a competitive market.
Tune in to listen to experts and learn from their practical advice.
Remarkable episodes: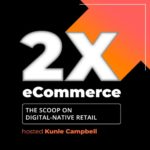 2X eCommerce is a long-standing resource for actionable business advice. Its content focuses on valuable insights into growing metrics such as conversions, average order value, and traffic, and ultimately how to boost sales. This is a great resource for people looking to increase their digital commerce results and stay ahead of their competitors.
Check it out and learn from the experts how to achieve growth goals.
Remarkable episodes: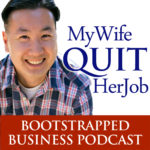 My Wife Quit Her Job is a podcast dedicated to future entrepreneurs looking for the keys to success in the market and building a strong business. Entrepreneur Steve Chou hosts this interview-based podcast that spotlights essential eCommerce insights to help anyone get started in the digital commerce market. This podcast is ideal for entrepreneurs that are just starting their eCommerce journey.
Don't miss it!
Remarkable episodes: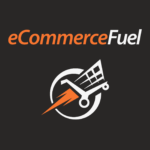 eCommerceFuel is a podcast hosted by Andrew Youderian, a hugely successful online retailer, and aims to provide listeners with meaningful insights from eCommerce experts on launching and growing a powerful digital commerce business. The content is for anyone looking for expert tips on leadership and eCommerce.
Give it a try!
Remarkable episodes: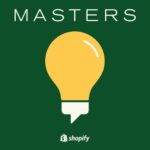 Shopify Masters is an official Shopify podcast where leading eCommerce entrepreneurs and industry experts share their experiences and inspirational stories. Special guests provide actionable advice for growing an online business on Shopify, and not only that, they also share tips on having a motivational mindset and everything you must know to build an eCommerce business like a pro.
Check it out!
Remarkable episodes: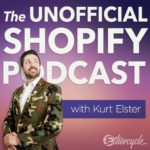 Next on the list we have The Unofficial Shopify podcast, hosted by Kurt Elster, a senior eCommerce consultant and Shopify Plus Partner.  During his sessions, listeners have the opportunity to gain powerful knowledge and tips on how to run a successful Shopify business.
Tune in to discover the best growth strategies and insights that will help you become the ultimate Shopify entrepreneur.
Remarkable episodes: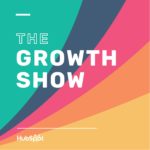 The Growth Show podcast explores inspiring stories behind how people successfully build and grow a business, with content that focuses on current business essentials and trends. This podcast is ideal for anyone looking to strengthen their business strategies.
Check out some episodes!
 Remarkable episodes: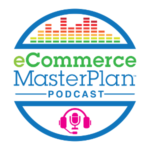 eCommerce MasterPlan, as the name suggests, is a podcast dedicated to helping eCommerce business owners create a "master plan" for their business. The content aims to offer the best practices to attract and retain customers and tips about how to successfully operate a digital commerce business.
 Remarkable episodes: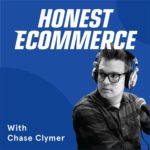 The Honest Ecommerce podcast is a comprehensive resource for eCommerce information, primarily focused on increasing online sales and growing a business. The podcast offers listeners the essential information they need to succeed and skyrocket their eCommerce business.
Tune in for honest actionable advice and to explore new insights.
Remarkable episodes: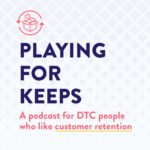 The next podcast we recommend is Playing for Keeps, hosted by Kristen LaFrance, an eCommerce retention specialist who interviews guests from top subscription businesses about their success stories and their new strategies for retaining customers in a competitive market. This content is excellent for anyone looking to grow their subscription-based business.
Check it out and learn how the best in the DTC space are retaining customers.
Remarkable episodes: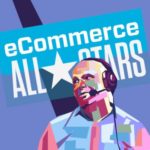 The eCommerce All Stars podcast covers a lot of relevant and interesting topics related to eCommerce today. This podcast aims to support and guide every entrepreneur in their efforts to boost online sales and build a powerful eCommerce website. The content shares all the secrets to become the next eCommerce professional.
Make sure to check it out to learn about innovative development strategies and best-in-class solutions.
Remarkable episodes: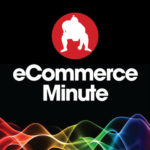 The main goal of eCommerce Minute is to provide your daily dose of eCommerce topics and insights. The content ranges from eCommerce to tech and retail news, and offers comprehensive information to people that own an eCommerce business, work in this industry, or are simply looking to expand their knowledge about the beautiful world of digital commerce.
Check it out and discover lots of industry news.
Remarkable episodes: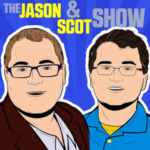 The next podcast we recommend is Retailgeek, a podcast that provides useful insights about the world of online retailing.  The two hosts discuss the latest trends in eCommerce, shopper behavior, and digital marketing. Listen for advice on how to exceed customer expectations and what business strategies to implement in order to achieve success.
Remarkable episodes: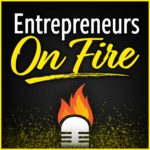 Entrepreneurs on Fire is an award-winning podcast with host interviews of entrepreneurs that provides a comprehensive guide for listeners about financial, location, and lifestyle freedom. This is the right podcast for entrepreneurs that are looking for success without losing their free time. Its in-depth content about how to build a powerful business without losing your lifestyle freedom will definitely give you an idea on how to boost sales.
Remarkable episodes: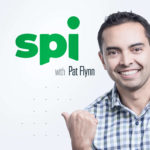 In the SPI podcast, the host Pat Flynn shares proactive strategies and insights about building the perfect digital business the smart way. The content ranges from killer marketing tips and tricks to blogging and social media strategies and productivity tips that are meant to give listeners the key to successful eCommerce. This weekly podcast is a mix of solo shows from the host, interviews, and special guests, so it has the best formula to offer you all you need to know about building your online business.
Remarkable episodes: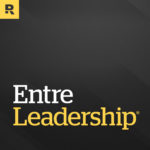 The EntreLeadership is a great business-centric podcast for people who want access to in-depth discussions and tips on leadership and business by some of the top minds in the business world. This podcast aims to offer the right practical strategies for entrepreneurs looking to grow their business and be on top in a competitive market. The content is excellent for its leadership lessons.
Tune in and discover how to make the right business decisions in order to achieve growth.
Remarkable episodes: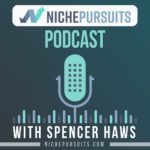 NichePursuits is another awesome business podcast that shares tips and tricks on how to take your business to the next level. The content is comprehensive and aims to offer listeners insights on how to build niche websites, market websites through SEO, and much more. From latest marketing trends to overall business strategies, this podcast has it all.
Tune in and get your dose of motivation to move forward with your niche business.
Remarkable episodes: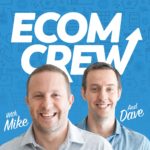 The next podcast on our list is EcomCrew. The content is excellent for eCommerce business owners that are looking to develop an online business and reach powerful growth. The two hosts cover every topic related to eCommerce, from Shopify and Amazon FBA to email marketing and Facebook Ads.
Check it out!
Remarkable episodes: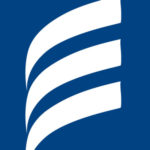 Practical Ecommerce is an interview-format podcast with appearances by successful entrepreneurs in the eCommerce industry. Every week the host discusses the realities of online selling with top entrepreneurs and executives. The content is focused on success stories meant to inspire listeners to become leaders in the digital commerce market.
Definitely worth a listen!
Remarkable episodes: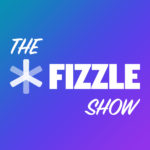 The Fizzle Show is an amazing resource for learning the latest strategies and trends in business. The podcast is excellent for all entrepreneurs looking to have a successful career and achieve their goals. The content focuses on modern business essentials, motivation, productivity, blogging, content marketing, work-life balance, and much more.
Don't miss it!
Remarkable episodes: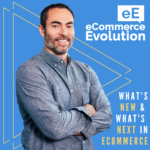 Ecommerce Evolution is an interview-based podcast that focuses on delivering the best practices and trends in eCommerce. The host interviews merchants, vendors, and experts shaping the eCommerce industry. The content provides in-depth insights on how to increase revenue and retain customers, marketing practices, and other ways to increase your eCommerce business. This is the right podcast for your playlist if you are looking for actionable advice and data-driven strategies that will enhance your eCommerce business.
Check it out!
Remarkable episodes: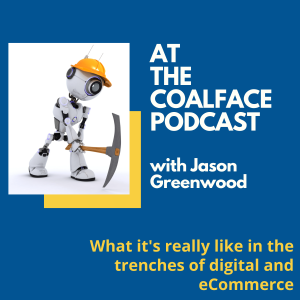 Another podcast worth checking out is 'At the Coalface Podcast', hosted by Jason Greenwood. The podcast follows all the fresh eCommerce trends, especially the ones from the tech industry. In his podcast, Jason and his expert guests focus on breaking down complex eCommerce topics into basic concepts that anyone can understand and apply. So, if you are looking to level up your eCommerce game and boost your omnichannel strategies, then you should give it a listen!  
Remarkable episodes: 
Podcasts are an amazing way to consume content. In a fast-moving world, where people are always in a rush, podcasts provide the opportunity to receive information no matter where they are. Whether you are working or taking care of your daily responsibilities, you can easily tune in to a podcast app via your smartphone or computer and search for your favorite listen. Podcasts on eCommerce have increased in popularity among other topics. We believe that this list has the best eCommerce podcasts that are worth listening to and provide meaningful advice and details for every stage of the customer journey.
Let us know in the comments section below which of these podcasts are your favorite. Are there any other eCommerce podcasts you like to listen to? 😊