The evolution of B2B eCommerce from a niche segment of the commercial market to where it will soon equal or surpass traditional channels has been underway for some time now. Propelled initially by SaaS and accelerated by COVID, the B2B eCommerce market is now worth close to $8 trillion (US) and is forecasted to grow 18.7% through 2026 and reach $18.57 trillion (US).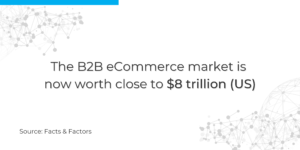 Source: Facts & Factors
B2B purchasing, once dominated by the Boomer generation that favored centralized, face-to-face interactions and personal relationships is now the responsibility of the much more internet savvy Generation X and will soon be under the providence of the first all-digital generation, the Millennials.
The Millennials are the first generation to come of age during the digital era and, unlike their predecessors, are entirely at ease with the online buying process. Theirs is a generation that has no problem extending their B2C shopping practices, which invariably involves extensive online research, as well as a preference for personalized, self-service experiences, to their B2B purchases. With business ceding control to Millennials – 73% are already involved with procurement—the B2B landscape is rapidly changing to accommodate them.
With COVID reinforcing the importance of digital, B2B marketers today have shifted 55% of their budgets to online initiatives, with 96% of larger organizations completely revamping their go-to-market strategies to emphasize digital channels and support/service.  As businesses try to adapt to the new reality, they're looking to B2C as a model, and as a result, are increasing investments in mobile, digital payments, online marketplaces, and their overall infrastructure to make the B2B experience more omnichannel, frictionless, personal and self-directed.
Source: BigCommerce
Let's take a look at some of these B2B eCommerce trends in detail and how they'll influence the market's continued evolution in the next few years.
Payment Options
 While commercial businesses have generally accepted the new digital normal and pivoted their sales and marketing toward automated, online channels, the majority continue to rely on manual, traditional payment methods. This is not surprising, as payments, especially at the enterprise level, have always favored the buyer with long payment cycles involving paper checks, open invoices, bills of lading, and buying against an account, which can take weeks or longer to clear.
The preference for traditional payment methods remains entrenched even online, where more than half of all B2B buyers cling to checks, terms, and purchase orders, as opposed to B2C, in which transactions are conducted almost entirely via credit cards (94%). While the old ways still reign, both buyers and sellers are beginning to recognize the benefits of digital payments, which, soon, could turn the tide toward newer, more efficient methods, such as commercial mobile wallets, virtual credit cards, ACH transactions, and even third-party financing.
In addition to being far less manual and expensive (62% of traditional payments cost is tied to labor), digital methods provide all parties with greater transparency and speed. The transition to digital, however, is not without challenge, and B2B vendors need to be careful not to alienate their current customer base in the process. Flexibility and a payments platform that can accommodate both traditional and new methods, and integrate with key business systems, will be critical to making the transition seamless.
Customer Experience
With 60% of current B2B purchases influenced or directly made by Millennials, the customer experience will continue to increase in importance for B2B merchants. Millennials are habitual researchers and conduct roughly 12 online searches for each online purchase they make. And when it comes to B2B procurement, 74% of buyers report conducting online research for at least half their purchases.
The current frictionless, bespoke experiences consumers expect today were pioneered by giant online retailers like Amazon and are now commonplace across almost all B2C categories. Now that the same B2C buyers are becoming responsible for work purchases, B2B vendors are rushing to adopt the same principles and methods to their own online buying experiences. At the forefront of this effort is the website, portal and store UI/UX. Here, as with B2C, the emphasis is on simplicity, ease-of-use, and intuitive information architecture. This allows the buyer to quickly search and navigate the site, find the items and/or the information they seek, input or customize their order as needed, and proceed through checkout and payment process with as little friction or steps as possible.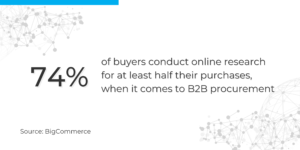 Source: BigCommerce
B2B Personalization
An important subcategory of customer experience is personalization. While it is ubiquitous in B2C retail and most consumer categories, the complexities involved make it more difficult for B2B businesses to fully embrace and adopt. The rise and widespread utilization of account-based marketing (ABM) is helping to close the gap, but with 50% of B2B buyers looking for personalized B2C experiences, commercial vendors need to embrace advanced data and AI strategies and technologies to shift emphasis from the account to the individual buyer.
At the forefront of these are customer data platforms (or CDPs) and machine learning models that can consume and synthesize a wide range of customer and operational data, create a unified view of the customer and provide real-time, contextual recommendations and experiences seamlessly across channels – including brick-and-mortar. While digital buying is the focus, for now, B2B analysts expect offline interactions to rebound as the pandemic recedes. Even more likely is a hybrid of the two, where buyers jump between on and offline interactions for purchases and service. As these increase, the importance of stitching together the data and creating seamless experiences regardless of the touchpoint will only gain in importance.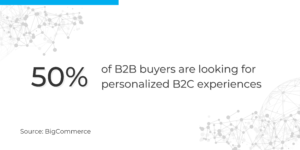 Source: BigCommerce
Customer-centric, Omnichannel Experience
 While much has been made about the demise of traditional in-person sales, the reality emerging is more complex and favors a hybrid model that provides both the intimacy of the interpersonal relationship with the speed and efficiency of digital. According to a recent McKinsey report, the omnichannel, customer-centric experience is becoming the new standard, with 80% of B2B leaders endorsing it over the traditional model and 64% planning to increase hybrid sellers over the next half-year.
With omnichannel-based purchases increasing by 43% in the last year, B2B sellers aren't the only ones embracing the new model. Buyers, too, are adopting omnichannel and are more willing to make large purchases via a remote/digital sales model, with 20% now comfortable making a $500k or greater purchase via this non-traditional channel.
As omnichannel becomes the default, B2B vendors will need to shift more resources toward digital infrastructure in order to better capture data, be more agile, and make the interactions feel as personal and insightful as in-person demos or meetings.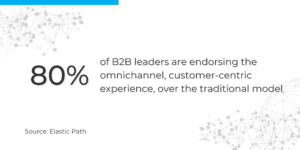 Source: Elastic Path
B2B Marketplaces
 Just as with B2C, the marketplace has become the dominant outlet for digital B2B sales, with 94% adoption from business buyers. While 50% of B2C sales are transacted via an online marketplace, a full 75% of B2B transactions are expected to take place via the channel within the next five years, given its efficiency and ability to create broader ecosystems, incorporate new capabilities, and reach new markets, as the ideal model for enterprise .
While general B2B marketplaces, such as Amazon and Alibaba, remain the most well-known and provide one-stop shopping for multiple needs, industry and brand marketplaces are gaining traction. The number of B2B marketplaces has grown fourfold over the last two years, and transactions occurring on commercial trade and industry marketing places are expected to increase by 130%. By 2023, Gartner forecasts 15% of mid-to-large B2B brands to launch their own marketplaces and 70% of all marketplaces to support B2B transactions.
As the number of B2B marketplaces increases, effectively managing the channel will become more challenging for vendors. To have continued success, businesses will need to be more selective about which marketplaces they utilize and rely more on advanced marketplace management software that can support both a broad range of outlets and sophisticated marketing and personalization initiatives.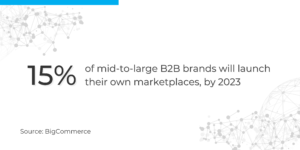 Source: BigCommerce
Digital Self-service
 A hallmark of the ideal B2C experience is the ability to perfectly blend self-direction with assisted sales or service. The best B2C brands understood this early on and built online direct-to-consumer (DTC) channels that put them in full control of the buyers' experiences. With the new digital imperative, B2B brands are quickly following suit.
Given their experience as consumers, B2B buyers are increasingly looking for the same attributes from their business vendors. According to McKinsey, a near majority of B2B buyers preferred "some form of online self-service," with 46% choosing to buy directly from the supplier's website.
While self-service is the goal, many B2B purchases and account services still require some support. In fact, one recent study found 90% of all first-time B2B SaaS purchases require some kind of live support. This is where features unique to automated commerce platforms, such as configure price quote (CPQ), can be particularly advantageous. In addition to ensuring accuracy and removing human error, automating the quote frees the salesperson to focus on more high-value relationship building and breaking down the objections to closing the sale, renewal or expansion.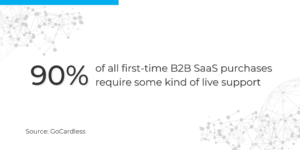 Source: GoCardless
Security, Privacy, and Fraud Prevention
 The transition to digital is not without risk, and the high-profile cyberattacks and fraud typically dominating the news cycle underscore the potential liabilities. For both B2C and B2B businesses, securing customer data and protecting company infrastructure from fraud and security breaches are as equally important as any other aspect of eCommerce. In 2018, the retail industry lost $40 billion (US) to fraud, and according to a recent study, 52% of retail and manufacturing leaders consider security to be the top challenge of eCommerce.
Protecting B2B eCommerce is becoming increasingly complex and requires comparably sophisticated governance, security and training measures. These include everything from taking greater control of their cloud services and carefully segregating or limiting access to data and systems to continually evaluating and updating security systems and strictly adhering to privacy laws and regulations.
Mobile Commerce
 The importance of an omnichannel strategy to B2B eCommerce cannot be overstated and is perfectly encapsulated by the increasing use of mobile for B2B research and purchasing. According to recent research from Google and BCG, mobile makes up at least 70% of B2B searches and influences 40% of revenue.
While many B2B businesses were quick to embrace a mobile strategy and reap the rewards, many more have been hesitant due to a collection of fears commonly referred to as the "Mobile Doom Loop." With 90% of B2B buyers reporting that they would be more inclined to repurchase from a business with a superior mobile experience, the risk of being left behind is far greater than those represented by unfamiliarity, underperformance, and the other mostly existential fears preventing wider adoption.
Adopting and investing in a mobile strategy, especially as more Millennials and younger digital generations take leadership roles, will be key for any B2B business looking to sustain and grow their eCommerce revenue into the future.
Source: BigCommerce
Conclusion and the Future of B2B eCommerce
While the trends moving commercial businesses toward digital experiences and transactions certainly existed prior to COVID, the pandemic has accelerated them to the point of no return. Making the transition to digital was a life-saving measure for many B2B businesses, but few, if any, are reversing course. B2B eCommerce grew 24% during the crisis and should, according to Gartner, make up 80% of ordering and replenishment by 2024.
For Gartner and other analysts, the only way forward for B2B is a greater reliance on eCommerce and the continued development and advancement of the trends and technology we've seen to date. In 2020, the firm coined the term "composable commerce" to describe how businesses will need to continually mix and combine "interchangeable" applications with existing technology to create a custom system for each customer base. Today, and for the foreseeable future, that means a heavy reliance on APIs to seamlessly connect all these systems together. This approach also provides the flexibility to adopt new technologies, such as augmented reality, new digital payments, the next generation of AI-driven chatbots, and whatever else the future has in store.
Want to learn more? Download this eBook to discover actionable tips on how to simplify the B2B digital commerce and what type of tools you need to stay relevant and competitive on the market.