Last Thursday, November 20th, Avangate hosted our first networking event for the software publishing community in Silicone Valley.  All-in-all the event was a success and proved to be a great opportunity for members of the community to meet each other and interact in a social environment.  The Tied House Brewery, in Mountain View, CA served some fine food and drink, something that, and you can trust me on this, is necessary to make any networking event a success!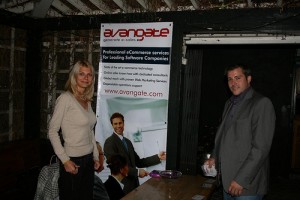 Our goal was to cross organizational borders and introduce constituents from all sides of the software publishing world outside the constraints of day-to-day business.  We had people from major software publishing and technology firms such as Intuit, Symantec and Phoenix Technologies mixing with service providers such as Acutrack, TrialPay, Nalperion and Uniloc.  We even had a few new friends from Google, Yahoo! and Ernst and Young join us.
Apart from a few marquee names, the majority of the audience was represented by small to medium sized ISVs looking to expand their reach and customer base and learn about new opportunities.  With the current market situation it is crucial for small business to seek out new avenues for growth- but with limited resources how exactly do you accomplish that?
Networking events such as these provide opportunities to not only meet the community and some of the companies you already work with, but they provide a true environment for people to think outside the box and mix with potential new partners and customers.  Some of the conversations I either participated in or over heard during the evening included topics such as physical fulfillment and boxed delivery, eCommerce (I wonder who that was…), how to get into the major retailers, licensing and activation, localization, taking your business to Europe and much more.
In a social environment people lower their guard and start having conversations. These aren't pre-planned pitches, there's no research on Google to "find the fit", and most of the time you don't know where the person you're talking to spends his 9 to 5 until after you're engaged.  Conversations start and people start wondering "how can we work together?"  More importantly, people start throwing up different ideas and brain storming suggestions.  Many of us face the same challenges in our business lives and given the opportunity to share solutions or experiences, will jump at them.  Why re-invent the wheel when your new friend has already been there and is willing to share how he solved it and made it through?
When Daniel and I first started thinking about having such an event we were a little daunted by what it would take to pull it off, and just what the return would be.  We took a chance and tried to unite people from all ends of the ISV food chain under one roof.  From my perspective the night was a great success and I want to thank everyone who attended and helped make it possible.  We look forward to hosting a similar event each quarter, and if you're interested in helping us make it happen please let me know.
See you at the next event in 2009!!!