Here we are, back from Affiliate Summit East 2012: a good show with an ever growing number of attendees. But there's one thing that stands out: the software vertical is getting stronger and stronger with each affiliate show.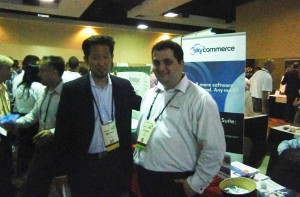 We've seen this reflected in the number of attendees specialized in the software & SaaS field: merchants, affiliates and service providers. This is very good news to us folks in the software industry, as they say, the more the merrier to the affiliate marketing table. So we keep adding to the 33,000+ software specialized affiliates and 22,000+ software products available for promotion in the Avangate Affiliate network.
Going deeper in the software niche, last year we've seen the rise of affiliate business models monetizing traffic to free software products / digital goods, such as pay-per-install and pay-per-download. There are many high-traffic affiliates that work or at least test this model on freeware titles.
Back to our show, Avangate takes pride in a strong attendance this time around as well, with a presentation on 5 ways to reactivate latent affiliates, presence in the hot and busy Meet Market and, of course, one-to-one meetings with prospects. Michael Ni, Avangate's CMO for Products and Marketing, shared some useful insights on actions that yield great results in driving affiliates to promote your products:
Incentivizing affiliates
Offering exclusive conditions
Getting them the right customized tools
Engaging and educating affiliates to sell your products
Here is the full presentation:
All-in-all, it was a great conference. Great feedback also (thank you, guys!) on the dinner event at one of New York's best steak houses – we'll do it again! Check out some pictures on our Facebook page. We got (yet once more) the confirmation that we're one of the top alternatives in the software & Saas with great perspectives.
Don't forget – we still have the Sky Affiliate Network offer open for software merchants (T&C apply) – contact us and let's start growing your affiliate sales.