Improving our products and adding new capabilities that help businesses grow and increase their online sales are among our top priorities at 2Checkout.
We're happy to let you know that recently we have launched a new-and-improved osCommerce Connector, which aims to reduce friction for merchants and provide seamless checkout experiences for their customers.

osCommerce is a free, open-source eCommerce solution for businesses looking to launch and manage an online store with little developer work required. osCommerce has reported more than 12,000 merchants already using its services, ranging from small to medium-sized organizations. It's one of the oldest eCommerce solutions that helps merchants launch their businesses, and features:
Support for both physical and digital products as well as services
A complete package of solutions for different aspects of online business (billing, product display, multi-language options, different currencies, etc.)
The new osCommerce Connector aims to help your business generate more customers and revenue, while also providing your shoppers with an improved eCommerce experience.
The new connector is designed to replace the older version of the2Checkout integration and will give you access to superior capabilities through new ordering engines like ConvertPlus, Inline Cart, and 2Pay.js.
Use ConvertPlus to simplify payment collection from your customers and welcome them with a straightforward buying experience. Increase conversion by prefilling checkout fields in ConvertPlus, while harnessing the cart's full potential: 13 payment methods – including PayPal Express – are accepted, in 100+ display currencies and 33 languages.
Use InLine cart for a fully streamlined checkout experience, where users are auto-advanced through the checkout, but never redirected to extra pages. Create seamless shopping experiences on your site by accepting 13 payment methods while greeting users with checkouts customizable in more than 100 display currencies and 33 languages.
Opt for our 2Pay.js library when you want to collect sensitive payment data via API, sending it directly to 2Checkout's system. 2Pay.js works for credit and debit cards payments, and benefits from all the display and language customization options available in ConvertPlus and InLine cart.
Other benefits that merchants enjoy when switching over to the new 2Checkout osCommerce connector include:
Optimized eCommerce experience for merchants
Radically improved ordering process, with more features and functionalities
Higher conversion rate, generating more customers and revenue
Better and more intuitive checkout flow for shoppers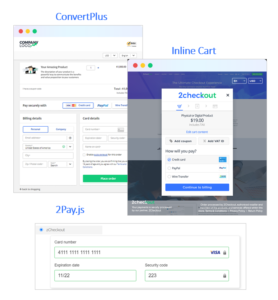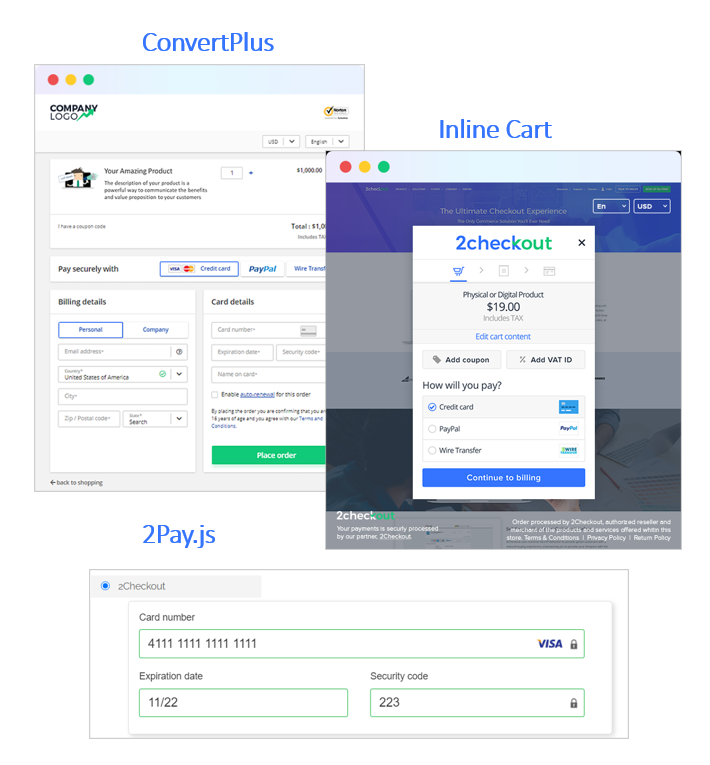 The new connector is available on the PSP business model with the 2Sell package. Existing merchants that currently use the Legacy 2Checkout osCommerce connector can upgrade their integration at any time.
Do you have any questions regarding the integration with osCommerce? Our Knowledge Center outlines the necessary steps to complete your integration, so don't miss out!